« Sunday Morning Open Thread
|
Main
|
Food Thread: Special Addition -- Beer: A Primer [Beerslinger & CBD]] »
March 09, 2014
Sunday Morning Book Thread 03-09-2014 [OregonMuse]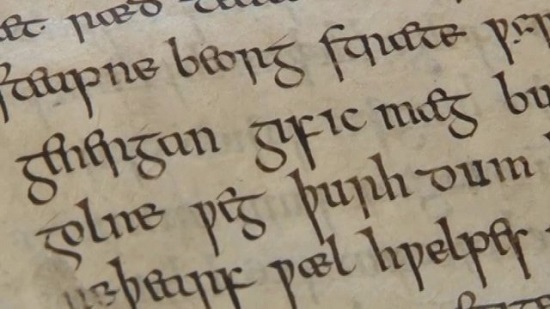 Yes, This Is English
Good morning morons and moronettes and welcome to AoSHQ's prestigious Sunday Morning Book Thread. For non-book related discussions, please use Andy's open thread below. Thanks.

Ye Fyne Olde Wordes
Author Mark Forsyth likes to write about old words that are no longer in use, but perhaps should be. This article lists a few of them, and I was surprised how many of them describe aspects of the moron lifestyle. For example, an "ultracrepidarian" described as "somebody who gives opinions on subjects they know nothing about." I guess that's more hoity-toity than 'blowhard' or 'ignoramus'. Or, "fudgel", a verb which means "pretending to work when you're not actually doing anything at all." And then there are the snecklifters, who "poke their heads into a pub to see if there's anyone who might stand them a drink."
In other words, morons.
These and other lost words are discussed by Forsyth in his book Horologicon: A Day's Jaunt Through the Lost Words of the English Language.
I'm still looking for a word with a definition that means something like: "a person with (at best) mediocre ability and accomplishments who have nonetheless obtained a high status position because others are greasing the skids for them."
Like this new kid, Ronan Farrow, whom ace wrote about earlier this week.
Or, for that matter, Barack Obama.

Last Words of Famous Authors
Here is a little mix-and-match game. Try to figure out who said what without Googling. Winners get a "Get Out of the Barrel Free" card, good for one formatting screw-up.
1. Emily Dickenson
3. George Bernard Shaw
3. Henry David Thoreau
4. Washington Irving
5. Edgar Allan Poe
6. Dylan Thomas
7. H. H. Munro (Saki)
8. Plato
a) "Put that bloody cigarette out." (immediately after which he was killed by a sniper's bullet)
b) "Well, I must arrange my pillows for another weary night! When will this end?"
c) "Lord, help my poor soul."
d) "I've had 18 straight whiskies... I think that's the record."
e) "Sister, you're trying to keep me alive as an old curiosity, but I'm done, I'm finished, I'm going to die."
f) "I thank the guiding providence and fortune of my life: first that I was born a man and a Greek, not a barbarian nor a brute; and next, that I happened to live in the age of Socrates."
g) "Let us go in; the fog is rising."
h) "Moose. Indian."

Russian History
In Thursday's foreign policy thread, moron commenter 'HR' inquired:
Totally serious question: Can anyone recommend some good (by which I mean "not using the 'Marxist-feminist lens' or Zinning it all up") historians to read about Russian history?

Posted by: HR needs a beer at March 06, 2014 12:18 PM (ZKzrr)
Here are the recommendations from the Horde:
Paul Johnson's Modern Times
A History of Russia by Riasanovsky, which is claimed to be the standard. The linked copy is way expensive, but you can get used copies for considerably cheaper.
Anything by Richard Pipes is good.
The Great Game: The Struggle for Empire in Central Asia by Peter Hopkirk is a start.
Peter the Great: His Life and World by Robert K. Massie is an accessible, easy read that gives a nice bit of context for modern Russia. Also recommended is Massie's Catherine the Great: Portrait of a Woman
Those are from the Horde. I just finished Child 44 this week (good page-turner) which is set in Russia during Stalin's reign of terror. Here are the books that author Tom Rob Smith listed in the afterward that helped him understand those perilous times:
Man Is Wolf to Man by Janusz Bardach, and Kathleen Gleeson
Also, Anne Applebaum's 'Gulag' and Aleksandr Solzhenitsyn's 'The Gulag Archipelago'.
For general historical background:
Robert Conquest's The Harvest of Sorrow: Soviet Collectivization and the Terror-Famine, Simon Sebag Montefiore's Stalin: The Court of the Red Tsar, and Shelia Fitzpatrick's Everyday Stalinism: Ordinary Life in Extraordinary Times: Soviet Russia in the 1930s.
(Note that there's nothing here by the Zinn/Chomsky crowd.)
Regarding Russian police procedure, Anthony Olcott's Russian Pulp: The Detektiv and the Russian Way of Crime went into detail not only about the justice system itself but also literary representations of that system.
Boris Levytsky's The Uses of Terror: The Soviet Secret Police, 1917-1970 was invaluable when it came to understanding, or at least trying to, the machinations of the MGB.
Finally, Robert Cullen's The Killer Department: Detective Viktor Burakov's Eight-Year Hunt for the Most Savage Serial Killer in Russian History provides a clear account of the real-life navigation into the crimes of psychopathic murderer Andrei Chikatilo.
Of all of these, Smith says, "I cannot recommend any of these books highly enough."

Har.
Dave Barry has read the execrable '50 Shades of Grey' so you don't have to. And, not only that, he has written a take-down review worthy of P.J. O'Rourke. That's the good news. The bad news is that he wrote it for the execrable Time magazine. So you have to go there and give them traffic to read it, and thus help them delay their withering death by attrition and neglect, which I've been wanting for a long time. Oh, well. I can't figure out what to excerpt from Dave Barry Learns Everything You Need to Know About Being a Husband From Reading 50 Shades of Grey, so you'll have to just read the whole thing yourself.
And on a related note, according to the Lost Angeles Times, the execrable 'Fifty Shades of Grey' trilogy has topped 100 million copies in worldwide sales.
I'm weeping now.

Can A Bestseller Book Be Bought?
Meaning, can you buy your way onto the bestseller lists? According to this investigative article in World Magazine,
Seattle's Mars Hill Church paid a California-based marketing company at least $210,000 in 2011 and 2012 to ensure that Real Marriage, a book written by Mark Driscoll, the church's founding pastor, and his wife Grace, made the New York Times best-seller list.
Apparently there's a marketing company, ResultSource Inc. (RSI), that claims to be able to do this for you. What RSI does is organize a network of buyers that make purchases at locations which are "likely to generate reportable sales for various best-seller lists, including the New York Times list."
Mars Hill also paid for the purchase of at least 11,000 books ranging in price from $18.62 to $20.70, depending on whether the books were purchased individually or in bulk. The contract called for 6,000 of the books to be bought by individuals, whose names were supplied by the church. Another 5,000 books were bought in bulk.
Is this ethical? I don't know. On the one hand, RSI is clearly trying to game the system on behalf of its clients. On the other hand, who cares? This reminds me of those stupid quiz shows scandals of the 50s, which resulted in congressional hearings, and federal legislation. Really? C'mon, it's a game show! It's entertainment. It's as authentic as professional wrestling. Everybody knows that.
And who, really, is being hurt?
Of course, the other aspect to this particular case is that it's a church that's doing this, and for Christians, there are other considerations. If I were a tithing member of Driscoll's church, I'd probably be asking the leaders questions as to what they hoped to gain by purchasing this doping-the-horses marketing plan, and is this really a wise use of church funds? $210,000 is a lot of money to be throwing around, and maybe it could be put to better use.

The Granddaddy of Urban Myths
In New York City in 1964, a 29-year-old woman named Catherine "Kitty" Genovese was stabbed to death in three separate attacks as 38 bystanders stood around and watched and did nothing. The NY Times called it "a frozen moment of dramatic, disturbing social change." This sensational case provoked an anxious outcry and launched a sociological theory known as the "Bystander Effect."
I remember finding a link (now lost) some time ago that debunked a lot of the Genovese murder story, so some information has been out there, but now author Cook has researched and written
Kitty Genovese: The Murder, the Bystanders, the Crime that Changed America. It is not true that there were 38 bystanders who watched Genovese murdered and it is not true that nobody came to help her.
Another "tell" from this book is that Genovese was a lesbian. OK, I never knew that. But I have no idea why this is important. The man who killed her was a standard-issue psychopath and his selection of victim was pretty much random. I don't know how her sexual preference contributes to the story. But under the new rules of public discourse, I guess I'm supposed to applaud now.

Something Else I Did Not Know Until Now
The Oscar-winning movie '12 Years A Slave' is based on Solomon Northup's autobiography of the same title. Various inexpensive Kindle versions are available.
The title reminds me of this old classic anti-cult book, 30 Years a Watchtower Slave: The Confessions of a Converted Jehovah's Witness. Hee hee, I'd like to see them try to make THAT one into a film.
___________

So that's all for this week. As always, book thread tips, suggestions, rumors, threats, and insults may be sent to OregonMuse, Proprietor, AoSHQ Book Thread, at aoshqbookthread, followed by the 'at' sign, and then 'G' mail, and then dot cee oh emm.
What have you all been reading this week? Hopefully something good, because, as I keep saying, life is too short to be reading lousy books.


posted by Open Blogger at
10:04 AM
|
Access Comments