« Of Course: Obama Postpones Forced Dropping of Insurance Policies Until October 2016
|
Main
|
Top Headline Comments 3-6-14 »
March 05, 2014
Overnight Open Thread Thingy (3-5-2014)
Ralph Peters on Obama: "He Does Not Believe in This Country"
Devastating because it's true.
The problem with being a post-national president of your country is that you end up always losing out to actual leaders who do believe in their nations.
Look, the bottom line on this is Russia has a real leader. You may not like him, and I don't, but he is brilliant and ruthless, he has clear goals and he moves straight toward those goals. The West lacks a leader. Like it or not, the president of the United States is the de facto leader of the West, and our president just is - he's incapable and unwilling to lead.

The weakness is phenomenal. Now, you know, we are not weaker than we were in the Carter years. I was in that military, it was pathetic. Our military today is the best in the world, best in our history, although Obama wants to dismantle it. We're also immensely wealthier than the Carter years. The problem is, that as a president Obama is far weaker than Carter, and he's probably the worst president we've ever had.

He is a man who's incapable of making a hard decision. And by the way, one other key point, Vladimir Putin believes in Russia. He believes in Russia's destiny, its mission. Obama does not believe in American exceptionalism. He does not believe in this country.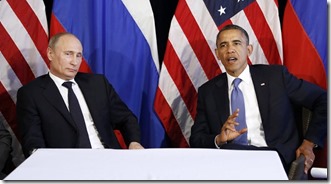 The Obama Way: If He Believes It, It Must Be So
When it comes to Iran, Obama shows an attitude that can only be described as solipsistic: what's in his mind is reality. And any other reality is just plain silly.

...It's pretty obvious to all analysts that Iran does not fear an American military strike much these days, especially after Mr. Obama's failure to act in Syria last summer. But Obama denies it, referring to himself in the third person as someone "who has shown himself willing to take military action." Drones, sure; a quick raid as well. But in Libya and Syria, he showed himself extremely reluctant to take military action. Remember "leading from behind?" If he genuinely thinks he is viewed as a scary guy with his finger near the trigger, we all have a problem.

...This is the Obama who said of his own nomination that "this was the moment when the rise of the oceans began to slow and our planet began to heal." If he believes it, it must be so. The Goldberg interview reveals that five years in, nothing has changed.
Sowell on Reality vs the Intelligentsia
The front page of a local newspaper in northern California featured the headline "The Promise Denied," lamenting the under-representation of women in computer engineering. The continuation of this long article on an inside page had the headline, "Who is to blame for this?"

In other words, the fact that reality does not match the preconceptions of the intelligentsia shows that there is something wrong with reality, for which somebody must be blamed. Apparently their preconceptions cannot be wrong.
We want the world to solve its own problems for a while. The problem is that all this - invasions, wholesale slaughter, ethnic cleansing, missile tests, naval provocations, and raw brutality - is how the world beyond our borders solves its own problems.
"Let the world solve its own problems for a while!" Oh, it does, my friends. It does. http://t.co/u95PutVyTM pic.twitter.com/7jgwhmT4Ok

- Jim Geraghty (@jimgeraghty) March 5, 2014
Bad Idea #27: Borrowers Taking Out Student Loans for Personal Expenses
And unlike stores, banks, and credit card companies universities will never ever have to take a hit for enabling this kind of insane borrowing.
Take Ray Selent, a 30-year-old former retail clerk in Fort Lauderdale, Fla. He was unemployed in 2012 when he enrolled as a part-time student at Broward County's community college. That allowed him to borrow thousands of dollars to pay rent to his mother, cover his cellphone bill and catch the occasional movie.

"The only way I feel I can survive financially is by going back to school and putting myself in more student debt," says Mr. Selent, who has since added $8,000 in student debt from living expenses. Returning to school also gave Mr. Selent a reprieve on the $400 a month he owed from previous student debt because the federal government doesn't require payments while borrowers are in school. [...]
Because everyone knows that unlike us modern superior types no one ever drank plain water in ye old ancient times.
There is no specific reason then to believe that people of the time drank proportionately less water than we do today; rather, since water was not typically sold, transported, taxed, etc., there simply would have been no reason to record its use. Did people in the time prefer alcoholic drinks? Probably, and for the same reason most people today drink liquids other than water: variety and flavor. A young man in a tenth century Saxon colloquy is asked what he drinks and answers: "Beer if I have it or water if I have no beer." This is a clear expression of both being comfortable with water and preferring beer.
15 Things You Might Not Know About This Is Spinal Tap
Including the fact that Ozzy Osbourne thought it was an actual documentary about a band he hadn't heard of and the fact that it goes to 11 on IMDB.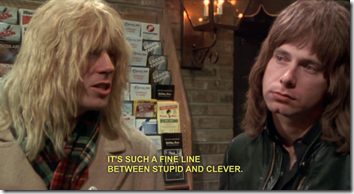 Teh Tweet!
Le AoSHQ groupe de Yahoo. Ooh la la!
Tonight's post brought to you by Helen Mirren, 1967-style: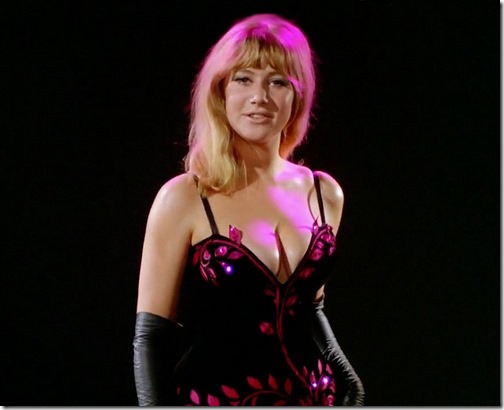 Notice: Posted by permission of AceCorp LLC. Please e-mail encrypted overnight open thread tips to maetenloch at gmail. Otherwise send tips to LauraW's hump.
-----BEGIN PGP PUBLIC KEY BLOCK-----
Version: BCPG C# v1.6.1.0
mQE2YoUCanTRuSTth1sYeSYOuCaN!3tEBCADJx2RuSvQku1zAV8SUUDrrb4uXr5
xsNhVK8iDfZ63xSdfLozN+4XLX+9+JhwN46SECjLtoPe+f+AxySaUiTmk9SPYmZx
rOrQf1tmQbsb1tPFmkB+J/xtvc4iAMQ2FRKcb3l5vzqZ/eiOUX17cCrSaKuZBuLL
2biOLDHT0taLlySeekR3tISweAr!!N2qwyWohuGiNmSKFsiBT72gD61F3qQPSZiTL3N
NQR4h2LleOJ4FUwz3UpC9yGBlX4760BvbRK5eegF+55ZlxnPL004aXB8cZl4gVeE
ZmOgCTpSpUuf6mvzzjNYmDC03H0zXLqr9iiRABEBAAG0AIkBHAQQAQIABgUCUxfe
0QAKCRAs4qyXPuGYu8A4B/TheNsAIswaTCh1ngYOULz1Le6NRtU+YeSWeArenUGgld
gpOBnQgKbygjcKDcfe9mX+K51i0G6OMecuLxIctAamRLn/eO9orbHVhFfg9DFMsf
O1M/QhopYVjZsE+q/N7MBrSzdwOraD4+FgkYH4S1tMAO7zGPIo6zsbTw75uOGqkW
ltFvfN1fJM9nAKhQCUewcUnBr3aKabLeYeAhSuREL00Sersrgvz8GUlC3dte6/ElPtm
OMacLDgSQxdASZ2bOIZNso9blM4OrqzCVksNv8uCPRy43uhneWB+c5JPoKAXWgnY
Cw/tk6M4cKuw/TE24Gshz+7iBhUexy/iKG8HiMoM!KVf/F=7n3J
-----END PGP PUBLIC KEY BLOCK-----

posted by Maetenloch at
10:07 PM
|
Access Comments