« Sunday Morning Book Thread 02-23-2014: Manliness Again [OregonMuse]
|
Main
|
Gaming Thread 2/23/2014 »
February 23, 2014
Sunday Travel and Leisure Thread: "Winter's Not Over Yet!" Edition [Y-not]
This thread sponsored by weird travel gadgets: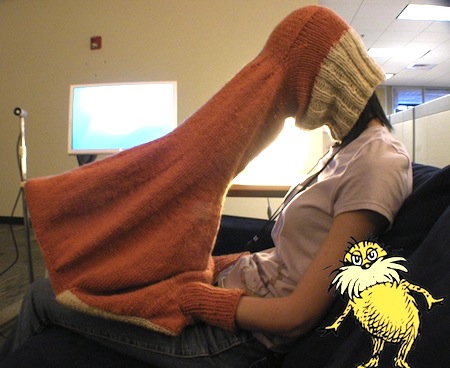 Ummm… ok. The "Laptop Snood Hood."
Good day, traveling morons! Time for another thread to chat about travel and leisure.
April may be the cruelest month, but there's little doubt that for those of us in colder climes, February is a close second. Holidays are behind us, football is long over, it's really too cold to do much in our yards, and the kids are still in school so the parents among us are not going much of anywhere any time soon. As an added joy, the warm days that we DO get usually result in snow melt and the invariable "mud season." (I've completely given up on keeping my floors clean thanks to the pitter-patter of eight collie feet!)
So today I thought I'd cover some leisure activities that we CAN do during these slow months at the end of winter and beginning of Spring. This will be short because, frankly, it's a beautiful sunny day here at the Wasatch Front, so the mister and I are headed out for a drive in a little while.

Around these parts one of the big things to do is "Spring Skiing." I myself am not a skier. I've downhill skied twice – the FIRST time and the LAST time. That said, I have been to quite a few ski towns thanks to going to college in the Northeast and various conferences and trips while I was doing the Science Thing. I like them as they tend to attract good restaurants, fun shops, and are absolutely gorgeous in the warmer months if you like nature, hiking and the like.
Courtesy of LuxurySkiTrips.com, here's a list of top Western ski resorts for Spring skiing. Their list is based on the quality of snow at this time of year, rather than on the the other amenities offered. I've been to both Alta and Snowbird (as well as Whistler), but for my sort of non-ski activities I'd still prefer Park City, Utah and Steamboat Springs, Colorado.
For our one-percenter morons and moronettes, the world is your oyster (lucky devils!). Courtesy of SkyScanner.net, here are the places they say are the ten best for late season skiing, world-wide. Most of their choices are located in Europe, but two North American destinations make their list, Mammoth in California and Whistler-Blackcomb in Canada. I've been to Whistler in the Fall and it sure is gorgeous. It's also near one of my favorite cities anywhere, Vancouver, B.C.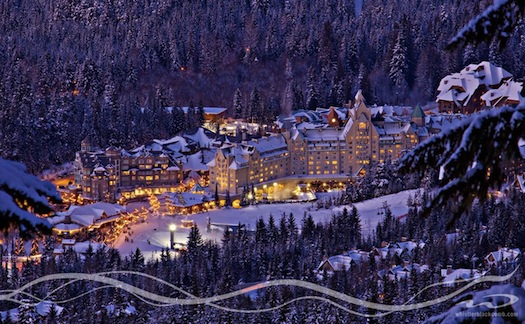 Whistler, B.C., at Christmastime
None of the Northeastern U.S. resorts made these lists, but I assume there's still some skiing possible in your neck of the woods. The Ski Guru Blog at the Boston Globe can help you keep apprised of the best skiing in New England.
How's the skiing at these places? Which do you like the best?
Another fun thing to do at this time of year is heading down to New Orleans, where Mardi Gras is a couple of weeks away. Carnival season kicked off last month on King's Day (the Feast of the Epiphany) and concludes with Fat Tuesday. I've been to New Orleans in early January, but it was for a conference so I did not get a chance to enjoy any of the Carnival activities. Have any of you been? What did you think?
New Orleans locals may be sick of all the hoo-hah associated with Mardi Gras. Have no fear! There's a special guide to local getaways for you Mardi Gras haters, courtesy of The Times-Picayune.
My favorite warm-weather destinations at this time of year are Hawaii and Arizona. I plugged Spring Training last weekend, but I'll do so again. East Coast morons can head down to Florida, while those of us in the Western US may prefer catching the Cactus League in Arizona. Our very own moronette, phoenixgal, can give you plenty of great tips about Cactus League baseball.
**EGADS! That link has Governor Tangerine in it. Sorry about that! Here's the current Grapefruit League page.**
OK, so we've sampled things from the East Coast to the South to the Western US, what about activities for you Midwesterners? Well, you guys get stuck with ice fishing! And drinking. Heavy drinking! This article from the Post-Tribune provides a round-up of some of the fishing (and hunting) activities going on right now in and around Midwestern lakes.
Speaking of fishing, from our friends Down Under, here's a fishing segment that went horribly awry:
As the newsreader said, "Awkward."
Enjoy the rest of your weekend, morons. And let's hope that Spring comes soon!

posted by Open Blogger at
01:30 PM
|
Access Comments