« Sunday Travel Thread: Tourism for the Sports Enthusiast [Y-not]
|
Main
|
Monday Morning News Dump »
February 16, 2014
Overnight Open Thread (2-16-2014) - Don't Forget to Pack a Wife Edition
Despite no opposition from management the UAW still couldn't convince Tennessee VW workers to unionize.
The United Auto Workers Union suffered a devastating defeat on Friday, when its attempt to organize the workers at the Volkswagen plant in Chattanooga failed on a vote of 712-626 (53-47 percent). The company had agreed not to resist the organizing effort and gave the union access to the plant and its workers. If the union couldn't win an election under those conditions, it is a powerful sign of how weak, indeed toxic, unions have become in recent years. If the UAW couldn't win this election, it seems doubtful it can win any election.
Well sure join up with the UAW if you love what they've done to Detroit car manufacturing.
Plus it turns out that even at the height of union membership it wasn't close to a majority of US workers.
But they have become increasingly weak everywhere. In the early 1950s union membership in the private sector peaked at about 35 percent of the work force. Today it is about 6 percent.
At the current rate we'll soon have more gays than private sector union members.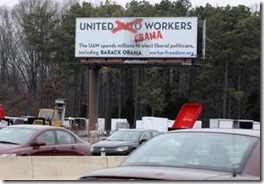 Even Punkers Get the California Blues
According to Reason magazine Exene Cervenka of the L.A. punk band, X, is moving to Texas because California has become 'A Liberal Oppressive Police State and Regulations and Taxes and Fees.'.
...when I moved to California in 1976, Jerry Brown was governor. It was barefoot hippie girls, Hell's Angels on the Sunset Strip, East L.A. lowriders, the ocean and nature. It was this fabulous incredible place about freedom. Now when I think about California, I think of a liberal oppressive police state and regulations and taxes and fees. I'd rather go someplace and have my own little place out on the edge of town. I'm a country girl at heart. It makes me happy when I see people in Texas open-carrying. It makes me feel safe. I'm not even a gun owner, but I'd like to see a gun rack in every pickup truck, like my boyfriend had when I was fifteen years old in Florida. An armed society is a polite society."

She cracks a smile. "Now Jerry Brown's governor again. He's done some great things, like balancing the budget and libraries are open on Sundays. But things are getting to the point in this country where people are going to have to fight to survive and fight for their rights."
And more Gone-to-Texas: California's Leaders Are Watching the Wealthy's Movements
Since over 40% of California's income tax revenues now come from the top 1% of tax filers, the state is nervously watching to see if the frogs will jump out of the pot after the top state tax rate was jacked to 13.3%.
Lee Schneider, a hedge fund salesman who works from home, also cited Prop. 30 as the "deciding factor" for his move from Walnut Creek to Austin, Texas, in 2012. The California native had recently built a $2 million house at the foot of Mount Diablo and took a loss on the sale, but "I can make half of it back in one year of tax savings," he says.

Schneider's neighborhood in Texas, which has no state income tax, is full of cars with license-plate frames from California dealerships. On a flight from Austin to Los Angeles shortly before Christmas, 11 of the 12 seats in the emergency row were occupied by people who had moved from California to Texas, he says.
Another ObamaCare Success: It Costs Hawaii $56,819 To Sign Up Each Enrollee
At that price why not just give them a free health care plan AND a new car.
How much does it cost taxpayers to sign up one ObamaCare enrollee? In President Obama's home state of Hawaii, it's $56,819.

The Obama administration gave Hawaii $205 million in grants over the past three years to set up its state-run exchange. But so far, only 3,614 Hawaiians have filled out applications - just 40% of the state's enrollment goal.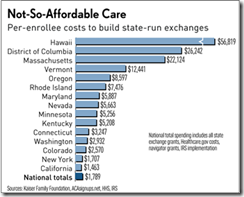 Thomas Frank Still Doesn't Get Kansas
But these days he's damn bitter about it and still can't quite accept the idea that conservative ideas better reflect the views of KS working people than those of the liberal elite.
For the ruling faction of the Democratic party, meanwhile, I felt like the Kansas story triggered a bout of guilty conscience. To begin with, there was something true at the core of all the conservative bullshit: we really are ruled by a meritocratic, professional elite - just look at the members of the president's cabinet, or who gets interviewed on NPR - and a great number of meritocratic believers really are found in the ranks of the Democrats. As a party, they are openly in love with expertise; it is who they are; it means more to them than any ideology. It's the awful story of "The Best and the Brightest" repeating itself over and over and over again.
Dum and Dumer: The David Frum Story
Frum's transition to full-on liberal continues. Full-on gun control advocacy - check.
Hypothesis: the people who most want to carry are the very last people on earth who should be allowed to carry.

- davidfrum (@davidfrum) February 16, 2014
Mass murderer Anders Breivik Threatens Hunger Strike Unless He Gets Newer, Better Video Games
Okay his offer is accepted.
Norwegian mass murderer Anders Breivik threatened to go on hunger strike for better video games and other perks to alleviate his "torture"-like prison conditions, in a letter received by AFP Friday. .

...He also demanded the replacement of a PlayStation 2 games console for a more recent PS3 "with access to more adult games that I get to choose myself" as well as a sofa or armchair instead of a "painful" chair.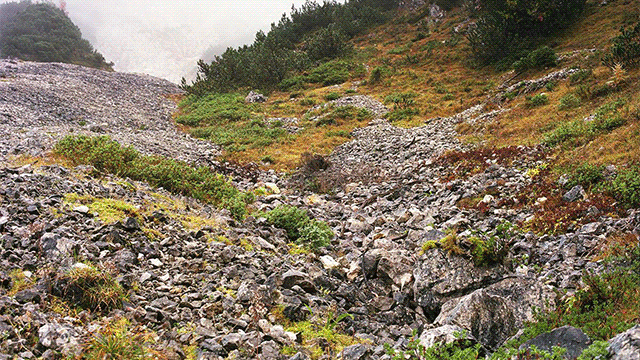 Russian Brides Part XIV: The Future Heartbreakening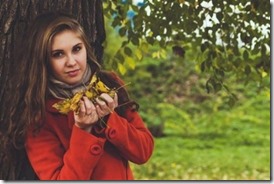 Sochi: The Driest Olympics Ever?
So Russia is dealing with their alcohol problem by making it difficult for visiting foreigners to have a drink.
Russia, whose most famous export may be vodka, is staging the driest Olympics in memory. For many fans, it is the biggest upset of the Winter Games. A new federal law last year prohibited the sale of alcohol inside sports stadiums and arenas. And a local ordinance last month banned alcohol sales within 50 meters of some sports venues.

...Alcohol sales restrictions were a deterrent to potential beer sponsors. Heineken was the official beer of the London and Athens Summer Games but had never sponsored the Winter Olympics. "I must say that, Sochi, we weren't too keen to become the sponsor of the Winter Olympics," and alcohol restrictions were one consideration, said Hans Erik Tuijt, the company's Global Director of Activation.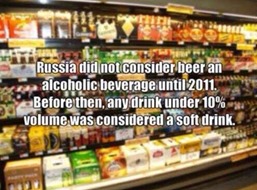 Weekly Commenter Standings
Top 10 commenters:
1 [486 comments] 'tangonine' [68.23 posts/day]
2 [379 comments] 'AllenG (DedicatedTenther) Ah, F It.'
3 [374 comments] 'Vic</i>'
4 [341 comments] 'Boss Moss'
5 [325 comments] 'Mike Hammer'
6 [325 comments] 'garrett'
7 [294 comments] 'logprof'
8 [284 comments] 'Anna Puma (+SmuD)'
9 [260 comments] 'Y-not (@MoxieMom)'
10 [254 comments] 'Niedermeyer's Dead Horse'
Top 10 sockpuppeteers:
1 [123 names] 'Adam' [17.27 unique names/day]
2 [70 names] 'Abe Vigor-yoda'
3 [68 names] 'The Political Hat'
4 [59 names] 'logprof'
5 [43 names] 'phreshone'
6 [35 names] 'Hate Miser'
7 [33 names] 'Doctor Fish'
8 [33 names] 'noone, really </i> </b>'
9 [32 names] 'Islamic Rage Boy'
10 [29 names] 'Romeo13'
The group. Yeah.
Where it's at - the Twitter
Tonight's post brought to you by the view from the top of the Sochi ski ramp: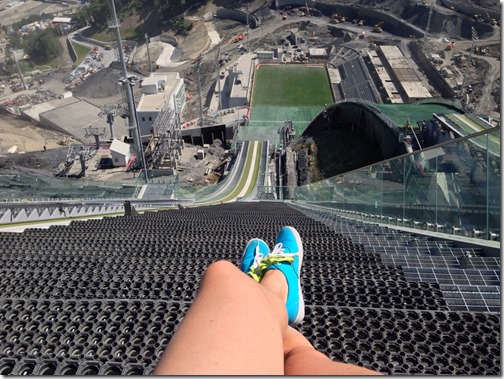 Notice: Posted by permission of AceCorp LLC. Please e-mail overnight open thread tips to maetenloch at gmail. Otherwise send tips to Ace.

posted by Maetenloch at
10:37 PM
|
Access Comments