« Early Evening Open Thread
|
Main
|
Overnight Open Thread (2-16-2014) - Don't Forget to Pack a Wife Edition »
February 16, 2014
Sunday Travel Thread: Tourism for the Sports Enthusiast [Y-not]
This thread sponsored by "Be like Mark Spitz: drink your milk!"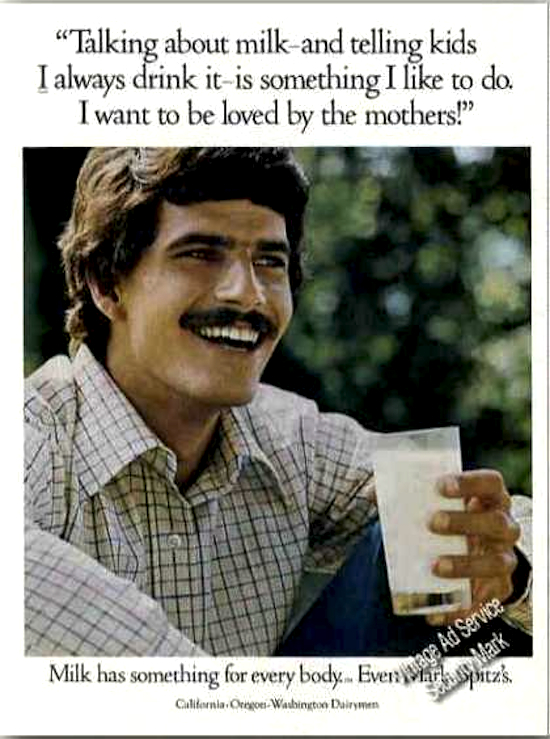 Nice 'stache!
In honor of the Olympics, I thought it might be fun to have the travel thread that covered some interesting sports-related travel destinations? For the purposes of this thread, let's use a loose definition of sports. In other words, golf IS a sport, you haterz! As are curling, cheerleading, gymnastics, cycling, etc…
Let's leave off hiking, climbing, fishing, hunting, and camping for another day because I'd really like to do a outdoorsy travel thread sometime. I think it deserves it's own thread (or two or three).
So with those "ground rules" in mind, here are some of my favorite sports-related travel destinations as well as some that are on my bucket list:

Without a doubt my favorite thing to do (when I'm able to do it, which is not every year, sadly) is go to Spring Training. I've never been to the Grapefruit League, but Cactus League games are awesome. Even if you don't care about baseball (shame on you, you un-American commie!), there is something so fundamentally right about going to Arizona in early Spring and sitting outside in a small minor league park watching a game. The husband and I have been to games at both Tucson (which I think is no longer host Spring Training games) and Phoenix-metro. We preferred the latter in large part because we love the Scottsdale Arts Festival, which an outstanding outdoor arts, music, and food festival that is held during one of the Spring Training weekends every year. Arizona is glorious at that time of year, warm but not oppressively so, and there is a lot to do in Phoenix-Tempe-Scottsdale and beyond. Our favorite place to watch a game is Scottsdale Stadium, which is conveniently located to great restaurants and bars.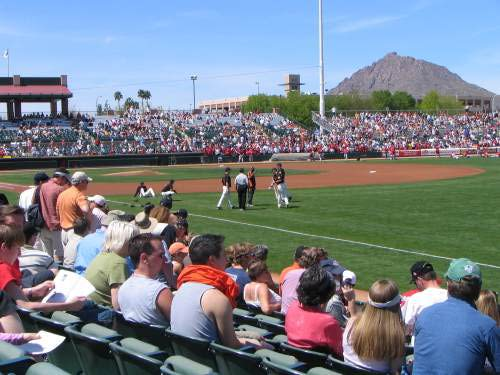 Scottsdale Stadium is home to the San Francisco Giants during Spring Training
On a related front, on several occasions we've had a chance to incorporate minor league sports, both baseball and hockey, into our travels and have been pleased whenever we've done so. Minor league games afford an intimacy to the players and a sense of fun that many major league sporting events seem to lack. (And, they're more affordable.) Occasionally you'll get to see a major leaguer coming off from rehab at these games, which is an added kick. (I saw Rafael Belliard play in Vermont one year, which was fun for me because he's one of the shorter baseball players that I used to follow – a mere 5' 6" – so the joke was that I would go and steal his uniform since I, too, am on the diminutive side.) Locally, we have a couple of baseball minor league teams, the Orem Owlz and the Salt Lake Bees, as well as the Utah Grizzlies in hockey. Great family-friendly fun.
What minor league parks and stadiums do you recommend?
Some people do it up big and put together a travel itinerary specifically designed to hit all of the major ballparks. I've always been a little fascinated by people who do that. Does it still manage to be fun after a couple of dozen ballparks or is it a burden? The good folks at The Art of Manliness have put together a how-to guide on this sort of vacation/travel:

While a student at Cornell University, Alon spent the summer after his junior year touring the country with his childhood friend. By visiting 30 MLB stadiums and 22 national parks in 81 days, Alon was able to help raise over $6,000 for the Make-A-Wish Foundation, American Cancer Association and Harlem RBI.
Alon recommends you think long and hard about whom your traveling companion should be (he recommends a childhood friend), how long it should take (he says leave plenty of time and also have backup activities and side trips in case of rain outs), and plenty of tips on how to make the most of each stadium visit you make. He even wound up rating the stadiums he visited – turns out AT&T Park in San Francisco was his favorite ballpark. Sounds like a lot of fun.
I'm not sure that there are a lot of baseball parks I'd like to see (although I do think Wrigley Field is worth a visit for any real baseball fan – make sure to go for a day game), but I have developed an interest in attending some PGA Tour events. My fascination with golf has developed over the past 5 years or so. I started following the PGA and despite the fact that I'm not a golfer, I really enjoy it. The players are almost universally nice, the venues are usually gorgeous, and the tour starts just as football ends.
If I were to have the time and money to do it, there are a few PGA events I'd love to see. The top of my list is the Phoenix Open which is held at TPC Scottsdale. (Incidentally, TPC stands for Tournament Players Club for those of you who don't follow golf.) Although The Masters is the granddaddy of US PGA golf known for its rich tradition and beautiful course, the Phoenix Open also has a lot of tradition or what I'd call "personality." It looks like a helluva fun tournament for the spectators and the fact that my favorite PGA Tour golfer, Phil Mickelson, is so at home there (he's an ASU grad, after all) just ads to the appeal. Sadly, it looks like the caddie races are no more (the bastids!), but this is a tournament where the crowd is really involved and the players, for the most part, enjoy their involvement. Although, in general, I'm for a certain level of decorum in golf, somehow the hijinx of the crowds at the Phoenix Open seems fitting.
Caddy race at the Phoenix Open
Other golf events I'd like to see include The Masters (I am pals with a Masters champion so I suppose there's a teeny weeny itsy bitsychance I might be able to go someday. A good friend of mine has gone with him several times now.), the Tournament of Champions which I believe is held at Kapalua on Maui each year (I've been there – it's spectacular), and the Accenture Match Play Championship. The latter is purely because I really enjoy the format of match play and this is the one I tend to watch each year. As it turns out, the Accenture tournament is this coming week and is being held in at Dove Mountain near Tucson. It probably goes without saying that I think it'd also be fun to go to some of the links courses in the UK, but that would probably take more know-how and wherewithal than I possess.
As long as we're on golf, another type of travel in which I'm developing an interest is one of those golf school vacations. I would love to learn how to play, even if only well enough to duff at my local golf courses, but I am sure it's quite hard to do so one of those golf schools seem like the way to go. Have any of you attended one of these or something similar in another sport (I know baseball and football have fantasy camps)? If so, what did you think?
BTW, for the fitness-minded amongst you, here is a fun list of fitness oriented vacation ideas to get your juices flowing.
Another type of sports-related travel that has piqued my interest is attending the Big Games (or Big Races). Sadly, I'm not one of them, but I'm sure many of our morons and moronettes have been able to attend the Super Bowl, World Series, National (College Football) Championship, Stanley Cup or the like. Or perhaps you're into racing and have gone to the Kentucky Derby, Boston Marathon, or Indy 500*? How did that go? Did it meet your expectations? Was it worth the expense and hassle of fighting the crowds?
*(Having lived in Indiana for several years, it was inevitable that I attend one of the Indy 500 speed trials. One word: LOUD. Not my thing at all, but what the heck!)

To wrap things up and put us all in the mood for the summer to come, here's great summer-y song:
Happy travels!
Send tips, suggestions, and praise to MoxieMom on Twitter.

posted by Open Blogger at
08:55 PM
|
Access Comments