« And Now a Factual Documentary About George Washington
|
Main
|
Overnight Open Thread (2-17-2014) »
February 17, 2014
Spaced-Out Challenge: The Hunting Dogs of Orion
[We Politely Request That All Off-Topic or Political Comments Be Directed to the Open Thread down page, Which Will Serve Officially as the Current "Active Conversation" Thread for All Discussions Not Related To This Topic. Enjoy!]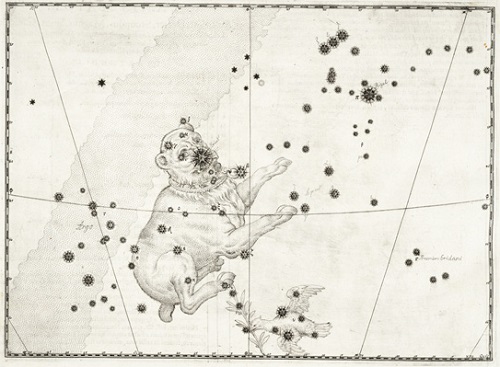 Canis Major from Bayer's Uranometria (1603)
Welcome again to the Spaced-Out Challenge! Whether you have a question about equipment, a new astronomical discovery you want to expand on, or just want to kick back and enjoy the cosmos above, come one come all on our weekly astronomical journey.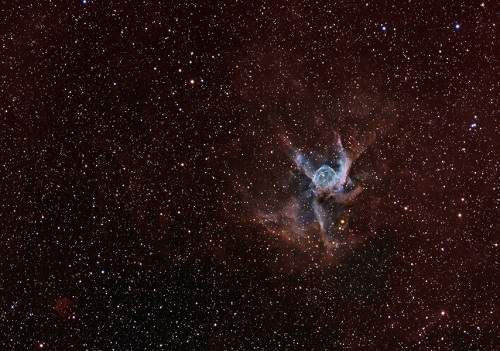 Thor's Helmet, as imaged by Rogelio Bernal Andreo & Ray Gralak, is one of our targets
This week, we return to our Winter Sky Guide, and explore the constellations of Orion's faithful companions, Canis Major and Minor. Be it monsters or glistening jewels, these constellations contain sights to thrill, so let's dive in, shall we?
***
Canis Major and Minor, an Overview
The big and little hunting companions of the Great Hunter can be found in close proximity to him: Minor is a simple two-star constellation due east of Orion, while Major is the much larger constellation to his southeast. The brightest stars of each, Procyon and Sirius, make up part of the great Winter Hexagon: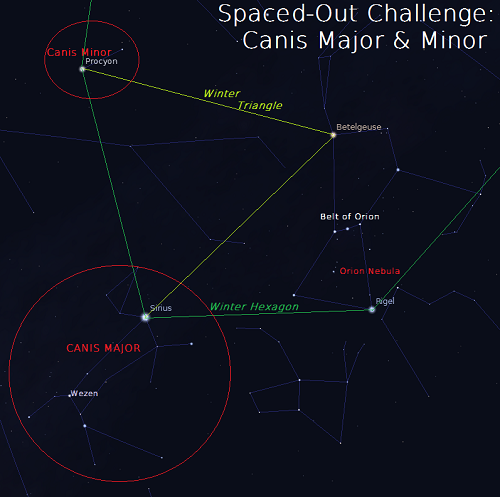 Unfortunately, there aren't any targets for amateurs to discuss in the smaller dog, but Canis Major has quite a few intriguing sights worth hunting down. You may recall the Winter Albireo from last week's challenge. On any clear night, even from the city, it shines through. We're going to go even deeper out into the vastness this week.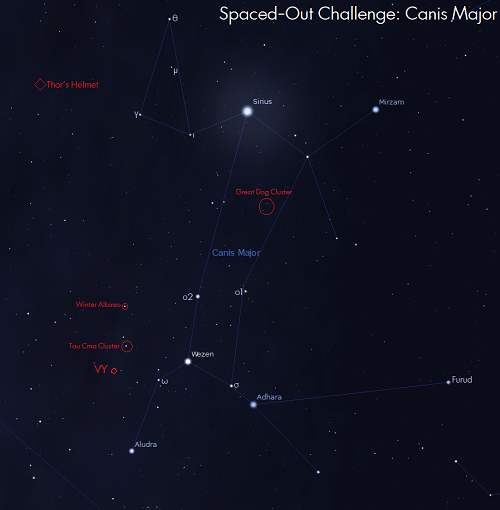 Sirius & It's Elusive Companion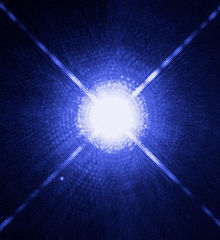 Sirius A & B as imaged by Hubble (courtesy JPL/NASA)
Sirius, the brightest star in our night sky, is also one of the closest at just 8.6 light years from earth. It is also a double star, though it's faint white dwarf companion is a challenge for most to spot. However, over the next two decades, it will be at its furthest separation. It is perhaps the most challenging double for an amateur, but because of that, also the most rewarding. Blogger Florin Andrei writes:

Even in good seeing, it will wink in and out of existence. Or you'll see it for a few moments, then it will vanish again for a long time. Do not confuse it with a diffraction or seeing artifact from the primary; stars are round, whereas artifacts are typically more linear or oddly-shaped.

Only when seeing is very VERY good will you be able to see Sirius B for extended periods of time. Usually it's more elusive than that.

When your eyes are tired, take a break, or observe the Great Orion Nebula nearby. Or look at Rigel A/B again and memorize the distance between them. Then get back to hunting Sirius B.

If this is the first time you're attempting this observation, and you fail, well, that's normal. Try again tomorrow. And again. It's pretty hard to catch just the sort of perfect seeing required to see this star, so persistence is an important ingredient in the recipe. Perfect seeing, a telescope in perfect shape, high magnification, and persistence: that's how it's done.
Tau Canis Majoris Cluster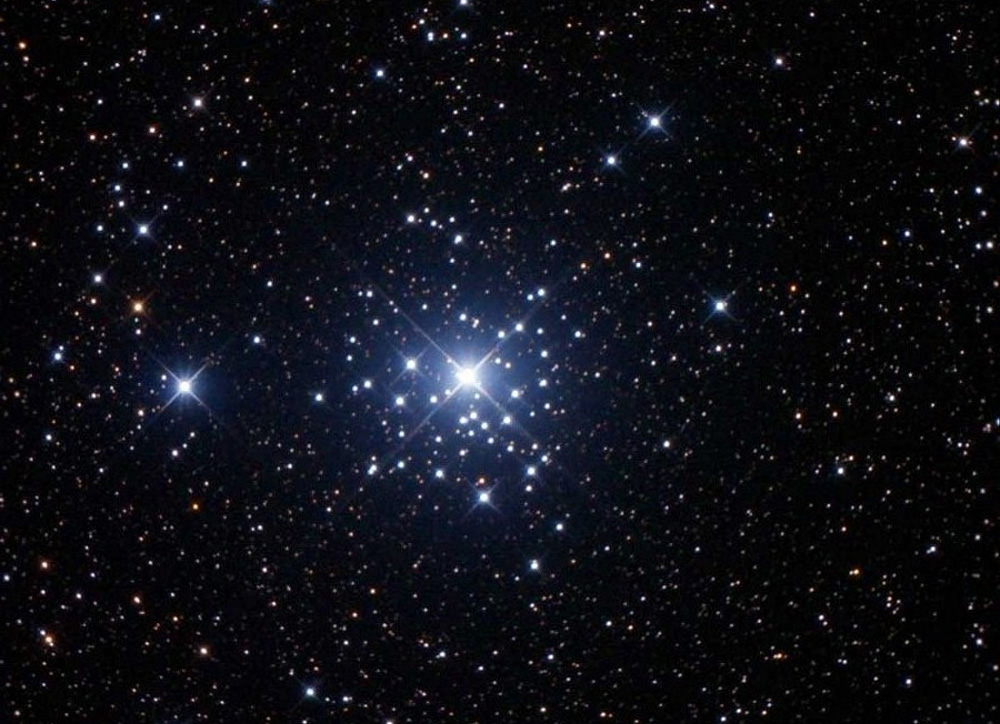 First discovered in 1654, this cluster is relatively young, estimated at only four to five million years old. It's brightest member is the reasonably bright star Tau Canis Majoris. While not nearly as massive as M41, it has a beauty all it's own, and actually marks one of the hops we explored last week when hunting down the Winter Albireo.
The Great Dog's Greatest Cluster (M41)

Image credit: Twin Cities Amateur Astronomers
Lying exactly 4 degrees South of Sirius is the faintest object known to Aristotle, at least according to some researchers. It's oldest confirmed documentation comes from Hodierna in 1654, over a century before Messier added it to his catalog. It is easy to spot from a dark site without any optical aid, and pops well in binoculars and telescopes. Small telescopes and large binoculars reveal the color contrasts: a few red giants are sprinkled within this 190 million-year-old hundred-member cluster. This is the easiest deep sky object to spot in the Big Dog: I've eyeballed it from my suburban observing site.
Thor's Helmet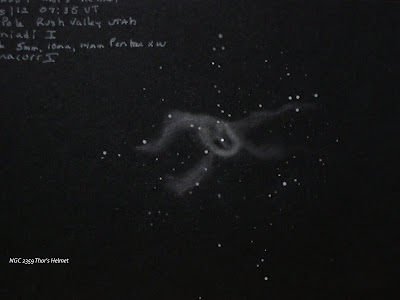 Sketch by Jay Eads using his 14" dobsonian
This one is for you Dobsonian owners out there who somehow grow tired of observing the Great Nebula further north. Only attempt this from at least exurban skies or darker, and remember your nebula filter (preferably a UHC, see our detailed beginner's buyer guide at the end of this post). If you own a scope with at least 6" of aperture or better, drift about eight degrees northeast of Sirius to an otherwise empty patch of sky, looking for a small rectangular blob of faint light. Cranking your scope up to higher power, and see if you can differentiate the "horns" and bubble- once you do, you won't forget it. You are staring at a supermassive, dangerously unstable Wolf-Rayet star, furiously shedding it's outer layers as it burns towards its doom.
VY Canis Majoris

Source: Hubblesite.org
Image courtesy NASA, ESA & R. Humphreys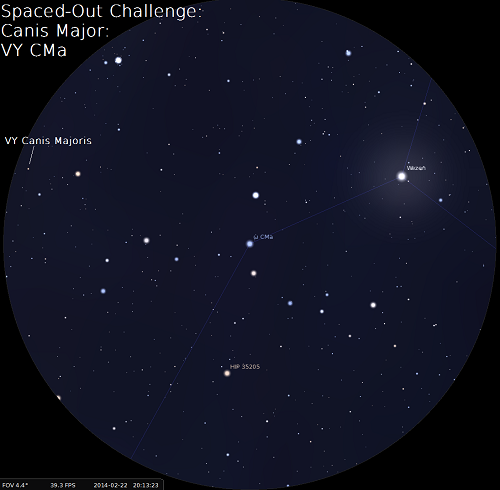 At first, this dull red/orange eight-magnitude star less than a field-of-view east of Wezen may look like nothing out of the ordinary, but appearances can be deceiving. It's big. How big?
It also has a rather dramatic and unfortunate future, and will likely form one of the most mysterious objects we have discovered in space:
***
What Else is Up
This week, I'm going to defer to Tony Flanders of S&T to rundown our more local celestial sights, and for a simpler explanation of the molecular clouds we call nebulae:

***
Moron Astrophotography
This incredible shot of the Orion Nebula, taken under a full moon through an Orion XX14G, comes courtesy of moron COOP: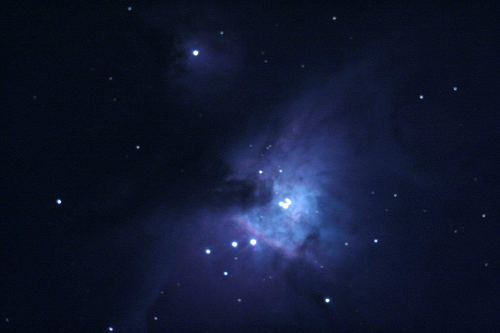 ***
The full Beginner's Buyer's Guide, our Comet Guide (featuring additional grab-and-go telescopes), and any other edition you're looking for can be found in the master index of all Spaced-Out Challenge threads
here
, but of course you can always inquire about binoculars, telescopes, and all the rest in the comments. As always, if you have astrophotography, product recommendations, or astronomy news you'd like to see on a future Spaced-Out Challenge, email me at theoneandonlyfinn (at) gmail.com, or tweet me
@conartcritic
.
If you have any more questions about your new optics, feel free to ask below. Until next time, clear skies to you, and keep looking up!


posted by CAC at
08:37 PM
|
Access Comments