« Emergency Temporary ONT
|
Main
|
Morning Post »
February 12, 2014
Overnight Open Thread (2-12-2014)
How to Ruin Your Life, Part II
In which WRM describes an anti-plan for a happy, prosperous, productive life.
In the meantime, young people, here's some more advice on how to ruin your life: Enroll in a college you can't afford. Take really easy, fun courses. Don't worry about marketable skills. Blame society for the consequences (unemployment) of your attitude problem. Then demand the government (or your parents) bail you out.

...If you follow this recipe faithfully, Via Meadia promises that you will achieve all the unhappiness you want.  And don't worry; anytime you feel sad and blue, just read some "lifestyle" journalism in the Boston Globe.  It will be sure to cheer you up.
The Irish National Sport: Fighting Hurling
And it seems to be what soccer could have been before they decided that using your hands in any way might lead to scoring and be unfair to sissies.
Hurling! The Irish national game. No protective gear, except a helmet. Then again, the helmet has only been mandatory since 2010. No names on the shirts. Played for pride only; no professional Hurling teams exist. The pitch is huge; about 150 yards by 100.  It's an ancient game, predating Christianity by as many as 1000 years. You try to strike the ball through the goal posts to score. Over the crossbar is a point; under the bar where the goalie lurks is worth three. You can't pick the ball off the ground, carry it in your hand for more than four strides, or throw the ball for a score. You can't pull on a jersey, trip, or push your opponent.
Cisgender Allies and Gallia Cisalpina
All the new-fangled transgender terms designed to make you commit a speech-crime are confusing - even to those on the left.
As Sonny Bunch of the Washington Free Beacon recounts, Media Matters research fellow Oliver Willis has come in for some abuse from the left for suggesting that activists should give ordinary people a break for not knowing exactly the right terms to describe transgender people. (See his Twitter feed for a sampling of the criticism.)

"I'm someone who lives and works on the left and I had to Google the term 'cisgendered' lately because I had no clue what the hell it is," he writes. Indeed, the prefixes "trans-" and "cis-" are confusing, because the former is often used as a prefix to indicate change, and the latter is almost never used at all. But in LGBT contexts, as Willis is learning, the former basically applies to anyone for whom there is a disconnect between his biological sex at birth and his gender identity, and the latter means someone for whom the two are on the same side of that darn gender binary. How to remember this? It's simple: Learn your ancient Roman provinces.
Luckily for me all those years of Latin and reading Caesar's Gallic Wars are finally paying off by letting me make an educated guess at whatever the latest tranny term du jour means.
The Presbyterian vs Jew War Is Heating Up
What's up with the Presbyterian church that they're now in the business of handing out anti-Semitic tracts?
As the Times of Israel reports, the Presbyterians' Israel Palestinian Mission Network (IPMN) has issued a "study guide" about the Middle East conflict that will forever change the relationship between the church and the Jewish people. The 74-page illustrated booklet and companion DVD entitled Zionism Unsettled was published last month for use by the church's 2.4 million members. Unlike other left-wing critiques of Israel, the Presbyterian pamphlet isn't content to register disapproval of Israeli policies and West Bank settlements or to lament the plight of the Palestinians. The booklet is a full-blown attack against the very concept of Zionism and seeks to compare Zionism to the Christian anti-Semitism that led to the Holocaust and other historical atrocities. Its purpose is to brand Israel as an illegitimate entity and to treat its American Jewish supporters as having strayed from the values of their religion.

...With regard to the conflict between Israel and the Palestinians, it sees only black and white. In Zionism Unsettled, the Jews have no right to Israel and no right to defend themselves. On the other hand, it rationalizes and even justifies violence against Israel.

But the argument goes further than anti-Zionism. The pamphlet actually criticizes the Catholic Church for its historic efforts at reconciliation with the Jewish people, saying the 1965 declaration Nostra Aetate that rejected the Deicide myth against the Jews "raises as many questions as it answers."
Why You Can't Always Trust Drudge Links
Because often they lead to InfoWars and paranoid bullshit link-bait.
Such ammunition is sometimes retailed as "Zombie Max," a marketing gimmick alluding to its power.

"What makes the .308 ammunition so deadly is the long range capability of the round," notes James Smith. "The ability is called ballistic coefficient, or the efficiency of a projectile in overcoming air resistance as it travels to its target. According to Speer Reloading Manual Number 13, the .308 165 grain has the highest coefficient of any hunting rifle."
Uh nope. And Bob Owens then proceeds to break down all the errors in the article one by one.

10 Years Ago Today, Dave Chappelle and Rick James Changed the World
And made comedy history. Here Dave Chappelle narrates the story of when Eddie Murphy's brother, Charlie Murphy, whipped Rick James' ass on at least two occasions. Because I'm Rick James, bitch!
Part 2 is here.
Of Course: McGruff The Crime Dog Actor Sentenced To 16 Years For Pot, Grenade Launcher
Always be wary of inappropriate trench coats.

How to Survive Falling Through the Ice: An Illustrated Guide
Okay I'm assuming they mean 15+ minutes of consciousness while treading water in the ice hole. Then there are five more steps.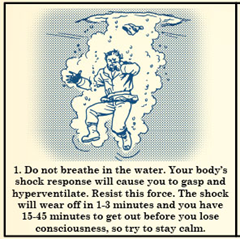 Cannibal Women in the Avocado Jungle of Death (1989)
I forget how I ended up on the IMDB page but it brought back memories of watching this movie many years ago.
The government hires a feminist at the local university to track down the Piranha Women living in the uncharted Avocado Jungle (westernmost outpost is San Bernardino) to convince them to move to a reservation condo in Malibu. She hires a guide at the edge of the jungle, a male chauvinist pig, and they have many arguments about men and women as they work their way in, and eventually confront the Piranha Women.
And as a I recall the movie had some good lines, Bill Maher was actually funny, and it had nicely gratuitous Shannon Tweed toplessness.
Margo Hunt: They're an ancient commune of feminists, so radical, so militant, so left of center they... they eat their men.
Bunny: Oh, that. Well, if I like a guy, I usually start at...
Margo Hunt: They don't eat their men like that, Bunny.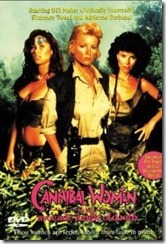 Teh Tweet!
Le AoSHQ groupe de Yahoo. Ooh la la!
Tonight's post brought to you by the real meaning: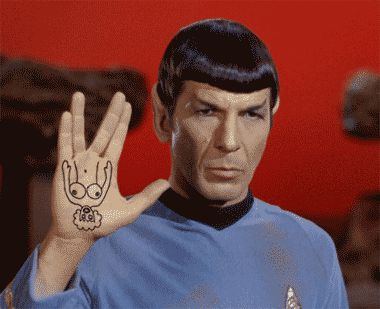 Notice: Posted by permission of AceCorp LLC. Please e-mail overnight open thread tips to maetenloch at gmail. Otherwise send tips to Ace.

posted by Maetenloch at
10:48 PM
|
Access Comments