« AOSHQDD- San Diego Mayoral Runoff Results
|
Main
|
Top Headline Comments 2-12-14 »
February 11, 2014
Overnight Open Thread (2-11-2014)
Obamacare Is Just Another Word For Laws We Ignore Together
Out: Written laws and stuff. In: ObamaCareocracy.
The Obama administration is now giving medium-sized employers an extra year - until 2016 - before they must offer health insurance to their full-time workers. This directly contradicts the text of the law. Good for those employers; bad for the rule of law.
I don't want to sound like a troglodyte, but the president, as head of the executive branch of the federal government is constitutionally obligated to "take care that the laws be faithfully executed," not implement laws in an expedient manner, or a more prudent manner, or even in a way that he believes is more moral or a helpful for people struggling to find affordable health care. This is why we write bills down and debate them prior to passage. Or, at least, it used to be.
ObamaCare - It's the ultimate wildcard of a law. Which allows the President to do anything. Or nothing. Whatever his whims and needs at the moment dictate. Sorta like the commerce clause except far more powerful since everything - including just keeping yourself alive - falls under its domain.
From Slublog: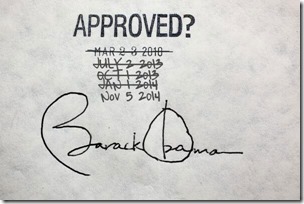 And this: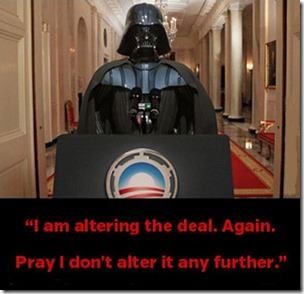 The Time When Andrew Breitbart Commented Here
In classic Andrew-style:
62 I was on with Bashir once. It was a lovely experience. He read straight from Media Matters prepared script that day, and I called it out. His attempt to portray me as a racist consisted of trying to associate me with a racist email forwarded by an obscure Orange County, California elected official. As I excoriated said obscure elected official in no uncertain terms, Bashir refused to accept it. He then went through another grotesque set of Media Matters planted racism by non association innuendo. I wholly expected this moment. And it was weirdly fun. There is a daily direct connection between the unions that pay for Media Matters PR work and the content that goes up at MSNBC. It is government funded and subsidized propaganda. It is crony capitalism at it's worse. But if we were to eliminate it we would be depriving ourselves of so much 'Resist We Much' found comedy. So the question remains what to do about the MSNBC problem? I say we let them be!

Posted by: Andrew 'I Want Ace's Commenters!' Breitbart at September 29, 2011 02:03 PM (6uTN2)
Which makes this poster both literally and figuratively true. Rest in peace, Andrew.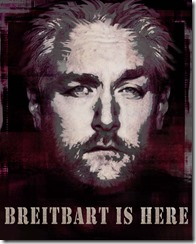 Well according to MiniSustainability it is.
Greens like to have it both ways. They warn darkly about "peak oil" and global resource shortages that will destroy our industrial economy in its tracks - but also warn that runaway economic growth will destroy the planet through the uncontrolled effects of mass industrial productions. Both doomsday scenarios cannot be true; one cannot simultaneously die of both starvation and gluttony.
"You do not become a ''dissident'' just because you decide one day to take up this most unusual career. You are thrown into it by your personal sense of responsibility, combined with a complex set of external circumstances. You are cast out of the existing structures and placed in a position of conflict with them. It begins as an attempt to do your work well, and ends with being branded an enemy of society."

-- Václav Havel
Conservative Crank Channels My Views on Amnesty
You got your amnesty in 1986. Where is the border security that was promised? Where is the mandatory E-Verify system?

You will get nothing, period. No path to citizenship, no legal status to come out of the shadows. No more chain migration. You will build a fence, you will approve an increase in the size of the Border Patrol, and you will not de-prioritize the deportation of any illegal who comes to the attention of law enforcement.

Furthermore, English will become the official language of the United States.

Do all these things, give it a decade to prove they're working, and then and only then will we discuss amnesty for those still here, and by amnesty we mean "will not be prosecuted". Go to the end of the line like everyone else who followed the rules.

Posted by: Conservative Crank at February 05, 2014 12:37 AM (d7H2D)
Those of us old enough to remember the 'once and never again' 1986 amnesty also remember all the sacred-honor-but-quickly-broken promises of strict immigration enforcement from legislators that came along with it.
Well we fucked up - we trusted them. So if they want to talk about another amnesty, first they will show us that they are willing and able to enforce border security and the existing laws. We can wait.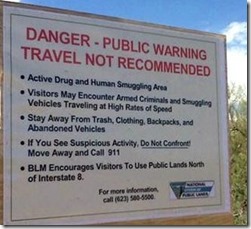 The Onion: Conservative Acquaintance Annoyingly Not Racist
Heh.
Not the Onion: Geraldo Complains that O'Reilly Stripped Obama 'of His Majesty'
By asking some semi-challenging questions of The One.
"What we had here with you and President Obama was a culture class. It was the president of most of the white guys of America, that's you. And, Barack Obama the president of almost everybody else. And the discussion was at that level. To watch it was some ways unsettling to me. What you did was strip him of his majesty."
Wait - Richard 'Paranoid Style' Hofstadter Was Full of It?
I'm shocked, shocked that a leftist intellectual would declare non-left opposition to be mentally ill.
But, as Christopher Lasch noted, by collapsing "political criticism into psychiatric categories," Hofstadter and his intellectual allies excused themselves "from the difficult work of judgment and argumentation." Similarly, the literary critic Ronald Berman pointed out that in "The Paranoid Style," "there are no case histories, no studies of the complex individual, no examination of intellectual development that is concrete. There is only the construction of hypothetical social types." As with standard-issue Marxist tropes, arguments didn't have to be debated-instead they could be reduced to the supposed social-psychological problems of those so foolish as to defect from liberal orthodoxy.
Well except for the losers who get an A- or <shudder> a B+.
"A recent analysis of 200 colleges and universities published in the Teachers College Record found 43 percent of all letter grades awarded in 2008 were A's, compared to 16 percent in 1960. And Harvard's student paper recently reported the median grade awarded to undergraduates at the elite school is now an A-. A statistician at Duke tried to make a difference and stirred up a hornet's nest in the process."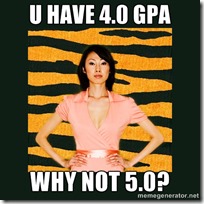 Your Genderist Pronouns Are Oppressing Me!
So I'd like $500K please.
A person in Oregon named Valeria Jones is suing catering company Bon Appétit Management for $518,682 because coworkers used female names in reference to Jones despite the fact that Jones had continually expressed the desire to be addressed only with gender neutral pronouns.

Some of the terms the coworkers called Jones included, for example, "little lady," "lady" and "miss," reports The Oregonian. The coworkers said Jones looked like a woman-possibly some unidentified female celebrity.

Jones was unhappy, explaining that pronouns which apply to everyone do not apply to Jones and are "unwelcome" because Jones is "not a female or a male."

Before ultimately quitting the job, Jones asked supervisors to present information to every other employee about various gender identity issues. The suit says supervisors chose not to make such a presentation.

"Plaintiff cried regularly at work and at home during this time," Jones's $518,682 suit declares.

Jones began working for Bon Appétit in March 2013 and then resigned at some unspecified later date.

When filling out a job application, the prospective employee left the binary boxes about being either male or female blank - apparently intentionally - and staffers at Bon Appétit Management Co. never mentioned it.
800,000 Year Old Footprints Found in Britain
It is unclear who these humans were. One suggestion is that they were a species called Homo antecessor, which was known to have lived in southern Europe. It is thought that these people could have made their way to what is now Norfolk across a strip of land that connected the UK to the rest of Europe a million years ago. They would have disappeared around 800,000 years ago because of a much colder climate setting in not long after the footprints were made.

It was not until 500,000 years ago that a species called Homo heidelbergensis lived in the UK. It is thought that these people evolved into early Neanderthals some 400,000 years ago. The Neanderthals then lived in Britain intermittently until about 40,000 years ago - a time that coincided with the arrival of our species, Homo sapiens.

There are no fossils of antecessor in Happisburgh, but the circumstantial evidence of their presence is getting stronger by the day.

In 2010, the same research team discovered the stone tools used by such people. And the discovery of the footprints now all but confirms that humans were in Britain nearly a million years ago, according to Prof Chris Stringer of the Natural History Museum, who is also involved in the research at Happisburgh.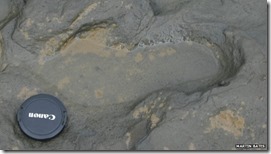 The AoSHQ group. Yeah.
Teh Tweet!
Tonight's post brought to you by meanwhile back at Fortress AoSHQ: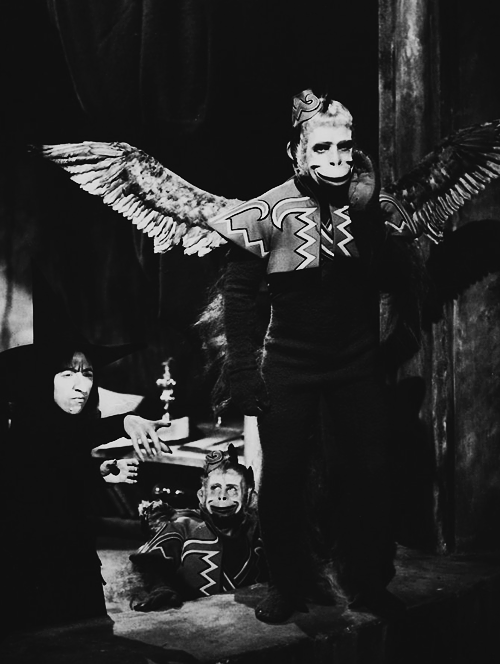 Notice: Posted by permission of AceCorp LLC. Please e-mail overnight open thread tips to maetenloch at gmail. Otherwise send tips to Ace.

posted by Maetenloch at
11:01 PM
|
Access Comments