« Spaced-Out Challenge: Mars & Venus in a Valentine's Dawn
|
Main
|
Top Headline Comments 2-10-14 »
February 09, 2014
Overnight Open Thread (2-9-2014)
Got home late so you get the 20 minute hurry-up ONT with a solid 16 minutes of quality effort.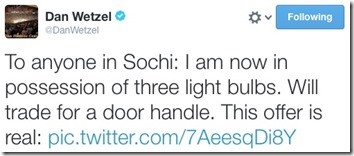 How USA Olympic bobsledder Johnny Quinn Escaped From His Bathroom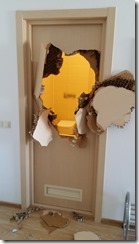 Maybe cars cost extra.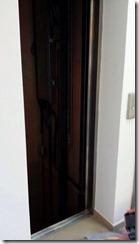 And the 'Wall of Steel' police presence.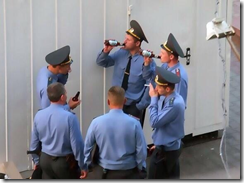 And then you have the toilets. Now they've had toilets and bathrooms in Russia for a while so what the hell were they thinking?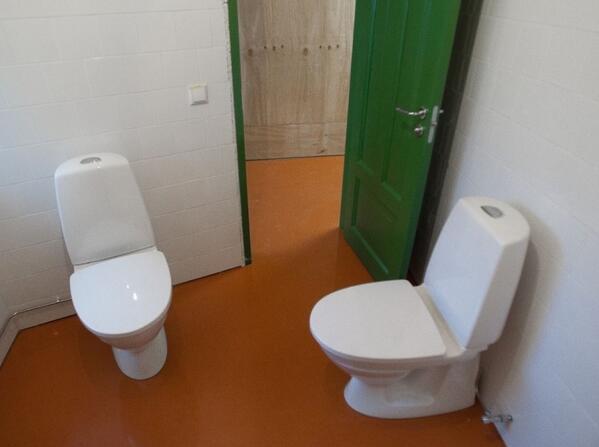 Oops - Sochi Games' Biathlon Track 130 Feet Too Short
There Are 6 Active U.S. Military Personnel Competing In Sochi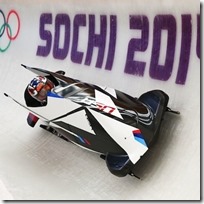 One Reason I've Lost Interest in the Olympics
As I've gotten older I've become more and more disenchanted with the Olympics. Part of this is the sheer amount of corruption and politics that's tied up with it these days but a large part is just due to the fact that nothing shown in the games has any interest to me.
My earliest memories are of the 1976 and 1980 games and I remember watching entire events and following individual athletes through the Olympics. But today the networks don't show the events I have an interest in (which are mostly ones involving speed or strength over form and art) though you might get a highlight of an event if you're lucky. In fact most of the Olympic television coverage these days has become a reality show about athletes going to the Olympics rather than the actual Olympic events themselves. But another factor that this chart shows is that the number of events has doubled since 1988 which means each event gets even less coverage than before. Feh.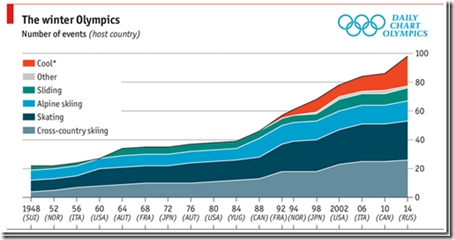 In Praise Of Sochi Schadenfreude
On why we should celebrate Russia's failure.
We don't even have to bring up the fact that Putin has consistently undermined American interests, abetting brutal dictatorships in Syria and North Korea - not to mention, shielding Iran's nuclear ambitions. Surrounded by an army of 40,000 soldiers and police in a "ring of steel," Bob Costas can whitewash his host's misdeeds, but Russia's government is not only corrupt, and not only is it intolerant of gays, but according to Amnesty International, human rights violations by the government include killings, enforced disappearances and torture, and they are "frequent." According  to Freedom of Information index by Reporters Without Borders, Putin belongs on a list with Chinese President Xi Jinping, North Korea's Kim Jong-un, Iran's Ayatollah Ali Khamenei, the Italian Mafia and Chechnya's Ramzan Kadyrov.

That's not to say that Russians, with or without Putin, don't have a long way to go. It's not to say that the Russian people don't have their quirks. But if Sochi is, as Putin claims, a vision a "new Russia," lots of people around the world will see that the new Russia is extraordinarily similar to the old Russia.

This is his Olympics. We should all get in a good laugh at his misfortune.
UK Police Will Have Backdoor Access To National Health Records
What could possibly go wrong?
How To Succeed as a Political Cartoonist: Always Flatter, Never Challenge, Your Audience
It was his politics, mostly, that lifted Herblock above his lack of technical skill to the Pulitzers and the medals and the honorary degrees. His ideas were as simple as his draftsmanship, and perfectly matched to the prejudices of the powerful journalists he hoped to please. The Post reviewer lists his big issues: "fascism, war, the bomb [presumably against], the environment, civil rights, lobbying reform [presumably for]." He didn't get much more complicated than that. The crudity of his politics and the crudity of his draftsmanship were intimately connected.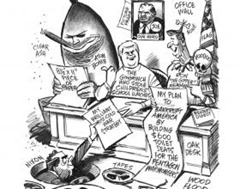 What Is It With Totalitarian Countries and Working Toilets and Toilet Paper?
I've been so amused by all the pictures and stories coming out of Sochi of how unprepared the area is for all the foreigners and reporters arrive for the Olympics. Is this any surprise from a society that continually failed to meet its five-year plans? The picture of the sign in the toilets telling people to place their toilet paper in a trash can rather than the toilet brought back unfond memories from the time I spent in the Soviet Union in 1979. That is what we had to do at all the toilets. And we were lucky if we had something recognizable as toilet paper to use. Often we had cut up squares of newspaper giving rise to many jokes about the best use of Pravda. Once we encountered squares of wax paper - not the most absorbent material which somehow misses the point of toilet paper. I wrote my husband at the time that we were inevitably going to win the Cold War since no modern country that could manage to provide toilets and toilet paper could defeat us. What is amazing is that they have not made much progress in modern bathroom implements since 1979.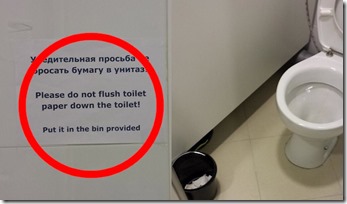 Remembering Robinson "Robbie" Risner
He made a name for himself as an Ace in Korea but it was his time as a POW in Vietnam where he proved what he was really made of.
James Robinson Risner was a man of humble origins, son of an Arkansas sharecropper, educated at secondary school level, not particularly ambitious, a common man save for two things: He could fly the hell out of an airplane; and, under terribly difficult circumstances as a prisoner of war in North Vietnam, he rose to a level of heroic leadership matched by few men in American military history.

...It was the Korean War that put Robbie Risner's name on the map of aerial warriors of that era, and became what he described decades later as the most gratifying period of his life. He finagled his way out of his recalled Guard unit into a front line air combat Group equipped with the best aircraft of the period, and paid back the favor by shooting down 8 MIGs. He also pulled off other incredible feats of airmanship. He once pushed the damaged and fuel-starved plane of his wingman with the nose of his own aircraft out of hostile skies into friendly territory for a safe bailout. That is the stuff of which legends are made.
And on Sep. 16th, 1965 he was shot down and captured by the North Vietnamese and held for the next seven and half years.
At the time of Robbie's capture there were 27 other Americans incarcerated in Hanoi, separated from each other, all doing their best to abide by the Code of Conduct for American Fighting Men. Once Risner determined that he was the Senior Ranking Office, he began to put structure and guidance into the POWs' lives, a sense of order and community, the very thing their captors were trying desperately to prevent. He would pay a terrible price for that leadership when the guards would catch him communicating, but they couldn't stop him. No matter how brutal the beatings, the next day he would be at it again.

In the early days he was generally held in that small cell block mentioned earlier, and since most new prisoners were held there temporarily, after initial interrogation and torture sessions, Risner used brief moments of guard absence to "induct" new men into his POW command. His message to me as I lay on the floor of my cell, straining to hear his every word, remain burned into my brain even now, almost 48 years later: He told me his name, and asked mine and my rank. Then he said: "You must learn the tap code, and here's how it works...memorize it, and practice it, it's vital." And he added: "Eat everything they give you, no matter how disgusting; it'll keep you alive. You've just been tortured, and that's not the end of it; resist to the limits of your sanity, or to permanent physical damage. You'll know when you get there." And he concluded: "And pray; if you haven't been, start. We're going to get through this, and I'll see you when it's over."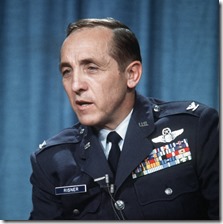 How Long Have the British Isles Been Isles?
Now very long - barely 8,000 years which almost puts the Channel formation into historical times.
The maps in question feature the area we know as northwest Europe and the British Isles from 18,000 to 5,000 BC. At the beginning, ice sheets covered the latter (especially Scotland). But the whole was one big land mass, because so much water was bound up in the ice that there was no English Channel, and the North Sea was a narrow finger of the ocean. It wasn't until 6,500 BC that the British Isles became "isles," when the waters rose significantly and separated them from the rest of Europe.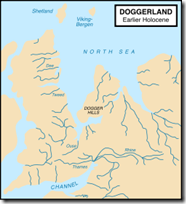 Weekly Commenter Standings
Top 10 commenters:
1 [556 comments] 'Boss Moss' [78.04 posts/day]
2 [420 comments] 'Niedermeyer's Dead Horse'
3 [408 comments] 'Mike Hammer'
4 [348 comments] 'Anna Puma (+SmuD)'
5 [325 comments] 'garrett'
6 [321 comments] 'cthulhu'
7 [312 comments] 'Nip Sip'
8 [300 comments] 'Vic</i>'
9 [296 comments] 'BlueStateRebel'
10 [288 comments] 'willow'
Top 10 sockpuppeteers:
1 [96 names] 'Adam' [13.47 unique names/day]
2 [94 names] 'The Political Hat'
3 [74 names] 'Lazy Madison Avenue'
4 [59 names] 'Cicero (@cicero)'
5 [52 names] 'Islamic Rage Boy'
6 [49 names] 'phreshone'
7 [48 names] 'phreshone'
8 [38 names] 'Mike Hammer'
9 [37 names] 'Doctor Fish'
10 [35 names] 'Boss Moss'
The group. Yeah.
Where it's at - the Twitter
Tonight's post brought to you by Jay and kitteh: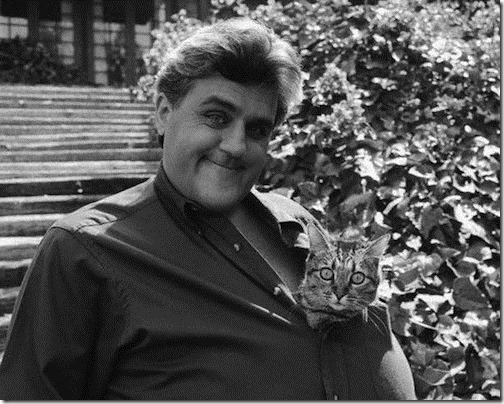 Notice: Posted by permission of AceCorp LLC. Please e-mail overnight open thread tips to maetenloch at gmail. Otherwise send tips to Ace.

posted by Maetenloch at
10:48 PM
|
Access Comments