« Open Thread
|
Main
|
Overnight Open Thread (2-9-2014) »
February 09, 2014
Spaced-Out Challenge: Mars & Venus in a Valentine's Dawn
[We Politely Request That All Off-Topic or Political Comments Be Directed to the Open Thread down page, Which Will Serve Officially as the Current "Active Conversation" Thread for All Discussions Not Related To This Topic. Enjoy!]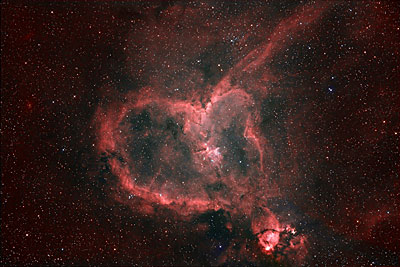 IC 1805, The Heart Nebula, by Matthew T Russell
Welcome again to the Spaced-Out Challenge! Whether you have a question about equipment, a new astronomical discovery you want to expand on, or just want to kick back and enjoy the cosmos above, come one come all on our weekly astronomical journey.
With the moon full, we'll stay mostly within our own solar system and enjoy two favorites: Mars, the planet of war, and Venus, the planet of love, which both grace our pre-dawn skies this week. Plus, you'll find a beautiful double star target in the Big Dog, we'll review an interesting technique for seeing color in the Orion Nebula, and we'll open the mail bag and share some moron astrophotography. So, step outside, turn off the lights, and let me guide you through space and time.

Magnificent Mars and Dazzling Venus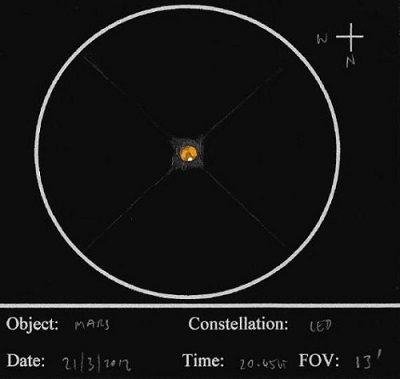 Sketch by Peter Mayhew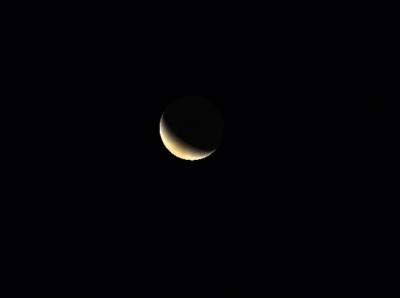 Venus graced our evening skies for much of the latter half of 2013, and prompted more "what is that star" questions than any other object. Now, it graces us again, just in time for Valentines, though you will need to get up an hour before dawn to enjoy it. Fattening from the thin crescent we enjoyed at the start of the year, it's now about a quarter lit, and will provide a striking contrast to smaller, fainter Mars.
The warring world, Mars grows increasingly bright through the month, outshining Arcturus by Valentine's day. It also "grows" in telescopes, from just 9" wide to over 10", allowing for some features to be made out in high power. The polar ice cap will likely be too small to see, as the planet's northern hemisphere is at it's summer solstice on Saturday. Still, the rust-brown color contrasts nicely with the yellowy-white crescent of Venus.
Even in binoculars, Mars and Venus' color are quite obvious, so if you lack a scope, you can still enjoy this beautiful contrast of worlds. Early risers with clear skies will enjoy a nearly-full moon setting in the West to add to the show.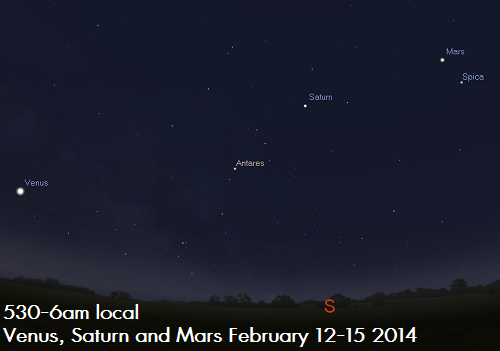 ***
A Beautiful Evening Double: the Winter Albireo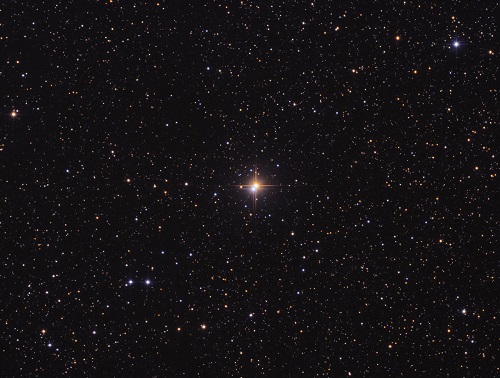 CMa 145 by Sergio Eguivar
More officially Herschel 3945 or CMa 145, this gorgeous yellow-red and blue pairing earns its nickname well, bearing a striking resemblance to the jewel of summer doubles, Albireo in Cygnus. Finding it is quite easy, even from light polluted skies, as it is located near one of the brightest stars in Canis Major, Wezen: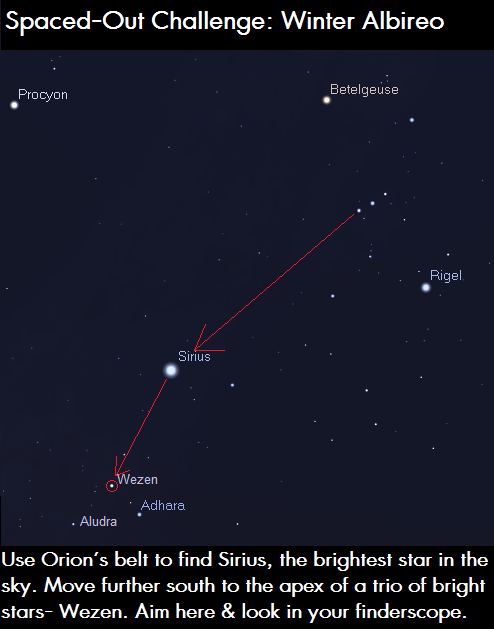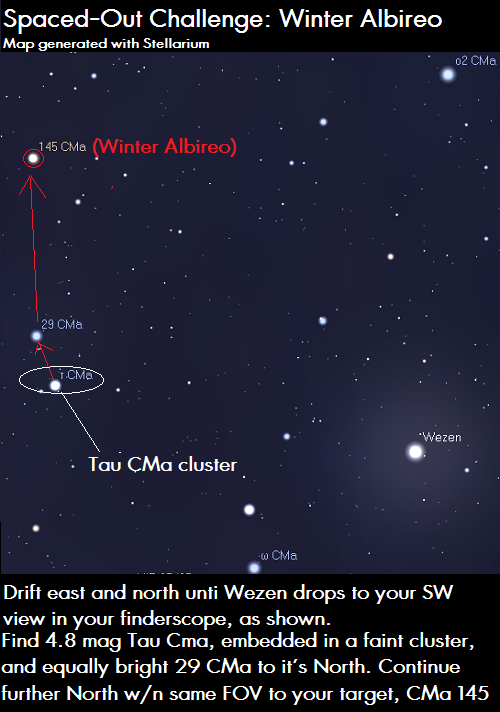 ***
Color in the Orion Nebula
Now, what I'm about to tell you flies in the face of everything stressed when trying to observe very faint objects. Remember how much we have emphasized the importance of preserving your night vision? Well, while adapted to catching the faint fuzzies, your eyes aren't exactly sniffing around for color.
David Fuller of the Eyes on the Sky blog explains:

The retina of the human eye has two types of cells: Cones, and rods. Cones are concentrated at the back/center portion of the eye. This makes sense, given that during daylight hours is when we see the most color, and also have plenty of light to be able to see both in the center of our field of vision, and peripherally. This is called photopic vision.

But rods are the cells our eyes use at night. They pick up lower light levels, called scotopic vision but there's a catch: They also don't perceive color. So much of what we see in the 'dark' (technically, very low light conditions) is thanks to our rods. They are in the central portion of our retina too, but there are many more of them than cones in the outer reaches of the eye, so that our peripheral vision is actually enhanced in darker conditions...What all this means for visual astronomy observing is that when we look at objects through a telescope, we are often perceiving light at lower levels, except for the Moon, most planets, and brighter stars. When looking at extended, dimmer objects, our rods are what perceive light vs. dark. This is why averted vision is a popular way for amateurs to "see more" at the eyepiece...But the Orion Nebula, the Lagoon Nebula (M8), the Dumbbell Nebula (M27) and many planetary nebula are exceptions to this. They tend to be bright objects, and though photographs pick up the reds, oranges and pinks in these objects, our eyes peak in the green part of the spectrum. So when it is dark, but there is sufficient light to see some color, our eyes work somewhere between photopic and scotopic, called "mesopic" vision. So we can (sometimes!) see green, blue-green, blues, and occasionally in larger scopes and with younger eyes and with the brightest sections of these objects, oranges and/or reds. Now, the colors are subtle, but they are real, and there.
There has been heated debate within the amateur community about what exactly one can actually see in terms of color, particularly with the Orion Nebula. Some insist the reds are imaginary, influenced by exposure to photographs of the nebulae. Others have never noticed any color, so they simply assume there is none to be seen.
Fuller advises exposing the eye to a brief flash of unfiltered light, which ruins your dark adaptation but activates the color-sensitive cone cell in the eye. Avoid using anything particularly bright- going from night vision to a flash can be headache-inducing if you aren't careful.
I can confirm some success with Fuller' technique on a variety of nebulae: the Great Nebula in Orion is the most obvious, but I've detected faint pinks and reds in the Lagoon, Swan, Ring; and more blue tones in the Dumbbell, Ring, and Blue Snowball nebulae. If you don't plan on hunting down faint galaxies or dark nebulae, it can be a very rewarding technique in teasing out the fainter colors of the more impressive objects.
***
Moron Astrophotography
This excellent shot of the full moon comes to us courtesy reader Dain Shook:





 I was just catching up on your article on aceofspades and wanted to share my photo also of the moon. It was taken from a little Sony snapshot camera through my kids $125 Celestron(?) telescope. This was taken from our home in Costa Rica from about 9 degrees North of the equator. Our family really enjoys the Spaced Out Challenge. We have very little light pollution here so viewing from the beach is very good.
Lurker Glen Dunnack humbly submits this great shot taken from suburban Houston:


 After 9 months of terrible seeing in SE Texas, we've had a great run of clear skies through January. 
Anyhow, I finally was able to get out and get some photons captured on M42, and the results are humbly submitted (my post-processing is still at rank amateur level, but I'm learning).
 This was taken from my heavily light polluted front yard using an un-modded Cannon T3i  through a Celestron CPC 925, 15 x 30 second lights at ISO 800, stacked in Nebulosity & processed in Photoshop CS5.
***
The full Beginner's Buyer's Guide, our Comet Guide (featuring additional grab-and-go telescopes), and any other edition you're looking for can be found in the master index of all Spaced-Out Challenge threads
here
, but of course you can always inquire about binoculars, telescopes, and all the rest in the comments. As always, if you have astrophotography, product recommendations, or astronomy news you'd like to see on a future Spaced-Out Challenge, email me at theoneandonlyfinn (at) gmail.com, or tweet me
@conartcritic
.
If you have any more questions about your new optics, feel free to ask below. Until next time, clear skies to you, and keep looking up!


posted by CAC at
08:55 PM
|
Access Comments