« Looking for love [Y-not]
|
Main
|
Top Headline Comments 2-5-14 »
February 04, 2014
Overnight Open Thread (2-4-2014)
The Great 2013 Commenter Stats Tally
Last night some of the commenters were asking about how many commenters there are around here which reminded me that I had completely forgotten to calculate and post the 2013 overall commenter standings AKA the Hall of Shame. So here they are.
But first some overall blog stats from the year 2013:
Number of blog posts:  4815
Number of comments:  1510735
Number of unique hashes:  48129 [I dub them Breitbart's Coveted 50K]
Top 20 commenters:
1 [28133 comments] 'sven10077' [77.08 posts/day = 1 comment every 18.7 minutes 24/7/52]
2 [19432 comments] 'Anna Puma (+SmuD)'
3 [16170 comments] 'Vic'
4 [15586 comments] 'EC'
5 [14733 comments] 'Niedermeyer's Dead Horse'
6 [13787 comments] 'Mike Hammer'
7 [13317 comments] 'MWR, Proud Tea(rrorist) Party Assault Hobbit </s></b></u></i>'
8 [13176 comments] 'Jane D'oh'
9 [11894 comments] 'Nevergiveup'
10 [11757 comments] 'BCochran1981 - Credible Hulk'
11 [11611 comments] 'thunderb'
12 [11488 comments] 'Jones in CO'
13 [11433 comments] 'J.J. Sefton'
14 [10861 comments] 'willow'
15 [10486 comments] 'garrett'
16 [10312 comments] 'RWC'
17 [10278 comments] 'rickb223'
18 [10149 comments] 'Flatbush Joe'
19 [9323 comments] 'AllenG (Dedicated Tenther)'
20 [8682 comments] 'zsasz'
Top 20 sockpuppeteers:
1 [2096 names] 'The Political Hat' [5.51 unique names/day]
2 [1266 names] 'Cicero (@cicero)'
3 [998 names] 'Islamic Rage Boy'
4 [909 names] 'Romeo13'
5 [793 names] 'zsasz'
6 [761 names] 'Adam'
7 [734 names] 't-bird'
8 [651 names] 'Brandon In Baton Rouge'
9 [639 names] 'phreshone'
10 [585 names] 'mindful webworker - choose'
11 [543 names] 'Low Information Voter'
12 [530 names] 'Mike Hammer'
13 [529 names] 'pep'
14 [524 names] 'Truck Monkey'
15 [514 names] 'toby928Β©'
16 [512 names] 'derit'
17 [505 names] 'Doctor Fish'
18 [462 names] 'Prez'nit 404'
19 [446 names] 'Buzzsaw90'
20 [439 names] 'Count de Monet'
You know they do have therapy for this now. And it's even covered under the ObamaCare Gold plan - assuming you could afford it. Just remember that you aren't using all of your valuable pla$ma all of the time.
Update: Commenter Laurie David's Cervix puts it all in perspective.
123
28,133 comments sven10077

Say 10 words per comment on average

281,330 total words written

Word Counts of Some Famous Novels

30,644 – Charlie and the Chocolate Factory – Roald Dahl
64,768 – The Martian Chronicles – Ray Bradbury
82,762 – Anne Frank: The Diary of a Young Girl – Anne Frank
107,349 – Gullivers Travels – Jonathan Swift
127,776 – Life on the Mississippi – Mark Twain
177,227 – The Fellowship of the Ring – J. R. R. Tolkien
144,523 – One Hundred Years of Solitude – Gabriel Garcia Marquez
211,591 – Crime and Punishment – Fyodor Dostoyevsky
311,596 – The Fountainhead – Ayn Rand

Posted by: Laurie David's Cervix at February 04, 2014 10:46 PM (kdS6q)
Which means that over the past year sven has commented the equivalent of Crime and Punishment AND Charlie and the Chocolate Factory.
Obama: 'Not Even a Smidgen of Corruption' in IRS Targeting of Conservatives
Well there you have it. There's nothing to see here - it's just the government doing its job. Move along now citizen unless you'd like a random audit.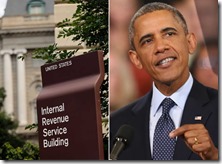 I recall reading in the Manchester books that Churchill had the final drafts of his speeches written out in a sort of blank verse form, and had not only the pauses written in but sometimes instructed himself to stutter slightly for emotional emphasis. A master of wit, word, and the delivery of both, he had a general rule about speech-writing and speech in general:

Short words are best and the old words when short are best of all.

You will note that most of Churchill's speeches - and virtually all of his most memorable quotes - feature short, "old" (Anglo-Saxon root) words. They also tend to have the cadence of the best poetry.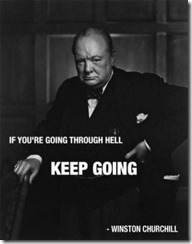 Were There Peaceniks and Blame-America-Firsters During WWII?
Apparently so and enough of them that Walter Winchell devoted a column on Feb 3, 1944 to calling them out.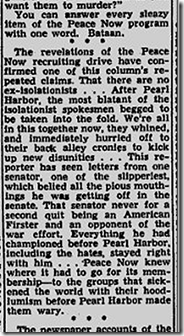 Russia has never quite been part of the West (even when the elite wanted to be) nor part of the East either. Russia is just Russia. It's been that way since Peter the Great and likely will be the same in the the year 2214.
Before I first visited Russia, I took it for granted that Russians were grateful for the collapse of Communism. In fact, for most Russians this simply isn't the case. The vast majority of Russians living today are Soviet-born and Soviet-educated, and among them nostalgia for the Soviet Union and burning resentment at the loss of superpower status are powerful. Even young Russians, who may care nothing for Marxism-Leninism, envy their parents for having lived in a superpower that made the world tremble. The cult of the Great Patriotic War is recalcitrant. It's the greatest single obstacle to Russian democracy. In the eyes of many Russians, Stalin's cruelty was vindicated, or at least rendered irrelevant, by his leadership in the war, which gave collectivism and authoritarianism a saving veneer of heroism and nobility in the Russian psyche. "No matter how bad Stalin may have been," a student in Chelyabinsk told me, "we don't forget that it was under his leadership that we defeated the enemy, saving Europe's a** in the process, and probably America's, too." Russians take macabre, gruesome pride in their 20 million casualties in that war but are largely unaware that many of those deaths resulted from Stalin's stubbornness, incompetence, and merciless disregard for the lives of his own people, soldiers and civilians alike.

Pessimism about Putin's Russia has made people yearn all the more for the bad old days. Putin has been known to praise Stalin's leadership, but that's not the only way he has helped rehabilitate the infamous Georgian. "These are the worst days in Russia's history," a Nizhny Tagil woman in her 20s told me. "Things were better under Stalin. People had everything. The only thing was, if you spoke out, they killed you."
And for a classic look at Soviet Russia read PJ O'Rourke's account of traveling with American Leftys on a cruise in the Soviet Union, "Ship of Fools":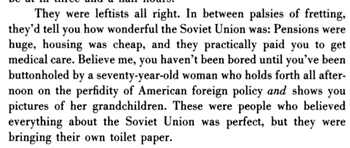 Also a Russian high school graduation: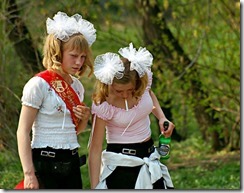 Also Has the Russian Dyatlov Pass Incident Finally been Solved?
"Fifty-five years ago, nine young Russians died under suspicious circumstances during a winter hiking trip in the Ural mountains. Despite an exhaustive investigation and the recovery of the group's journals and photographs, the deaths remained unexplained, blamed on 'an unknown compelling force.' Now American film and television producer Donnie Eichar believes he has solved the mystery of the Dyatlov Pass Incident. Working in conjunction with scientists at the National Oceanic and Atmospheric Administration in Boulder, CO, Eichar developed a theory that the hikers died because they..."
Colion Noir and Dana Loesch on Gun Control, Open Carry, and MLK
Colion Noir is an NRA news commentator and possibly Joe Biden and the left's worst nightmare: a 'clean and articulate' lawyer who loves guns.
And you should check out his video on the types of people who love .45ACP.
Reviewing the Samsung UN85S9 85-Inch 4K Ultra HD 3D Smart LED TV
Well sure it's $39,997.99 but after you read the reviews, you'll understand why this TV magic picture window is worth it. (thanks to insure guy speedster1)
>By James O. Thach TOP 500 REVIEWER on November 25, 2013

My wife and I bought this after selling our daughter Amanda into white slavery. We actually got a refurbished. It's missing the remote, but oh well-- for $10K off, I can afford a universal, right? The picture is amazing. I've never seen the world with such clarity.


Amanda, if you're reading this, hang in there, honey! We'll see you in a year.
*****
I just wanted to add an addendum to my review. Since posting it, we have received a flood of responses. People have said some pretty hurtful things--even questioning our values. Let me assure you, this was not an easy decision to make, and we made it as a family. Obviously, it's very personal. But in light of all the second-guessing, I wanted to explain our thinking.
First and foremost, screen size. I really think you can't go too big. 85" may seem huge, but you get used to it fast. Second, resolution. Is 4K overkill? Please, that's what they said about 1080P! More dots = better. Period. And as far as this being a $40,000 "dumb" TV, people need to re-read my initial post: WE BOUGHT IT REFURBISHED. It was only $30,000.
Some of you may think I'm avoiding the "elephant in the room"-the real reason why this was such a heart-wrenching choice. So let's just get it out there. Yes, the 120 Hz refresh rate is a disappointment, especially on a 4K. But life is full of compromises. And frankly, we hardly notice. All in all, no regrets.
P.S., as for our daughter, NO ONE has the right to question our parenting. Totally out of bounds. Amanda was going into 7th grade, so it was going to be a transitional year anyway. Now she gets to see the world. How many kids her age get to go to Bahrain? I sure as heck didn't, but you don't hear me screaming "child abuse." Bottom line: MYOB! Seriously.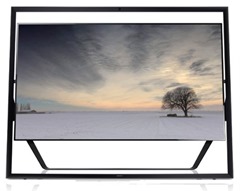 Apparently back in the 60s it wasn't uncommon for pop stars to redo their hits in another language to appeal to international markets.
Here is "Wo Ist Unsere Liebe?" by the Supremes.
Moron Without a Well-Thought Out Plan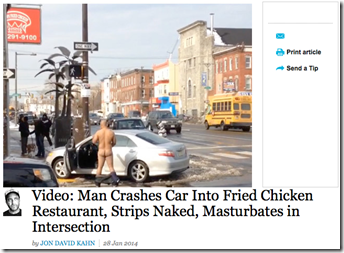 Well I'm kinda old school and prefer to enjoy each of my vices on its own but others apparently are into the multitasking thing.
The AoSHQ group. Yeah.
Teh Tweet!
Tonight's post brought to you by evac: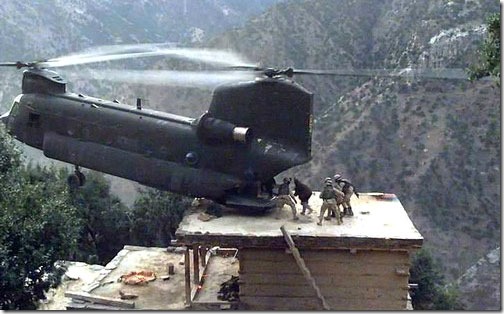 Notice: Posted by permission of AceCorp GmbH. Please e-mail overnight open thread tips to maetenloch at gmail. Maybe send tips and spare fiat currency to Ace.

posted by Maetenloch at
10:10 PM
|
Access Comments