« Superbowl XLVIII 2
|
Main
|
Top Headline Comments 2-3-14 »
February 02, 2014
Overnight Open Thread (2-2-2013)
Pete Seeger - A Good Communist Party Member
Who also happened to write a couple of decent songs and sang. He's best known these days for his folk songs (If I had a hammer, Where have all the flowers gone, etc) but for him totalitarian ideology always came first which is why over his lifetime he managed to support Hitler, Stalin, Ho Chi Minh, and Pol Pot.
In the "John Doe" album, Mr. Seeger accused FDR of being a warmongering fascist working for J.P. Morgan. He sang, "I hate war, and so does Eleanor, and we won't be safe till everybody's dead." Another song, to the tune of "Cripple Creek" and the sound of Mr. Seeger's galloping banjo, said, "Franklin D., Franklin D., You ain't a-gonna send us across the sea," and "Wendell Willkie and Franklin D., both agree on killing me."

The film does not tell us what happened in 1941, when - two months after "John Doe" was released - Hitler broke his pact with Stalin and invaded the Soviet Union. As good communists, Mr. Seeger and his Almanac comrades withdrew the album from circulation, and asked those who had bought copies to return them. A little later, the Almanacs released a new album, with Mr. Seeger singing "Dear Mr. President," in which he acknowledges they didn't always agree in the past, but now says he is going to "turn in his banjo for something that makes more noise," i.e., a machine gun. As he says in the film, we had to put aside causes like unionism and civil rights to unite against Hitler.

For years, Mr. Seeger used to sing a song with a Yiddish group called "Hey Zhankoye," which helped spread the fiction that Stalin's USSR freed the Russian Jews by establishing Jewish collective farms in the Crimea. Singing such a song at the same time as Stalin was planning the obliteration of Soviet Jewry was disgraceful.
Why I Bought a House in Detroit For $500
I sorta have mixed feeling on what Drew Philips did - on one hand it's crazy as a young naïve white dude to buy a shell of house deep in a declining Detroit neighborhood and try to fix it up, but on the other hand I do admire his ambition and tenacity and see the spirit of the early American settlers in what he's accomplished.
One day Will and I rode past a white Queen Anne in Poletown on a quiet corner. Next to it sat two empty lots, plenty of space for a dog and a garden, a shed and a pond. The neighbors were friendly and kept their homes well-maintained, but there were four other abandoned houses on the block. The neighbors said the Queen Anne had been abandoned for a decade, simply left behind by the previous owner like a shredded tire on the highway, anything of value stolen long ago. It had a mangy wraparound porch and a big kitchen, but no chimney - I could build one of those - and the first time I cautiously walked inside, I knew it would be my home.

...I purchased the house in October 2009 at a live county auction for $500 cash. I was 23 years old.
I'm not certain I've accomplished anything other than taking one abandoned home off the street, teaching a few kids how to read, or bearing witness to a something larger than myself. I'm not certain I've become an example to anyone or necessarily changed a whole lot for the better. But I'm still here. I go to bed and I wake up every day in Detroit, in a house I built with my own hands. Sometimes success means just holding on.

As a friend who grew up in Poletown put it, "We want things to flourish, but we want them to have roots."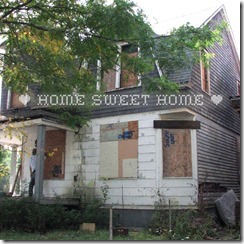 The Hot New Thing: Artisanal Toast
$4 a slice toast is at the tip of the hipster spear now but I'm afraid it will probably spread.
All the guy was doing was slicing inch-thick pieces of bread, putting them in a toaster, and spreading stuff on them. But what made me stare-blinking to attention in the middle of a workday morning as I waited in line at an unfamiliar cafe?-was the way he did it. He had the solemn intensity of a Ping-Pong player who keeps his game very close to the table: knees slightly bent, wrist flicking the butter knife back and forth, eyes suggesting a kind of flow state.

The coffee shop, called the Red Door, was a spare little operation tucked into the corner of a chic industrial-style art gallery and event space (clients include Facebook, Microsoft, Evernote, Google) in downtown San Francisco. There were just three employees working behind the counter: one making coffee, one taking orders, and the soulful guy making toast. In front of him, laid out in a neat row, were a few long Pullman loaves-the boxy Wonder Bread shape, like a train car, but recognizably handmade and freshly baked. And on the brief menu, toast was a standalone item-at $3 per slice.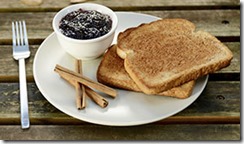 Argentina Declares War on Amazon, Ebay, Internet Shopping
Every item bought online from a foreign website has a 50% import tax that must be paid in person at the customs office.
Individuals are allowed to buy items up to the value of $25 (£15) from abroad tax free every year, but it has been hard for custom officials to keep accurate records of consumers' transactions. Once the $25 level is reached, online shoppers in Argentina need to pay a 50% tax on each item bought from international websites.

The government tightened the restrictions later on Wednesday limiting tax-free purchases to two a year.

One resident of Buenos Aires, who gave his name as Martin, described the tax as "crazy. . . . I lose half a day's work, which is unacceptable."
Meanwhile Argentina's president, Cristina Fernandez de Kirchner, is in Cuba getting more economic advice from Castro.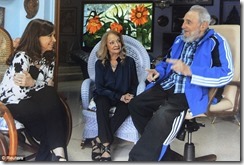 Wait - the Puppy Bowl Was Filmed in October?
So is everything a lie nowadays?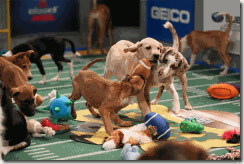 Why Super Bowl Parties Are the Worst
How To Gain Lefty Approval of Your Marriage
Don't mention the Bible and convince them your lifestyle is some kind of kink.
This couple could very easily get all the lefties to stop criticizing and even to admire them. All they have to do is keep the Biblical quotations to themselves and just tell people they're really into BDSM, she's the M and he's the S, she really likes to be disciplined, he really enjoys disciplining her, and who are you to judge? They can be totally traditional in the privacy of their own home and totally transgressive in public. Win-win!" Or just say you're Muslim. Multiculturalism FTW.
Well this study seems to say no if you actually care about sales leads.
The results? They were great. The booth that was staffed with the booth babes generated a third of the foot traffic (as measured by conversations or demos with our reps) and less than half the leads (as measured by a badge swipe or a completed contact form) while the other team had a consistently packed booth that ultimately generated over 550 leads, over triple from the previous year.

Everyone on the team was genuinely surprised by the results but duly convinced.
Where I work we've only had booth babes one time and that was because our colleagues in Finland brought some Finnish college girls to a show to help out. They were cute but probably airheads we assumed - but when we quizzed them, it turned out they were quite sharp and the Finn engineers had trained them well enough that they could hold their own in technical questions for at least a minute or so. So in this case I think they were a benefit.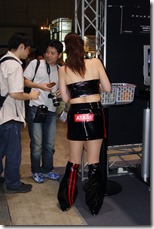 24 Things You May Not Know About Fight Club
Including the pr0n shot.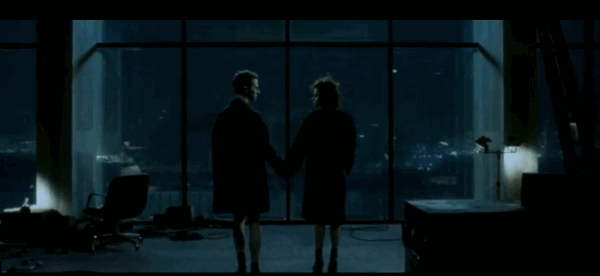 Could have been useful last week.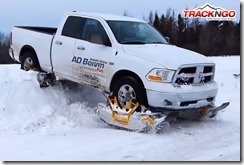 Weekly Commenter Standings
Top 10 commenters:
1 [676 comments] 'Niedermeyer's Dead Horse' [94.83 posts/day]
2 [499 comments] 'garrett'
3 [489 comments] 'AllenG (DedicatedTenther) Ah, F It.'
4 [435 comments] 'Mike Hammer'
5 [342 comments] 'Vic</i>'
6 [318 comments] 'rickb223'
7 [311 comments] 'Boss Moss'
8 [311 comments] '---'
9 [305 comments] 'soothsayer'
10 [303 comments] 'thunderb'
Honorable Mention:
16 [234 comments] 'ace'
Top 10 sockpuppeteers:
1 [113 names] 'phreshone' [15.85 unique names/day]
2 [65 names] 'Adam'
3 [63 names] 'The Lost Dutchman'
4 [57 names] 'Cicero (@cicero)'
5 [44 names] 'Regular Moron </i>'
6 [43 names] 'The Political Hat'
7 [41 names] 'Islamic Rage Boy'
8 [40 names] '---'
9 [40 names] 'Prez'nit 404'
10 [39 names] 'logprof'
Honorable Mention:
20 [20 names] 'ace'
The group. Yeah.
Where it's at - the Twitter
Tonight's post brought to you by a Detroit milestone: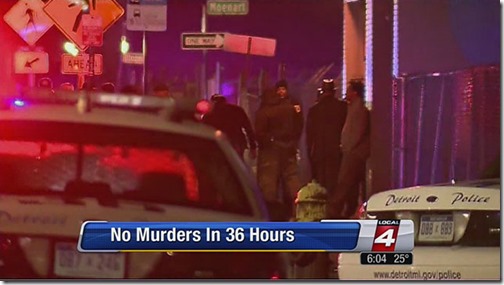 Notice: Posted by permission of AceCorp LLC. Please e-mail overnight open thread tips to maetenloch at gmail. Otherwise send tips to Ace.

posted by Maetenloch at
10:47 PM
|
Access Comments