« Sun. Morning Open Before The Book Thread Thread [OregonMuse]
|
Main
|
Gun Thread (2-2-2014) »
February 02, 2014
Sunday Morning Book Thread 02-02-2014: Odds & Sods [OregonMuse]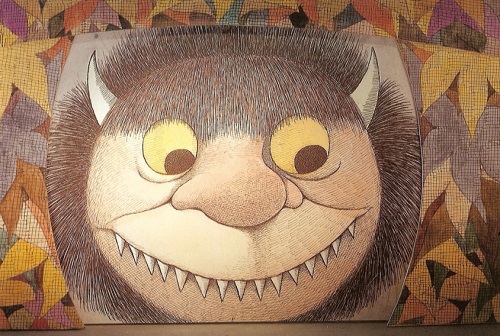 Where the Wild Things Are - Curtain From The Opera Set, 1979

(Image courtesy of tygertale blog. Yeah, I didn't know that WTWTA had been made into an opera, either.)
Good morning morons and moronettes and welcome to the award-winning AoSHQ's prestigious Sunday Morning Book Thread.

Amazon and... Kobo?
According to a reader survey by goodereader.com, Amazon and Kobo are basically tied as being the online bookstore of choice for serious readers. And by serious, they mean "users that often buy 50-100 books a year and often have more than one e-reader in the household." The results:
Amazon and Kobo were tied with 35.34% of the overall votes and these two stores have the largest international footprint. They exist in over 30 different countries and offer millions of titles. Kobo has a much larger library of titles, with over 3.6 million available, they are also easier for people to buy books from. One of the advantages these two companies have is their extensive portfolio of e-readers and tablets to facilitate reading.
The Barnes & Noble Nook was predicted to go under completely this year, but it's not dead, yet:
Barnes and Noble might be seeing a 30% decline on their hardware and eBook sales during the past holiday season, but they they do have user loyalty. 10.04% of our readers prefer to buy their Nook Books, but 99% of the participants originated from the US...Their ecosystem is fairly well developed and they offer self-published titles under the Nook Press banner and full color content optimized for the Nook HD. The sole new device of 2013 was the Nook Glowlight, which tends to be your best friend for binge reading.
So we'll see if B&N can make up lost ground. And then there's this tidbit:
Sadly, Android and iOS readers have to be based in the US/UK to buy books online.
I did not know that.

Windows 8 Tablet Price Reduction
My next e-reader/tablet purchase may be some sort of Windows 8 device. I think W8 is an abysmal interface for desktop computers (I much prefer Windows 7), but it should work well in the tablet environment it was obviously designed for.
Which is good because the price is coming down on a number of Windows 8 tablets:
Among the tablets that can now be picked up for cheap include the Dell Venue 8 Pro which has seen a $70 drop in price from the original $299. This does make the offering quite lucrative for a tablet that offers 32 GB of storage. Also at $229, the Dell Venue 8 Pro is slam bang in the territory of 2013 Nexus 7 that offers 16 GB of storage and an inch less of screen space (but with more pixels) for the same price.
I have to say that $229 for a 32GB tablet is mighty tempting. But
What is also interesting is that Microsoft is not extending the generosity to its own Surface range that continues to retail at the original price tags.
Huh. I wonder why? I also wonder what answer I would get from a Microsoft rep if I asked why I should buy a Surface instead of a lower-priced competitor?
The Latest By Robert Harris
Several weeks ago, I mentioned Pompeii, by Robert Harris, which elicited mostly favorable comments from the horde, as did his
Cicero trilogy (Imperium, Conspirata, and the third one is still being written). A few months ago, he came out with a book about the Dreyfus affair, a novel entitledAn Officer and a Spy. The main character is
Georges Picquart, the ambitious, intellectual, recently promoted head of the counterespionage agency that "proved" Dreyfus had passed secrets to the Germans. At first, Picquart firmly believes in Dreyfus's guilt. But it is not long after Dreyfus is delivered to his desolate prison that Picquart stumbles on information that leads him to suspect that there is still a spy at large in the French military
I haven't read this book, so I don't really know if it's any good, but I see that all of the 78 reviews on Amazon give it either 5 or 4 stars, mostly 5. We all know that Amazon reviews tend to be inflated, but there you are.

Famous British Morons
It's always interesting what Amazon searches will turn up. Searching for Harris' books somehow brought me to Hellraisers: The Life and Inebriated Times of Richard Burton, Richard Harris, Peter O'Toole, and Oliver Reed by Robert Sellers (eh, Sellers, Harris, what's the difference? says the Amazon search engine), which amused me. I knew O'Toole and Burton could put it away, but the one I remember most was Oliver Reed. I swear that guy came out of the womb drunk and stayed that way all of his life. I don't think I've ever seen him in an interview where he wasn't stewed to the gills.
So if you want to read about the boozy antics of four legendary British drunks, both on and off camera, here is the book for you.

Oh, Happy Day
According to this article, Jimmy Carter has written another book, and it will be out soon. I know you all can hardly wait. I know I can't.
So, what's this book going to be about?
Simon & Shuster announced Tuesday that the former president's "A Call To Action: Women, Religion, Violence, and Power" will be published March 25.

The publisher says Carter will draw upon personal observations from his worldwide travels as he condemns abuses of women and girls and the alleged distortions of religious texts cited as justification.
Yeah, that ought to be good. My only question is, what's the over-under on how many pages Carter will devote to ritual female genital mutilation in third world Muslim countries?

OK, Now This Is Just Silly
Author Ian Doescher has loved Shakespeare since eighth grade. He also likes Star Wars. So he thought, hey, why not combine the two? rewrote the screenplay of Episode IV in iambic pentameter and published the result as William Shakespeare's Star Wars.
Here's what the rolling prologue looks like:
PROLOGUE.
Outer space.

Enter chorus.

CHORUS:
It is a period of civil war.
The spaceships of the rebels, striking swift
From base unseen, have gain'd a vict'ry o'er
The cruel Galactic Empire, now adrift.
Amidst the battle, rebel spies prevail'd
And stole the plans to a space station vast,
Whose pow'rful beams will later be unveil'd
And crush a planet: 'tis the DEATH STAR blast.
Pursu'd by agents sinister and cold,
Now Princess Leia to her home doth flee,
Deliv'ring plans and a new hope they hold:
Of bringing freedom to the galaxy.
In time so long ago begins our play,
In star-crossed galaxy far, far away.

I think this would be a great gag gift for your book-loving friends, and also for snooty types who look down on popular culture and think they're better than everybody else because they read Shakespeare and listen to classical music.
This is Doescher's first book, and it sold so well that he wrote a sequel, which will be released this March. It will be titled 'The Empire Striketh Back', but you probably already knew that. The third installment, 'The Jedi Doth Return' is scheduled for July.

Books By Morons
Long-time moron Sean Gleeson (remember him? I do.) e-mailed yesterday asking me to let you all know that he has published his first book, and I must say, it's not one you see every day. Subjective Grounds: Writings by Persons with the Initials S.G is the title and he says it's "essentially an arbitrary compilation of good, short, things to read, all written buy 10 guys, and 1 lady, with my initials." Authors include Samuel Gompers, Saint Gregory, Saxo Grammaticus, and Stephen Glass, yes, that Stephen Glass, the serial liar and fabulist who spent several years at The New Republic making stuff up out of thin air and successfully passing it off as journalism. The particular Glass article Sean chose was the one that finally got the little weasel busted.
My only complaint about this book is that Amazon says it's a 2.5mb Kindle file, but the book is only 72 pages long. Really? To compare, one of the editions of Les Misérables, which totals 959 pages, is only 2.1mb. So I wonder what's causing the bloat in Sean's book?
___________

Shiver me timbers! Infrequent moron commenter 'Dandolo' has a short story in the Dark Oak Press pirate anthology A Tall Ship, A Star, And Plunder that just came out. It is available at DarkOakPress.com and Amazon. His story in it is "Fireflies on the Water".
Arrrr!
___________

So that's all for this week. As always, book thread tips, suggestions, rumors, threats, and insults may be sent to OregonMuse, Proprietor, AoSHQ Book Thread, at aoshqbookthread, followed by the 'at' sign, and then 'G' mail, and then dot cee oh emm.
What have you all been reading this week? Hopefully something good, because, as I keep saying, life is too short to be reading lousy books.

posted by Open Blogger at
10:10 AM
|
Access Comments