« Oh, My: Pittsburgh News Station Broadcasts Workers' Live Reactions to Changes to Their Insurance Policies Under Obamacare
|
Main
|
Top Headline Comments 1-31-14 »
January 30, 2014
Overnight Open Thread (1-30-2014)
I'm Ashamed My Son Likes Football
Peter Beinart is a bad, bad father. Because he allowed his son to watch and enjoy a football game. Which apparently is only slightly less shameful than taking his son to a back-alley cockfight and handing him a starter-flask of Thunderbird.
Last Saturday night, he [Beinart's 8-year-old son] proudly dug out a long-unused Patriots jersey and joined me on the couch late into the night as the Patriots dispatched the Indianapolis Colts.

It was wonderful. And it made me a little sick.

It made me sick because I could see the game through his eyes. And it wasn't pretty. My son, unfamiliar with the NFL's pieties, assumed that hurting the other team's players was the goal. To his untutored eye, the violence that guilt-ridden fans like myself decry was a feature, not a bug. He didn't cheer the injuries; he's too sweet for that. But despite my insistence to the contrary, I suspect the message he took from the experience was: The only thing you need to know about the large man writhing in agony on the screen is whether he's on our team.
On The Intelligence of Football Players 
At five-eight, a hundred and eighty-eight pounds, the Bills safety Jim Leonhard, a nine-year veteran, is among the smallest and also the slowest starting defensive backs in the game. And yet, watching him on film, he appears to teleport to the ball. Leonhard's name seems to enter any conversation about football intelligence; he knows every teammate's responsibilities in every call, and understands the game as twenty-two intersecting vectors. "He'd walk off the bus and you'd think he was the equipment manager," Ryan Fitzpatrick said. "He's still in the league because he's the quarterback of the defense."
Obama: I Would Never Let My Imaginary Trayvon-like Son Play Football
But note that Obama still enjoys watching football. Because he can handle it while you can't.
NY Pols Propose Law to Ban Youth Football
So football now seems to have quickly joined smoking and junk food as one of those uncool, distasteful activities that only the underclass publicly indulge in. The next stage will be regulation and legal harassment which are waypoints on the path to eventual effective banning. For the children.
So if all goes according to plan this is the football your kids will be watching: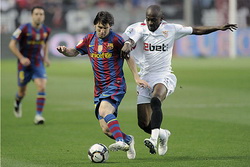 Rerun: Who Goes Nazi?
It is an interesting and somewhat macabre parlor game to play at a large gathering of one's acquaintances: to speculate who in a showdown would go Nazi. By now, I think I know. I have gone through the experience many times-in Germany, in Austria, and in France. I have come to know the types: the born Nazis, the Nazis whom democracy itself has created, the certain-to-be fellow-travelers. And I also know those who never, under any conceivable circumstances, would become Nazis.
Many people could be savants at something but go through life without ever discovering it. One of the advantages of the US has long been that we really don't have a fixed path to success and you can always jump from one pathway to another if you wish.
The Snobbery of Rich People's Scolding
Because the proles are just so icky with their fatness and smoking and love of football.
Take note, however, of which economic class Mayor Bloomberg thinks he is saving from themselves. In his mind he's doing poor folks a favor when he assumes the role of portion police, but in reality he's merely showing his prejudice that poor people are disgustingly fat and too stupid to understand why. He must believe that they need the government to ban their bad habits, one after another, until they're eating organic arugula from Whole Foods.

New York's failed expedition into governmental nannying is symptomatic of its class structure. Rich people's scolding is really a form of snobbery masquerading as concern for poor people's well-being. Rather than admit that the underclass repulses them, wealthy New Yorkers try to strip away their repulsive behavior by force of law. Expect the trend to continue through the de Blasio years.
And expect de Blasio to continue the same nannying policies for the same reason.
A former Japanese soldier who hid in the Philippine jungle for nearly 3 decades after World War Two died in Tokyo on Thursday. He was 91 years old.

Hiroo Onoda was sent to Lubang Island as an intelligence officer of the Imperial Japanese Army in 1944. After the end of the war, he remained in the jungle until 1974, when he emerged from his hideout and returned to Japan.
Years ago I read Onoda's book, No Surrender: My 30 Year War, and it was a pretty interesting read. One point he made several times is that he was part of a guerrilla warfare unit who were trained to fight behind enemy lines, ignore enemy propaganda, keep fighting no matter what else happened and specifically ordered not to commit suicide. And he and fellow holdouts essentially brainwashed themselves over the three decades that everything they saw and heard was still part of an enemy ruse. Even his own brother speaking to him across a field in the 1970s wasn't enough to break him out of his constructed belief system.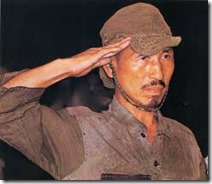 Bill Maher: 'Thug' is the New 'N Word'
Because there always has to be a new N word - otherwise how are you going to make people race criminals when actual racists are so hard to come by?
On his HBO show Real Time on Friday, Maher said Seattle Seahawks cornerback Richard Sherman made "a great point ... that thug is now the 'N-word.'"

"I think it's a very creative way to point out that racism has really kind of gone underground in this country," Maher said. The comedian then said he believed that whenever whites "see a black guy they don't like: thug."

"Because it's socially unacceptable now--unlike when it once was--to say the 'N-word,'" he said. "So that's sort of the word that they use instead."
So I guess we're gonna need a new word to describe people who are thuggish.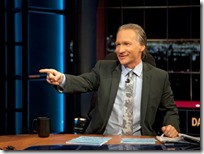 Talking History Without a License = $1092 Fine
The goal was to see if any of the downtown drivers were giving illegal speaking tours of the city's numerous sight-seeing spots.

One of them did, and it cost him a fine of more than $1,000.

City officials have put rickshaw drivers on notice that they can't give unlicensed tours in pursuit of a few extra dollars in their pocket.

As far as police see it, any retelling for hire about the city's past can be delivered only by a city-licensed tour guide, like those generally seen driving horse carriages or leading walking tours.
I take it the Charleston police have already solved all the real crimes.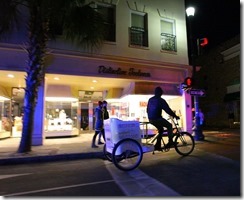 An audio bug that's small, cheap, sensitive, runs forever off a single battery and only broadcasts when illuminated with the right frequency radar beam.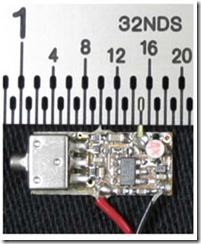 The Door to a Delta One Launch Facility
Heh.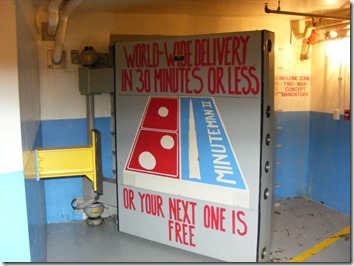 17 Good Films You May Have Missed
Well of these I've only seen Tucker & Dale vs. Evil and parts of Layer Cake but both were pretty good.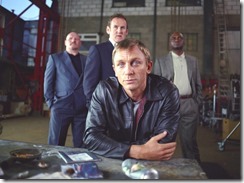 Yahoo group. That is all.
The group thingy. And the middle class.
And my Twitter spew.
Tonight's post brought to you by the breakdown of the Rockys: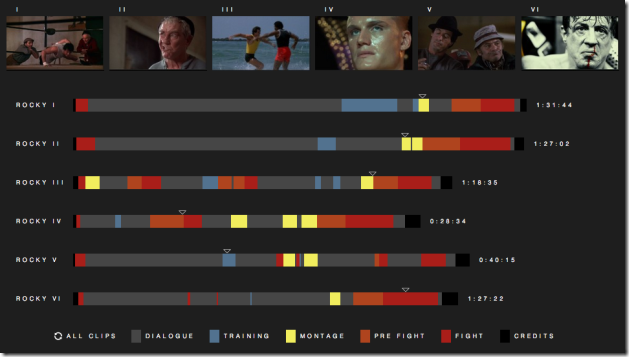 Notice: Posted by permission of AceCorp LLC. Please e-mail overnight open thread tips plus $1 for S&H to maetenloch at gmail. Otherwise send your scraps to BizarroAce. Do not taunt happy-fun

posted by Maetenloch at
10:42 PM
|
Access Comments