« NBC Foreign Affairs Editor Andrea Mitchell: Iran Was "More or Less an American Ally" Before Bush Ruined It All With His Axis of Evil Speech
|
Main
|
I Just Can't Listen To This Jagoff's Smugly Droning Voice Anymore Thread »
January 28, 2014
No One Really Cares Anymore But Here's Some Star Wars Stuff
Carrie Fisher says she's beginning to shoot her scenes for Star Wars 7 very soon -- in March or April.
In case you didn't hear, the Star Wars 7 script is being rewritten to focus on the original characters. The first draft featured them in a supporting role, passing the torch to the new younger heroes. Abrams decided he wanted one last hurrah with the old characters, so the script will now feature the young characters in brief introductory sort of appearances, while focusing on the older guys.
I don't know. Aging isn't fun.
Peter Mayhew -- Chewbacca -- went through his old pictures and posted a lot of hitherto-unseen photos from the shoots of the various movies.
What's better than Slave Girl Leia? Well, Slave Girl Leia and her twin.
That's her stunt double, of course.
Some people like making Star Wars action figures but put into a different contest or genre. For example, this guy Sillof made some cool Steam Punk Star Wars figures.
Well now he's made Wild West Star Wars figures, which, I gotta be honest, are sort of like the Steam Punk ones, but with less fantasy styling. I don't want to say "realistic," per say, but he imagines Chewbacca as just a big, strong Indian who wears a bear skin (including the head).
And here's his take on Boba Fett.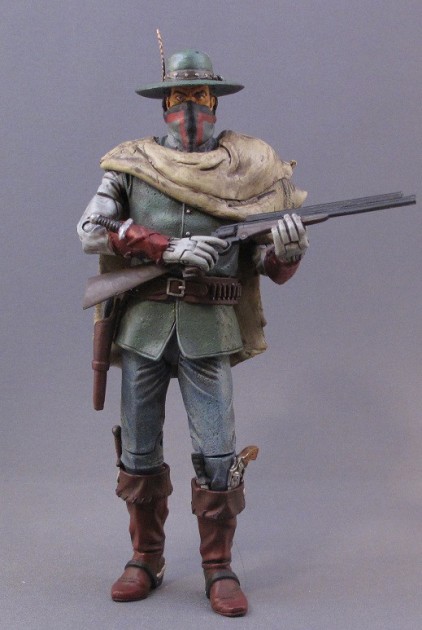 It's subtle. Like, too subtle.
Below, Bill Hader does some Star Wars impressions.
Thanks to @rdbrewer4 for the last.
This will also be an Open Thread for anyone wishing to avoid the hell on earth that is TFG's SOTU.
You can of course talk about non-Star Wars things here. I myself no longer care about the IP. But there just were a few Star Wars related items, so I packaged them up with some other recent things.
You are free to not care about Star Wars. George Lucas gave you that right when he invented Jar-Jar... and everything else in his three prequels.

posted by Ace at
07:49 PM
|
Access Comments