« Open Thread (reserved for politics) [CBD]
|
Main
|
Pro Bowl »
January 26, 2014
Food Thread: A Super Bowl Must: Chicken Wings (CBD)
We Politely Request That All Off-Topic or Political Comments Be Directed to the Thread Directly Below This One, Which Will Serve Officially as the Current "Active Conversation" Thread for All Discussions Not Related To This Topic.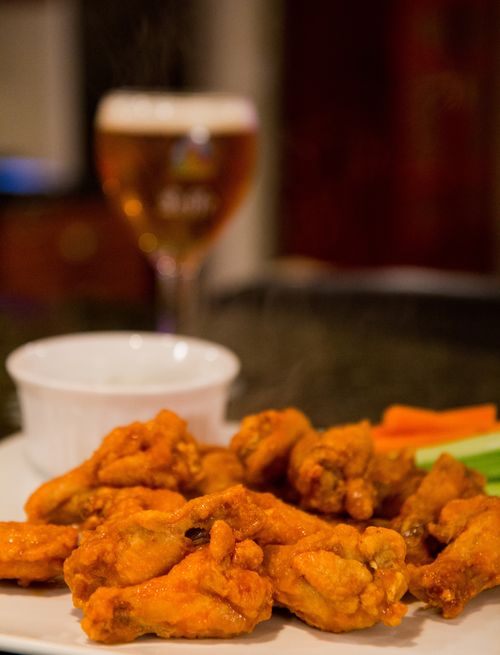 photo courtesy of tommy:eats

There are innumerable recipes for Buffalo Hot Wings, and most of them are good. It's difficult to ruin a combination of chicken skin, hot oil, hot sauce and butter. But I think the best fried versions are executed in commercial kitchens, where the copious amounts of aerosolized and splattered fat gets cleaned up by someone else.
For the home cook like most of us, an alternative to the horrendous mess of frying large batches of food is a simple roast. With proper preparation, the wings can get nice and crispy without the non-trivial chance of a kitchen fire.
Alton Brown's recipe is an excellent start, but it is a bit fussy. Parboiling is nice, although I'm not sure what the purpose is other than to open the pores of the skin (perhaps) and render a bit of fat. My alternative is to put the wings on a sheet pan in the refrigerator one day in advance. The skin dries out a bit and allows the wings to get crisp with less manipulation.
And let's face it, the point is the hot sauce and butter mix. I have tried a bunch of different sauces, and my personal favorite is Frank's Hot Sauce and butter, although -- horror of horrors -- margarine is a close second. I add lots of chopped garlic, and depending on my audience a dash or five of something hotter.
Blue cheese crumbled over the wings sure looks great, but a container of a blue cheese dip is more convenient, especially if you were generous with the additional hot sauce and your guests' mouths need some soothing.
As for the celery sticks? I have no idea. What's the point?

posted by Open Blogger at
06:10 PM
|
Access Comments