« What I Learned on Wikipedia Today
|
Main
|
Top Headline Comments 1-22-14 »
January 21, 2014
Overnight Open Thread (1-21-2014)
Truth: The Latest Weapon of the Patriarchy
Because the true facts about Wendy Davis' life are just another front in the War on Women and she's not going to take any more mansplaining attacks from her opponent, Greg Abbot, or anyone else.
We're not surprised by Greg Abbott's [her Texas governorship opponent] campaign attacks on the personal story of my life as a single mother who worked hard to get ahead. But they won't work, because my story is the story of millions of Texas women who know the strength it takes when you're young, alone and a mother. I've always been open about my life not because my story is unique, but because it isn't.

The truth is that at age 19, I was a teenage mother living alone with my daughter in a trailer and struggling to keep us afloat on my way to a divorce. And I knew then that I was going to have to work my way up and out of that life if I was going to give my daughter a better life and a better future and that's what I've done. I am proud of where I came from and I am proud of what I've been able to achieve through hard work and perseverance. And I guarantee you that anyone who tries to say otherwise hasn't walked a day in my shoes."
Here is a picture of Greg Abbot. He hasn't walked a day in her shoes  - or at all since a tree fell on him 30 years ago, paralyzing him and requiring almost a year in rehab. Clearly he knows nothing of suffering.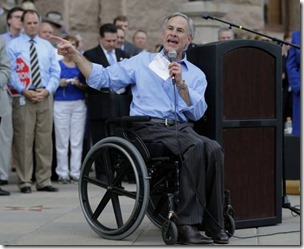 But Wendy "Storyteller" Davis is doubling down: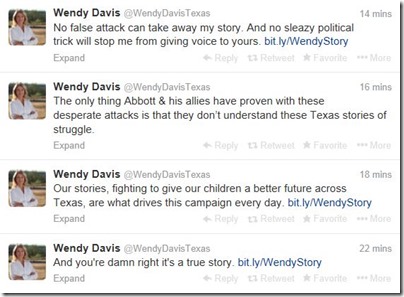 And Stephen Green has a diabolical suggestion for Abbot: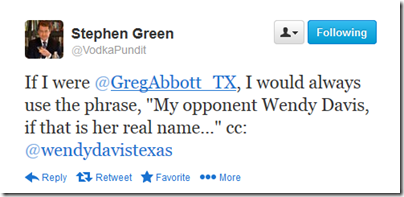 Obama's finest speeches do not excite. They do not inform. They don't even really inspire. They elevate. They enmesh you in a grander moment, as if history has stopped flowing passively by, and, just for an instant, contracted around you, made you aware of its presence, and your role in it. He is not the Word made flesh, but the triumph of word over flesh, over color, over despair. The other great leaders I've heard guide us towards a better politics, but Obama is, at his best, able to call us back to our highest selves, to the place where America exists as a glittering ideal, and where we, its honored inhabitants, seem capable of achieving it, and thus of sharing in its meaning and transcendence.

  -- Ezra Klein, January of 2008 
In any normal workplace this paragraph alone would have been sufficient cause for a drug test and maybe some counseling.
The Unbearable Lightness of Hillary Clinton's Achievements
When you ask her diehard supporters what she did as secretary of state they start with, "She travelled a million miles! More than any secretary of state."

Put aside the fact that the "more than any secretary of state" part isn't actually true - Condi Rice flew more. When you ask, "Okay, what did she get for it?" you get a blank stare or you get some stuff about championing women's rights. Two people have told me she did good work in Myanmar, but I've never really gotten to the bottom of that. I suppose I could look it up, but at the end of the day we're still talking about Myanmar, which is not the locus of America's most pressing international problems. ("That's right, because Hillary prevented the Myanmarese hegemony," someone at MSNBC just shrieked. "She stopped it cold.") While the Wikipedia page on her tenure doesn't even mention Myanmar, it does mention her championing of better cook stoves in the Third World. That's good. And so is improving the plight of women in various countries where their status ranges between "Slightly More Important than the Village Mule" to "So Incredibly Delicate We Must Keep Them Covered with Burlap Sacks All Day Long Even Though It's Like 115 Degrees in the Shade Today."

But when I take out my handy pocket realpolitik calculator, I just can't make all that add up to much. Particularly when you compare it with our worsening problems in the Middle East, Asia (minus Myanmar!), Europe, Russia, and South America. Those problems are by no means all her fault (nor are they all Obama's fault). But Clinton was the second most important foreign-policy official. If you were, say, the assistant coach of the 1999 Cleveland Browns or the deputy spokesman for Baghdad Bob during the lead-up to the Iraq War, you might - just might - want to highlight other things on your résumé. So it is with Clinton. As our chief diplomat, she presided over a long slide into foreign-policy suckitude. On her watch, America's standing got worse every place it matters (except Myanmar!), despite all of those sales calls.

And that leaves out the <sarcasm> little </sarcasm> issue of Benghazi. The Senate Intelligence Committee report is at once a fascinating and utterly banal artifact of Washington. It identifies a huge mistake. It denounces said mistake. It concludes that the mistake could have been prevented. But nobody is responsible for the mistake. The bureaucracy did it!

Okay, you ask, who was in charge of that bureaucracy?

Shut up, they explain.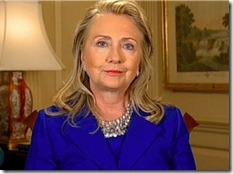 Because talky bitchez and Gary Hart.
After all, with just one exception, a Clinton has always tried for public office whenever a tantalizing opportunity presented itself. The rule-breaker was Bill's aborted run for president in the 1988 cycle. On the eve of his expected candidacy announcement in July 1987, with the national press gathering in Little Rock, his long-suffering chief of staff, Betsey Wright, she later told PBS, huddled with her boss and presented a list of women he was alleged to have been "seeing." After a number of responses along the lines of "she'll never talk," Clinton belatedly awakened to the reality that he could self-destruct in the post-Gary Hart world-Hart had been forced out of the Democrats' presidency sweepstakes just a couple of months earlier following allegations of adultery. The next day, Clinton declined to run, stunning the news media with the unconvincing excuse that he had decided to spend more time with his family.
"It Makes Economic Sense for a Woman to Have More Than One Husband"
Writes Judith Warner in Time magazine. And judging by her sex dreams I think she's already got a candidate in mind for her second husband. Well good luck with that.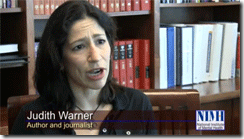 Gang Signs of the Intellectuals
The gestures you need to throw to convince people that you're a real thought leader. And possibly a member of the Chestertons or Van Buren Boyz.
To perform "The Critical Whirl," simply circle your hand counterclockwise in a small but rapid motion towards the audience. "Accelerate and repeat until idea unpacked," the website tells us. It's one of the more basic maneuvers, suitable for both formal academic settings and conversations about the means of production over a glass of wine.
And no I don't think this article is intentional satire either.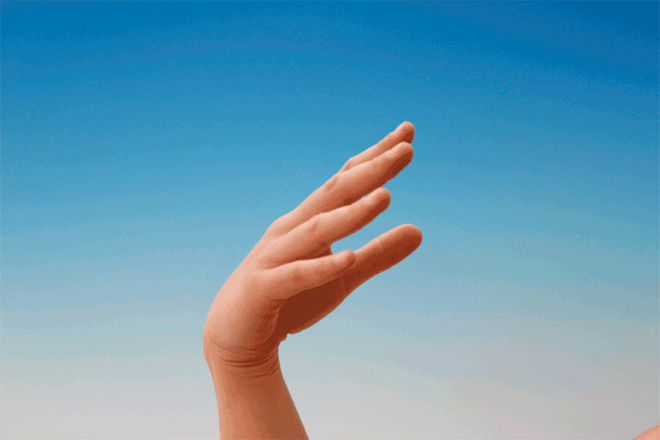 In the event of an ambush, their role was to drive into the kill zone during the first few minutes of the attack, and saturate the attackers with their firepower.

Early designs proved flawed, as the sandbag protections quickly became waterlogged in the frequent rains, weighing down the whole vehicle. They were later replaced with ad hoc steel armor plating, salvaged from scrap yards.

The crew consisted of a driver, two gunners, a non-commissioned officer, and sometimes a grenadier armed with an M79 grenade launcher.

On November 24, 1967, during an engagement in "Ambush Alley", a group of gun trucks managed to thwart an ambush. The convoy lost six transport trucks and four gun trucks damaged or destroyed, and several drivers were killed and wounded, but the Viet Cong lost 41 KIA and were forced to withdraw. ...

In all, an estimated 300 to 400 trucks were transformed in this way.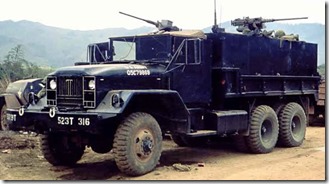 Katy Perry: I Prayed For Big Titties
And the Lord answered her prayers. And it was good.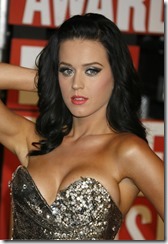 The AoSHQ group. Yeah.
Teh Tweet!
Tonight's post brought to you by the survey says:

Notice: Posted with permission of AceCorp LLC, a Delaware corporation. Please e-mail overnight open thread tips to lauraw at gmail. Otherwise send tips to Chelsea Ace.

posted by Maetenloch at
09:59 PM
|
Access Comments