« Wendy Davis: Not Like You
|
Main
|
Obama: Hey, Maybe I'll Just Unilaterally Suspend the Law with Respect to Sanctions on Iran While I'm At It »
January 21, 2014
Common Core Is Pretty Dumb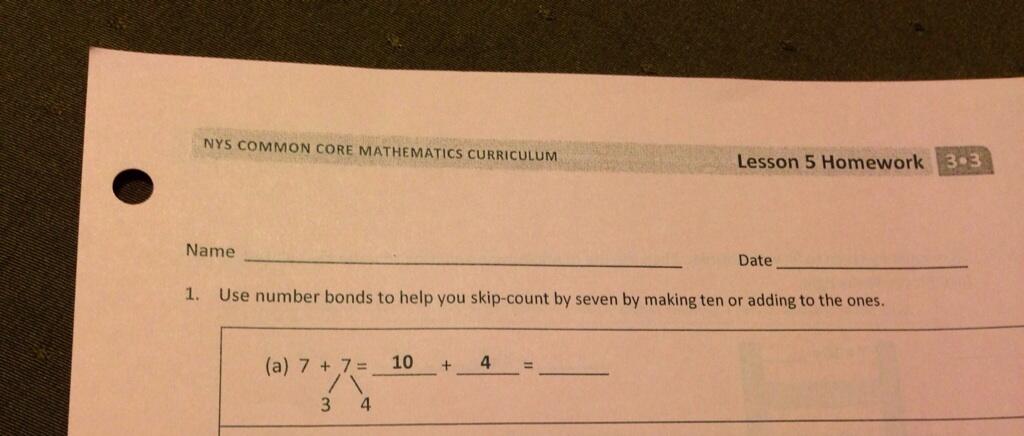 If that isn't big enough on your screen here, hit the twitchy link to get a bigger picture.
What they're asking kids to do is this: Rather than simply memorize the fact that seven plus seven equals fourteen, they're training kids to recognize possible shortcuts or easier paths to computation. If a kid realizes a seven is made up of 3 plus four, and remembers that three plus seven equals ten, then he can "simplify" the problem as ten plus four, which gives fourteen.
Here's the problem: The shortcut/easier path of computation is actually more complicated than just learning that seven plus seven equals fourteen.
This is Cargo Cult stuff. They did the same thing with their new innovations in Whole Word learning (reading a word at a glance), when they got rid of Phonics (sounding a word out, letter by letter), and doomed a generation to being bad readers.
Here's the Cargo Cult part:
Professional Highly-Educated Education Researchers noted that high-level early readers were usually just identifying words at a glance -- reading in a "whole word" way. While kids using Phonics read more slowly. Phonics kids were slower readers and struggled with it more.
So hey -- let's stop teaching kids this slow method of reading called Phonics and just teach them "Whole Word" reading!!! Win, win, win!!! It's easier for the students, and even easier for the teachers, as they don't have to teach the step-by-step Phonics method of reading. They can just say the word "horse" is horse and keep saying it until these stupid kids start learning that "horse" means horse.
Here's the problem: This is Cargo Cult mneliaty. Yes, the high-lanrneig, early-raednig kids are in fact using the Wlohe Wrod raenidg mhoted, just as you, reading that gibberish I just wrote, employed Whole Word reading -- looking at the first and last letters of the word and using context and years and years of experience in how the written language works, and what words are expected to come in which place in a sentence to read, fairly easily, a bunch of misspelled words as the words I intended.
But the high-learning, early-reading kids are only doing that because they started reading earlier than the other kids. All kids -- including the early readers -- go through the Phonics phase. One of my earliest recollections (maybe my earliest) is sounding out the word "BAKERY" when we were getting some bread or donuts. My parents were pretty impressed. (I was nineteen years old.)
Now, having gone through the Phonics phase at age 3 or 4, by age five I was reading quite a bit, especially Peanuts (I had whole books, decades' worth of Peanuts cartoons). And I had moved from "mostly Phonics" to "mostly Whole Word reading," at least as far as common words. The unfamiliar words I still had to sound out, Phonics-style.
So sure-- the accomplished 6-year-old readers are indeed mostly using whole word, at least for common words. Spoiler alert: That's because they already went through the Phonics phase at age 4 or 5.
The Cargo Cult mistake of these "Educators" is to think that Whole Word reading is a shortcut to teaching reading. No-- Whole Word reading is the endpoint of learning to read. First you read letter by letter, then syllable by syllable (as you have begun to compile, in your Reading Memory, a large list of common syllables). Then you start just reading Whole Word.
You have to go through the letter-by-letter process to get to the Whole Word level. As I'm learning a new language myself at an older age, I've gone through this recently myself -- it took a long time for me to get a sense for how the French language worked in terms of grammar and orthology, but as I've read more and more, I can now read faster. I'm beginning to take "Sight Pictures" of sentences (well... not sentences, but at least clauses) as I long ago learned to do with English.
By denying kids their first step in reading -- teaching them to read letter-by-letter -- educators have not advanced Whole Word reading. They're retarded it. You can't do whole word until you're an ace at letter by letter.
They're making the same mistake here with this jackass method of teaching math. The method they're teaching is what I'd term a secondary insight. Yes, I know what they're trying to teach. I do this myself sometimes, to make life easier on myself.
Did someone have to teach me this? No, it's a simple enough insight once you are fluent with the basic memorized rules of math. Once "three plus four equals seven and three plus seven equals ten" is drilled into your head enough times, you naturally start thinking in terms (or can start thinking in such terms, if that's your preference) whereby you perform somewhat complex operations on simple math problems to make them easier for yourself.
It's unclear to me if this actually simplifies anything, though I do do this sort of thing, occasionally, myself.
But once again the "Experts" are demonstrating their Cargo Cult mentality when it comes to pedagogy. Because kids will start intuiting these things after they've mastered the rote-memorization and drilling routine of arithmetic and the times tables, hey, let's just cut out the middleman and teach the Advanced Secondary Insights explicitly! And skip all that tedious rote-memorization and drilling!
Again, as someone learning a language from scratch, I can tell you two things:
1. I despise rote memorization and drilling, those endless repetitions of stupid very basic sentences designed to teach one or three specific rules of grammar and spelling.
2. No matter how much I despise these things, and I do despise them, make no mistake -- this is the way you learn.
You cannot "intuit" the proper order of prepositions in a sentence. You cannot Cargo Cult your way there. You simply have to memorize the correct order of direct object pronoun, indirect object pronoun, reflexive pronoun, and "en" or "y" according to the type of sentence it is, and then write a whole bunch of stupid-ass sentences which employ the rules of pronoun placement.
It's hard, it's not fun, it's annoying as balls, I dread it every time I do it, and it frequently feels like it's insulting your intelligence... but it's not. It's how basic, elementary things are learned. And only once the basics are learned does a student begin gaining the power to make his own insights and deductions.
At least normally-intelligent students can make sound insights and deductions once they've learned the basics.
At the brain trust of the Department of Education, however, past experience counts for nothing at all, and we're just going to keep trying the same old shit ("Let's pretend all kids are high-learners and teach them the tricks that high-learners have intuited after years of competency at this task!") every single year to justify their paychecks.
No one gets an award for suggesting we try the old, established, well-proven methods of teaching. You only get awards and recognition for proposing new ones.
Whether they work or not. And hey, who cares if kids learn anyway? The important thing is that promotion.
I have seen the future, and the future is spelled Kah-Buum.
Teaching Kids How to Think and Other Lies: It is an article of faith among educators -- most of whom are not really very good at thinking themselves -- that they should be "teaching kids how to think," rather than engaging in rote repetition and drilling.
I don't believe you really can be "taught to think," not really. Like all other skills, it comes from practice.
At some point students can -- or must -- begin teaching themselves. At least, if they're to become true students.
All these jackass methods suffer not only from the Cargo Cult mentality, but actually retard "learning how to think," by attempting to codify deductions, rather than relying on students to make them on their own.
Look, let's be realistic: Some people just aren't going to be standout thinkers. By denying them the basics in favor of teaching them something that fundamentally just can't be taught (especially by people who aren't good at thinking themselves), you're both not teaching them the basics, and also not teaching them "how to think."
Yesterday I made a deduction that thrilled me. I wrote the word "penchant" in a post. I never really knew the strict English definition, but I knew, in a ballpark way, it meant "tendency towards."
I realized it's a French word. The French form their gerunds -- their "ing" versions of verbs, as the verb "to run" becomes the gerund noun "running" -- by adding an -ant to the word's stem.
So, "interesting" in English is "interessant" in French with an -ant stuck on the root of interester, the verb "to interest."
So I realized that "penchant" was probably a gerund form of a verb which must be "pencher." I think I've seen it before, but I never looked it up. Taking a guess at what the word must mean, I guessed pencher probably means "to incline," which would make the French (and English) definition of "penchant" "an inclining towards," or, in better English, "an inclination towards."
Then I looked it up. Pencher does in fact mean "to incline or rise," and finally, after a whole life of just vaguely knowing what the English word "penchant" means, I confirmed it does mean "inclining towards" (or "preferring" or "having a habit of" -- all derived from "inclining towards").
I was actually a little thrilled. I felt empowered.
But honestly-- how would you go about teaching that? Well, you can only tell students that -ant is our -ing. Once they've learned that (and had it drilled in their heads by reading French texts, in which -ant is very common), they can, at their own initiative, wonder things like "Gee, does 'penchant' imply a verb 'pencher'?"
But how do you make a lesson of this? At most, what you'd do is tuck this in the back of a chapter, in those "For Further Thought and Exploration" parts of the textbook, where you ask students to guess at the meaning of "pencher" based on their vague knowledge of the English "penchant."
But would you design a whole lesson around this mode of thought? Would you drill this sort of thing into kids' heads, like teachers are now doing with "number bonds"?
No. You give students the sandbox of basic information to play in, and hope they make sandcastles.
And that's how you learn to think. Not by a teacher telling you, "This is how you learn to think."

posted by Ace at
03:15 PM
|
Access Comments