« Sean Trende: Administration's Claimed Figure of Four Million Obamacare Medicaid Enrollments is Slightly Inflated (By a Factor of Ten)
|
Main
|
Megan McArdle: How Marriage Makes You Rich and Stupid »
January 10, 2014
Even MSNBC Is Shocked By How "Ugly" and "Awful" and "Horrific" the December Jobs Creation Figure Is
Video at Hot Air. Joe Scarborough's Chirpy Parrot isn't so chirpy over the mere 74,000 jobs created in December.
Allah links this Sean Davis article. As you know, the unemployment rate is falling only because the number of people seeking work is falling faster. All of the "improvements" in the unemployment rate are due to discouraged workers leaving the workforce entirely.
Davis muses: What would the unemployment rate be if the labor participation rate (the fraction of people actively seeking work, or actually working) remained at the same level as it had been in June, 2009 (five months into Obama's term, and when the recession supposedly officially ended).
The results are pretty shocking -- if you haven't been paying any attention whatsoever.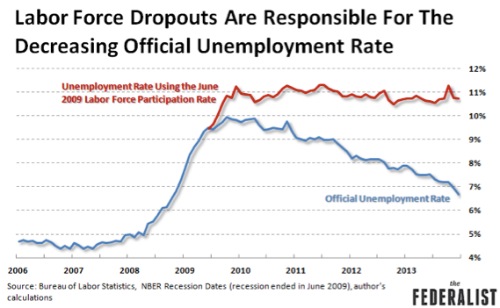 Yes, there has been absolutely no actual improvement in the employment situation, except for the millions who have just given up and now subsist on the Federal dime.
Obama will of course spin this disastrous jobs creation number as due to the 16-day shutdown of 17% of the federal workforce in October.
How does that explain the five years of grueling, neverending unemployment that Sean Davis documents?

posted by Ace at
03:42 PM
|
Access Comments