« Anonymous Former White House Official: Hey, Maybe Obama Just Isn't Any Good at Governing
|
Main
|
BCS Thread »
January 06, 2014
Federal Judge Strikes Down Chicago's Draconian Gun-Sales Ban as Unconstitutional
Charles C.W. Cooke explains the ruling.
The new case expands on the previous holdings, Heller, which recognized the Second Amendment as creating and protecting an individual right, and MacDonald, applying that right not just to the federal government but to the states.
Today's case, which was issued by a district court not the Supreme Court, takes this idea a little further, building on 2011's Ezell v. Chicago, in which a blanket ban on firing ranges was deemed illegal. As in Ezell, the court argued today that there can be no meaningful right to keep and bear arms if one is unable to buy and to use them: for law-abiding citizens to enjoy it, the court decided, the right "must also include the right to acquire a firearm." (Italics mine.)

Ezell's basic standard was that if activity is inextricable from the basic purpose of the Second Amendment (and activities such as practicing shooting, buying a gun, etc. are), then the court must apply to it what has been termed "almost-strict-scrutiny." That is, it must take into account that "a severe burden on the core Second Amendment right of armed self-defense [requires] an extremely strong public-interest justification and a close fit between the government's means and its end." In Illinois today, the court found that the government's action did not meet this test...
You'll have to click on the link for more, including key portions of the decision.
Or... You can read additional stuff at Hot Air. The Judge is actually an Obama appointee. But he doesn't sound like one. Below, he responds to the governments' contention that draconian anti-gun laws restrict criminals' ability to secure guns.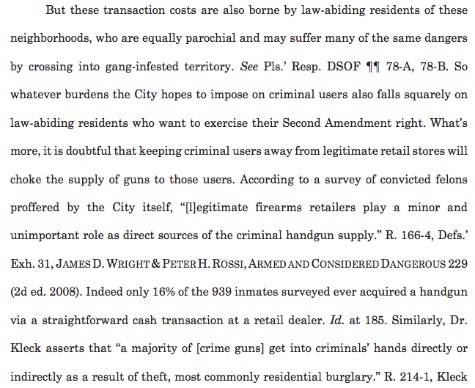 Indeed.

posted by Ace at
08:14 PM
|
Access Comments