« Rep. Peter King: Rand Paul Doesn't Deserve to be a US Senator
|
Main
|
Now That It's Safe to Do So, Left Begins Admitting that Obamacare is a "Sneaky Way" to Press for Single Payer »
January 06, 2014
More than Four Years Since The Great Recession Officially (Technically) Ended, The Economy's Still Terrible
The economy supposedly posted growth of 4.1% last quarter. If that's true, why is the economy still so sickly?
While there's little sense that the U.S. economy is headed for another downturn, most forecasters expect further improvement in 2014 will be gradual. Unless and until the job market improves substantially, and higher wages drive a convincing pickup in consumer spending and demand, the lingering damage to confidence will likely keep the weakest economic recovery in memory plodding along at a frustratingly slow pace.

...

"The economy is continuing to make progress, but it also has much farther to travel before conditions can be judged normal," Federal Reserve Chairman Ben Bernanke told reporters in his final news conference as head of the 100-year-old institution.

...

That sluggish job growth goes a long way to explaining why—for millions of Americans—the Great Recession never ended. While the "official" unemployment rate has fallen steadily since the summer of 2009, the improvement in the data has come largely from the ongoing wave of jobless people who have given up looking for work.

Many of them—like Mary Villalba, 65, of Centennial, Colo.—fear they may never find a job as good as the one they lost to the recession.
Mother Jones (!) punctures the idea that the economy is Just Fine with charts.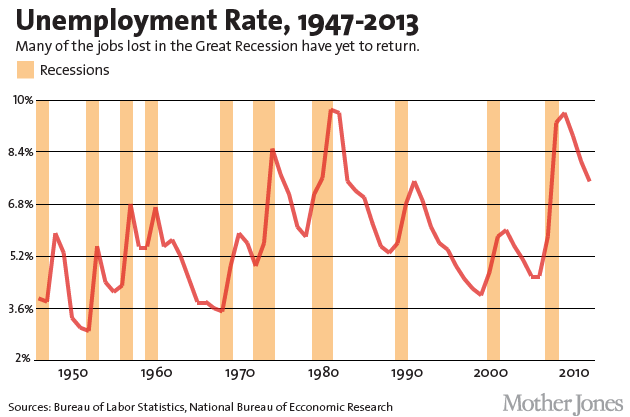 Former Obama economic advisor Larry Summers notes that this "recovery" does not resemble prior ones.
Last month I argued that the U.S. and global economies may be in a period of secular stagnation in which sluggish growth and output, and employment levels well below potential, might coincide for some time to come with problematically low real interest rates. Since the start of this century, annual growth in U.S. gross domestic product has averaged less than 1.8 percent. The economy is now operating nearly 10 percent, or more than $1.6 trillion, below what the Congressional Budget Office judged to be its potential path as recently as 2007. And all this is in the face of negative real interest rates for more than five years and extraordinarily easy monetary policies.

Even some forecasters who have had the wisdom to remain pessimistic about growth prospects the past few years are coming around to more optimistic views of 2014, at least in the United States. This is encouraging but should be qualified with the recognition that even on optimistic forecasts, output and employment stand to remain well below previous trends for many years. More troubling, even with the high degree of slack in the economy and with wage and price inflation slowing, there are signs of eroding credit standards and inflated asset values. If the United States were to enjoy several years of healthy growth under anything like current credit conditions, there is every reason to expect a return to the kind of problems of bubbles and excess lending seen in 2005 to 2007 long before output and employment returned to normal trend growth or inflation picked up again.
He outlines three responses: Supply side economic policy, Fed easy-money monetary policy, and a progressive demand-side policy. He winds up championing the third. Obama advisor arguing for more Obamanomics, go figure.
But here's what he says about the second strategy, the Fed's helicoptering money into the economy:
...

The second strategy, which has dominated U.S. policy in recent years, is lowering relevant interest rates and capital costs as much as possible and relying on regulatory policies to ensure financial stability. No doubt the economy is far healthier now than it would have been in the absence of these measures. But a growth strategy that relies on interest rates significantly below growth rates for long periods virtually ensures the emergence of substantial financial bubbles and dangerous buildups in leverage. The idea that regulation can allow the growth benefits of easy credit to come without cost is a chimera.

Artificially juicing the economy with money we don't have results in artificially raising prices for things. Thus creating a bubble. And we may be back to creating a second housing bubble. I guess we're creating a second housing bubble because the first one was so awesome.
IN November, housing starts were up 23 percent, and there was cheering all around. But the crowd would quiet down if it realized that another housing bubble had begun to grow.
The writer notes that a bubble can be detected when the rate of growth of prices for buying property greatly exceed the rate of growth of rents that can be charged for that property. After all, the actual income one hopes to generate from property is based on its rental value; if the property's value is going up at double the rate of rents, then that increase in price is due to speculation about the property's future value. And that's the sign of a bubble.
Today, after the financial crisis, the recession and the slow recovery, the bubble is beginning to grow again. Between 2011 and the third quarter of 2013, housing prices grew by 5.83 percent, again exceeding the increase in rental costs, which was 2 percent. ...


Both this bubble and the last one were caused by the government's housing policies, which made it possible for many people to purchase homes with very little or no money down.

...

Today, the same forces are operating. The Federal Housing Administration is requiring down payments of just 3.5 percent. Fannie and Freddie are requiring a mere 5 percent. According to the American Enterprise Institute's National Mortgage Risk Index data set for Oct. 2013, about half of those getting mortgages to buy homes — not to refinance — put 5 percent or less down. When anyone suggests that down payments should be raised to the once traditional 10 or 20 percent, the outcry in Congress and from brokers and homebuilders is deafening.
So here we go again.
By the way: Lawrence Summers referred to "secular stagnation" in the economy. Here's a quick definition from Wikipedia.
During the Great Depression, private capital investment fell because of excess capacity and lack of good investment opportunities. Secular stagnation theory blamed inadequate capital investment for hindering full deployment of labor and other economic resources.
I'm not an economist, but it sure sounds if Larry Summers is right, he should be arguing for methods of increasing capital investment. And that means incentivizing it, or, rather, not disincentivizing it as much as we do presently.
And that means we should do the exact opposite of what Obama is doing, not more of the same.
Thanks to @rdbrewer4 for most of the links in this post.

posted by Ace at
03:25 PM
|
Access Comments