« Open/Political Thread
|
Main
|
Overnight Open Thread (1-5-2014) »
January 05, 2014
Spaced-Out Challenge: The Celestial Twins
[We Politely Request That All Off-Topic or Political Comments Be Directed to the Thread Directly Below This One, Which Will Serve Officially as the Current "Active Conversation" Thread for All Discussions Not Related to this Topic]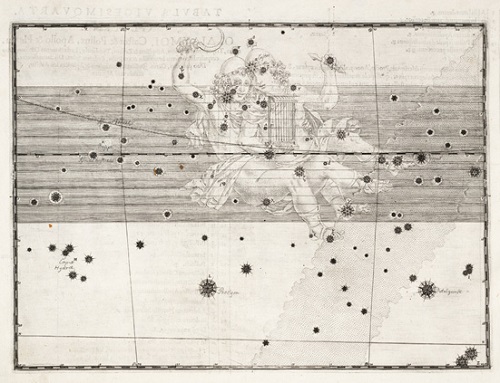 Gemini, from Bayer's Uranometria (1603)
This week, we continue exploring our Winter Sky and turn our eyes to Gemini, the most famous set of stick figures in the heavens above. Half-in, half-out of the Milky Way from our perspective, there aren't as many targets as can be found in neighboring Orion, but with negative temps in much of the country this time of year, they are all worth the hunt. Read on, and I'll show you.
Gemini: Myth, History, and Position in our Sky
The myth behind Gemini is perhaps the most familiar of all the signs of the zodiac. Castor and Polydeuces were born to Queen Leda of Sparta, the former fathered by King Tyndareus, the latter by Zeus and thus immortal. The brothers' skills in fighting were legendary, aiding the Argonauts on countless occasions but later quarreling with two of them over (what else) women.
After running off with the brides of Idas and Lynceus, the two sets of brothers were forced into a sword fight that claimed the life of Castor. Protected from death by his father, Polydeuces refused to leave his deceased brother's side. After pleading with Zeus to grant Castor immortality, Polydeuces got his wish, and the brothers are now eternally inseparable in the skies above.
Moving back into the more scientific realm, the constellation has played a critical role in our understanding of our own solar system and greater galactic neighborhood. William Herschel discovered Uranus near eta Gemini, and a century-and-a-half later, Clyde Tombaugh discovered Pluto while studying photographic plates of the constellation. Geminga, a long-mysterious gamma ray source about 550 light years from the sun, is a "radio-quiet" neutron star whose progenitor star detonated a third of a million years ago.
The "stick-figure" shape of the constellation makes it one of the easier to spot, and it's brightest member forms part of the Winter Hexagon we have discussed in previous editions: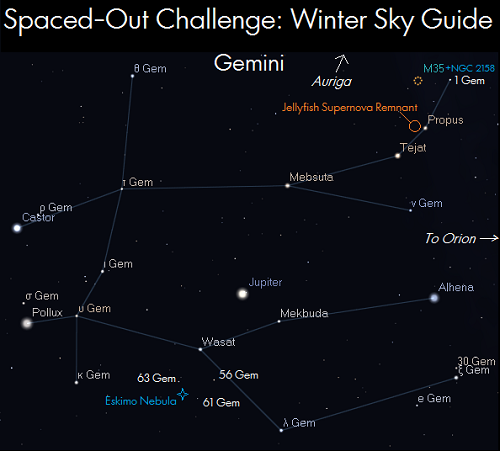 Now, onward to the sights of the Twins.
Castor, a beautiful double star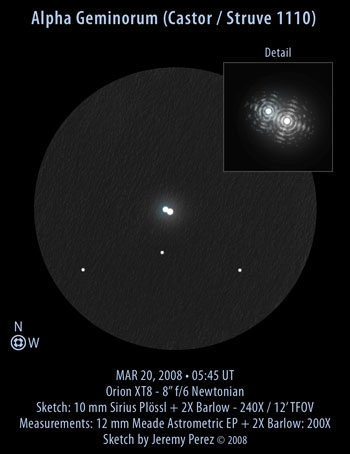 Sketch by Jeremy Perez
Despite the designation "Alpha Geminorum", Castor is the dimmer of the twin stars, a fluke dating centuries (like "Alpha Orionis" going to Betelgeuse instead of brighter Rigel). It is still damn bright, and in fact is a multi-star system, the brightest two members of which can be split easily in an amateur telescope. Those with reflector-style telescopes may find the split a bit challenging with diffraction spikes obscuring the dimmer member, but turning your optical tube will resolve this.
The Twin Clusters of the Twins: M35 and NGC 2158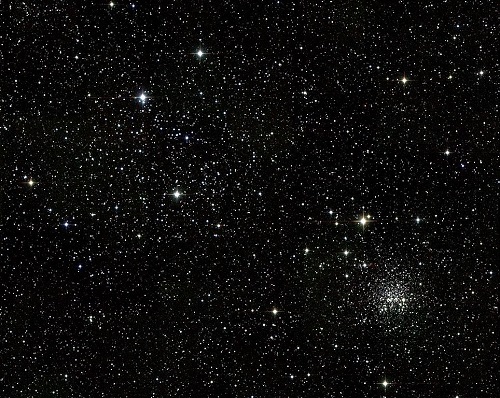 Image courtesy 2MASS/NASA
Two gorgeous open clusters with markedly contrasting shapes can be found at the feet of the Castor twin. Messier 35 is the larger, easier to resolve one, about 2800 light years from earth. M35 covers an area of sky roughly that of the full moon and has an apparent brightness of 5.3, so it easily appears in binoculars from urban skies. M35 appears at its best in binoculars or wide-field, low power eyepieces.
The smaller, more compacted open cluster NGC 2158 will appear as a faint fuzzball planted within a corner of your view of M35, but is in fact over 8,000 light-years more distant. Telescopes with apertures of at least 4" can readily resolve this ancient grouping.
The Eskimo Nebula: A "Very Remarkable Phenomenon"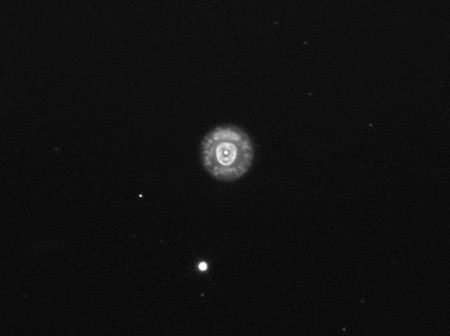 Image by Richard Crisp
At least that's what William Herschel, who first discovered the object in January, 1787, called it. I tend to agree: of all the planetary nebulae in the sky, this is my personal favorite. It has everything: a visible white dwarf star, a clearly defined outer shell, and for the very lucky, unmatched fine details on a crisp night.
Sometimes called the Clown-Face, I prefer the less PC nickname of NGC 2392 because I didn't spend $450 to stare at a galactic nightmare. A challenge in small telescopes, it shines with apertures greater than 5" and stuns in an 8" reflector, with most of the detail in the above astrophoto plainly visible to the patient and well-rested. Do not be afraid to crank the power way up- this is one target that benefits from as much power as your eyepiece collection and sky's transparency will allow: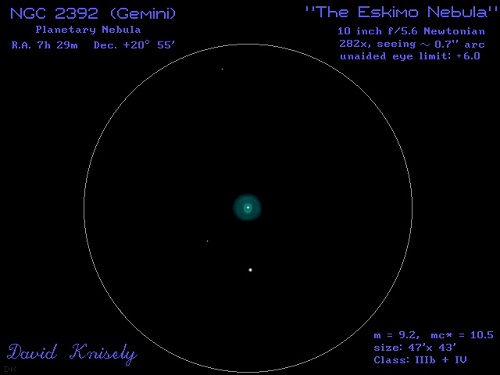 David Knisley's sketch at 600x
Finding it is a bit of a challenge, but if you are armed with an O-III filter and my charts, it's a rewarding hop-skip-and-a-jump away from Wasat (a challenging double-star worth splitting if the night is transparent):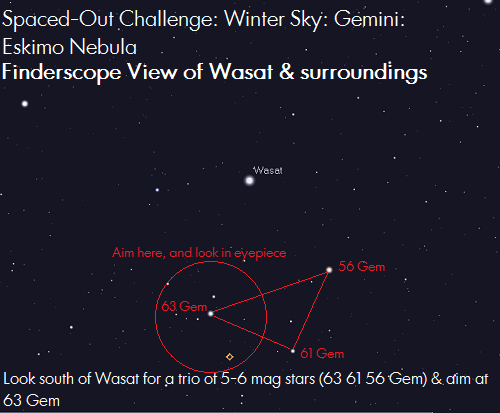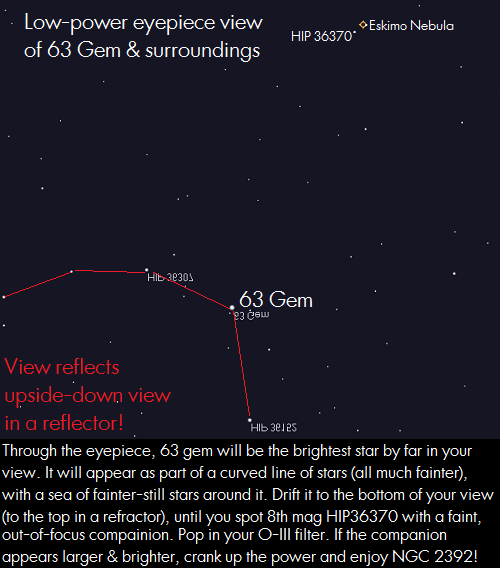 Insert your O-III behind your eyepiece after the first hop. It will dim all of the stars in your field of view, but will enhance the slight "out of focus" appearance of the nebula. Cranking up your power (remember to switch the filter to the new eyepiece!) will confirm you are really looking at it too, as opposed to just an out-of-focus star. What color can you make out? To my eyes, the Eskimo appears blue-green.

The Hubble Space Telescope revealed this dying sun in incredible detail, and gives us a beautiful glimpse of our own sun's future in a few billion years:

The Jellyfish Nebula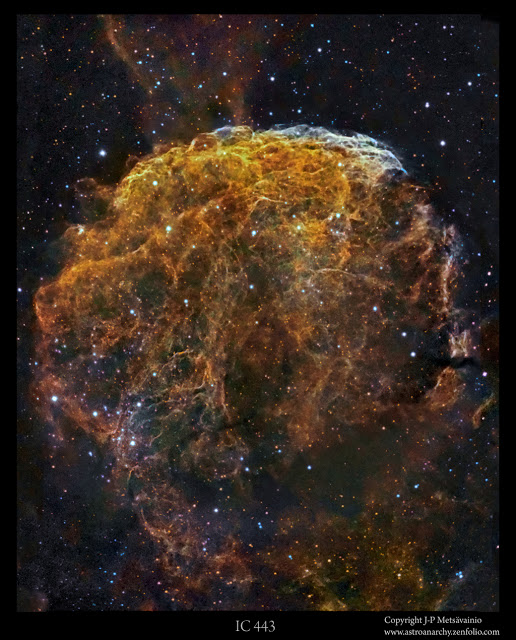 Image by the Astro-Anarchist himself, J-P Metsavainio
IC443 is not on many visual observer's lists, and it's not hard to see why: this gorgeous supernova remnant is notoriously faint, spreading over a region half the size of Gemini's foot. Despite it's proximity to bright Eta Geminorum, it's sheer size spreads out what brightness it does exhibit. However, don't let that prevent you from trying, particularly if you own a larger telescope. Budding astrophotographers out there should definitely take aim: it is a rewarding object for the camera's eye, if not our own. If you do attempt it with your own eyes, use a wide-field eyepiece and an O-III filter.
***
Odds and Ends
Venus is the bright "star" in your southwestern sky at sunset, Jupiter is the brightest "star" in the sky all night after Venus sets hanging out in Gemini, and Mars and Saturn rise before dawn in your southeastern sky. If you notice a disjointed line of four bright stars in that direction, Mars is the reddish one furthest north, Spica is the bright blue-white star beneath, Saturn the yellow "star" under Spica, and fiery Anteres just begins clearing the horizon, the last a reminder for those freezing in the northern latitudes that Summer is just a few months away: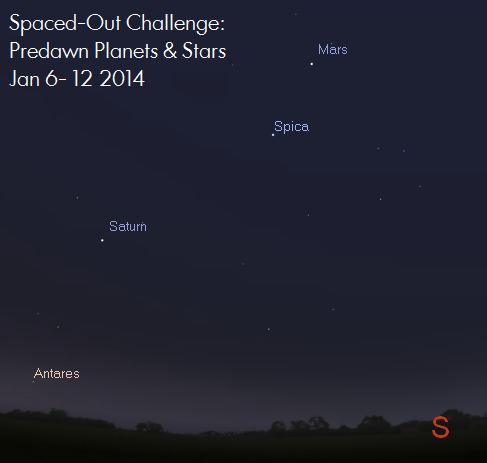 The moon will continue to fatten through the week, making deep-sky observing difficult until late in the evening. For those in warmer latitudes, Omega Centauri re-skims our southern horizon again before dawn, and is always a rewarding challenge in binoculars. Those of you with the Stellarium app will find it useful in locating this visitor from the southern skies.
***
The full Beginner's Buyer's Guide, our Comet Guide (featuring additional grab-and-go telescopes), and any other edition you're looking for can be found in the master index of all Spaced-Out Challenge threads
here
, but of course you can always inquire about binoculars, telescopes, and all the rest in the comments. As always, if you have astrophotography, product recommendations, or astronomy news you'd like to see on a future Spaced-Out Challenge, email me at theoneandonlyfinn (at) gmail.com, or tweet me
@conartcritic
.
Until next week, clear skies to you, and keep looking up!

posted by CAC at
06:03 PM
|
Access Comments