« Sun. Morning Open Before The Book Thread Thread [OregonMuse]
|
Main
|
Wildcard Sunday Game 1 »
January 05, 2014
Sunday Morning Book Thread 01-05-2014: Patterns [OregonMuse]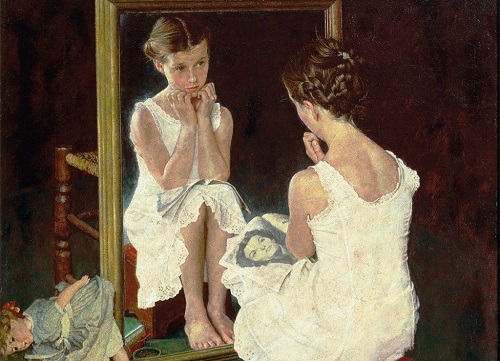 This Painting Is Full of Homoerotic Imagery. Can't You See It?
Good morning morons and moronettes and welcome to the award-winning AoSHQ's prestigious Sunday Morning Book Thread.
Everyone is Gay, Especially Famous Dead Guys
OK, so there's been some brouhaha going on this week over Norman Rockwell, American Mirror: The Life and Art of Norman Rockwell, a newly published biography of the American artist by Deborah Solomon. She manages to find homosexuality, pedophilia, or some other repressed sexual subtext underneath everything Rockwell ever thought, wrote or drew in his entire life. It's like finding animals in clouds or patterns in Rorschach ink blots that say more about the psychology of the observer than snything else.
For example:
Her take on Freedom of Speech is that the man standing is 'unattached and sexually available. Unbuttoned and unzipped.'
Yeah, right. Solomon probably just should have titled her book, 'The Queering of Norman Rockwell', and be done with it, but that would have narrowed its appeal down to only a handful of moonbat academics and killed any sales potential. It's so bad that the family of Norman Rockwell has issued a statement denouncing Solomon's book as the work of an ignorant hack:
She has neglected or misused the sources which she cites. Her use of Norman Rockwell's autobiography, My Adventures As An Illustrator, is highly selective. As Professor Patrick Toner of Wake Forest University states in his online review on First Things.com, 'Solomon has a pronounced tendency to either distort or simply ignore evidence to the contrary'...sex is a major theme of the book and her phantom theories color and distort everything, including Rockwell's entire character and her interpretations of his art.
It was too much even for Garrison Keillor, whom you might think would be sympathetic to this sort of thing. Apparently, not this time.
In a mostly positive NY Times review
, he observes: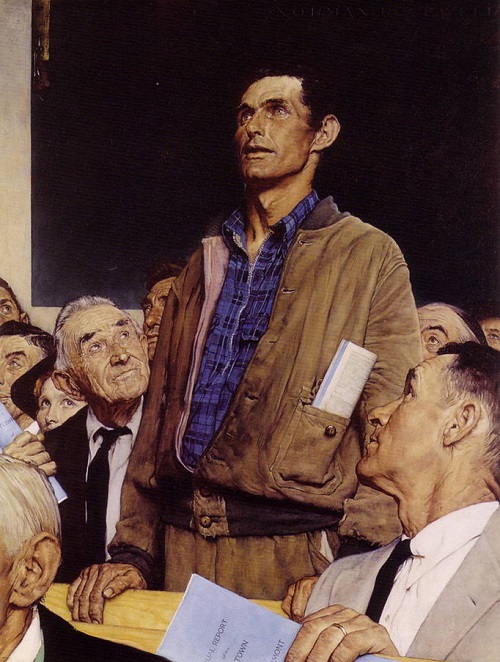 And This Guy? Totally Gay
[Solomon] does seem awfully eager to find homoeroticism — poor Rockwell cannot go on a fishing trip with other men without his biographer finding sexual overtones...In "Girl at Mirror," a young girl in a white slip studies her own reflection — "Actually," says Solomon, "seen from the back, she could be a boy." And the girl's doll, tossed on the floor? "A bizarrely sexualized object." ­Really? "With her right hand buried in her petticoats, the doll could almost be masturbating." Well, I suppose that Michelangelo's "David" could "almost" be masturbating. So have we all sometimes almost.
Note to Solomon: when even the reliably progressive Garrison Keillor can't wrap his head around your thesis, maybe you should get a new one.
Finally, an Amazon reviewer notes that if art is an expression of the artist's repressed sexuality, then Andy Warhol was clearly a closeted heterosexual. After all, look at all of his paintings of Marilyn and Jackie. The man was clearly obsessed with female bodies.

Books I Should Read, But Haven't
Here's a biography that's actually worthwhile: The Autobiography of Benjamin Franklin, by Benjamin Franklin. It's one of those books that's just sitting there on my shelf, and I keep saying I need to read it, but somehow I never can get around to it.
The Christian Science Monitor calls it one of the first self-help books:
For many, it is the life story of Franklin – who started as an apprentice to his older brother, a printer, and rose to be one of the most famous statesmen and writers in the world – that is inspirational. Franklin is not shy about praising himself (some readers have noted with amusement the number of times that Franklin praises his own humility) but for others his discussion of the virtues likely to lead to success in life comes across as instructive rather than braggadocious. Many readers over the years have also expressed appreciation for the degree to which Franklin comes face to face with his own errors as he tells his story...However, many are also attracted to the degree to which Franklin seems practically engaged with the business of self-improvement. The book includes a section in which Franklin makes a list of 13 virtues he wants to emulate and draws a box for each for each day, putting a black mark in a box if he did not succeed.
Franklin truly was a remarkable man. There are many great men who were not good men, but I think Franklin was a little bit of both.

Copyright News
The entire Sherlock Holmes canon has been in the public domain in Britain since the end of 2000. However, here in the United States, it's not that simple:
On Monday, December 23, 2013, the United States District Court for the Northern District of Illinois ruled on the plaintiff's motion for summary judgment against the Conan Doyle Estate in a case involving the literary figures of Sherlock Holmes and Doctor Watson. The Court's ruling states, in brief, that creators are free to use the characters of Holmes and Watson without licensing them from the Conan Doyle Estate. The Court cautioned that new stories about the pair can't use elements that appear exclusively in the ten post-1922 stories by Conan Doyle (those that remain in copyright). However, elements from the fifty pre-1923 stories are in the public domain.
So if you attempt to make use of Holmes material published after 2013, you could be hit with a lawsuit from the Doyle estate. Except if you're in Great Britain, in which case you can tell them to bugger off.
So, you may not freely describe "Dr. Watson's own athletic background, the juicy fact of his second marriage or the circumstances of Holmes's retirement", as those derive from Arthur Conan Doyles's post-1923 Holmes stories.
You got that?
OK, I guess that makes sense, if you're a lawyer. It's seems a little weird to me, though. I think that either the character is either in the public domain, or he isn't, but what do I know? Fortunately, this all becomes moot in 2022 when all of the Holmes stories will be in the public domain.
Perhaps the Doyle estate should hire the same lawyers that the Walt Disney company uses. They've successfully litigated to keep Mickey Mouse under copyright for, like, ever. In fact, I think it's still an open legal question as to when exactly the Mickey Mouse copyright actually does expire, and nobody wants to take on the Disney corporation in court to find out.

Books By Morons
The Thank You Angel, an illustrated children's book, is by longtime AoSHQ reader Ann Trenton, who e-mailed me earlier this week. It's her first Kindle book, and it's about a little girl who learns about the joy of saying "Thank You" from her grandmother and the Thank You Angel.

___________

So that's all for this week. As always, book thread tips, suggestions, rumors, threats, and insults may be sent to OregonMuse, Proprietor, AoSHQ Book Thread, at aoshqbookthread, followed by the 'at' sign, and then 'G' mail, and then dot cee oh emm.
What have you all been reading this week? Hopefully something good, because, as I keep saying, life is too short to be reading lousy books.

posted by Open Blogger at
11:04 AM
|
Access Comments