« At Least One Census Worker Made Up Employment Data In Run-Up to 2012 Elections
|
Main
|
Top Headline Comments 11-19-13 »
November 18, 2013
Overnight Open Thread (11-18-2013)
So Who Shot JFK?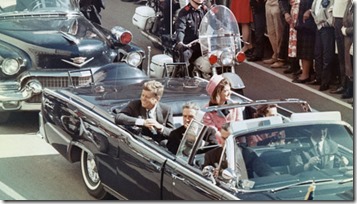 Was it Dallas, that well-known city of hate?  Yes, said the NYT back then as well as today in James McAuley's recent article, "The City With a Death Wish in Its Eye." Even Stephen King concurs.
"For 50 years, Dallas has done its best to avoid coming to terms with the one event that made it famous: the assassination of John F. Kennedy on Nov. 22, 1963," writes James McAuley in today's New York Times. He goes on to describe JFK-era Dallas as a right-wing "city of hate."
Was it you and me?  Yes, say the Rolling Stones.
Was it a sad little local commie Russian defector?  Nyet, says Marina Oswald who still lives in Texas and claims that Lee Harvey is innocent.
Was it this guy? 

   Eh. That seems rather unlikely. His alibi was rock-solid and he was also an FBI informant during that time.
Was it the ladies of Dallas high society and Carol Burnett, Julie Andrews to a lesser extent?  Yes, says James McAuley, doubling down on his Dallas-done-it theory.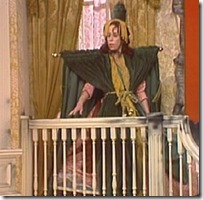 Well I guess it will always remain a giant mystery although I'm intrigued by this Carol Burnett/Dallas Ladies Garden Society theory.
And when you think about it, they would have had the means, motive, and perfect opportunity to pull off an assassination. With easy access to costumes, firearms and the levers of power in Dallas, it would be simple for them to sweet talk their way through security without even a hint of suspicion. So when they casually mentioned that after tea they were going out to view some wildflowers and do a little target shooting, who in Texas would have given it a second thought?
Conclusion: It's a bad idea to mess with Texas but for god sakes do not ever cross the DLGS. They play for keeps.
Also Sonny Bunch points out that The Kennedy Assassination Drove the Left Utterly Insane.
The Latest Attempt to Blame Republicans for ObamaCare
Jamelle Bouie, writing in The Daily Beast: "Before we blame the problems with Healthcare.gov on 'big government' or 'liberalism,' we should remember that the Affordable Care Act needed GOP cooperation to succeed."

Why? As Robert Gamble noted, "If your plan requires complete control and no opposition, then it isn't a plan, it's a wish."

If "the Affordable Care Act needed GOP cooperation to succeed," why did President Obama, Senate Majority Leader Harry Reid, and then-House Speaker Nancy Pelosi go forward with the bill when it was clear that no Republican in the House or Senate would vote for the bill as written? Why alienate people whose cooperation is absolutely necessary?
Shorter version: By opposing the ACA you made us fuck up. So it's all on you somehow.
ObamaCare About to Run into 'Irish Democracy'
Now soak that in for a moment. It is a coin flip, at best, for the president as to whether his signature achievement, his only achievement, will fail. It will be repealed in essence by a popular referendum: The mass refusal of people to go along with Obama's top-down, compulsory system that was set to transform a sixth of the economy. That possibility should traumatize and probably is traumatizing the White House. Same goes for any Democratic lawmaker who spent time thinking this through. The political implications of this are almost too enormous to calculate.
Mark Steyn Knows a Monarchy When He Sees One
It is a condition of my admission to this great land that I am not allowed to foment the overthrow of the United States Government. Oh, I signed it airily enough, but you'd be surprised, as the years go by, how often the urge to foment starts to rise in one's gullet. Fortunately, at least as far as constitutional government goes, the president of the United States is doing a grand job of overthrowing it all by himself.

On Thursday, he passed a new law at a press conference. George III never did that. But, having ordered America's insurance companies to comply with Obamacare, the president announced that he is now ordering them not to comply with Obamacare.

...But on he staggers, with a wave of his scepter, delaying this, staying that, exempting the other, according to his regal whim and internal polling. The omniscient beneficent Sovereign will now graciously "allow" us "folks" to keep all those junk plans from bad-apple insurers. Yet even the wisest King cannot reign forever, and what will happen decades down the road were someone less benign - perhaps even (shudder) a Republican - to ascend the throne and wield these mighty powers?

Hey, relax: If you like your Constitution, you can keep your Constitution. Period. And your existing amendments. Well, most of them - except for the junk ones.
People have been declaring the bayonet an outmoded tool for 70+ years. But it keeps turning out to be too useful to ever get rid of.
Again in the 1970s, Britain planned to go to a bullpup, and at the time of the spring 1982 South Atlantic War, the SA80 was nearing production. Bayonets were used to great effect by the Scots Guards and the Paras; Platoon sergeant Ian McKay of B Coy 3 Para received the Victoria Cross posthumously for leading a  bayonet charge at Mount Longdon, and the Scots went to cold steel when ammo ran low on Mount Tumbledown. As a result of the great effect of the bayonet in clearing Argentine trenches and inducing Argentine surrenders, the new gun was hastily redesigned with a bayonet attachment before going into production as the L85 in 1985. The bayonet is called the L3A1. The media are still eager to entomb the bayonet (for example, in this 2002 story in the Telegraph), but the Army is not.

...It's unlikely the British will give up their Sweet Sister any time soon. In 2004, they used bayonets in Iraq to rout Sadrist militia; the Argyll & Sutherland Highlanders - perhaps a descendant of Sassoon's "Highland Major's" regiment - killed some 35 with a full-on bayonet charge.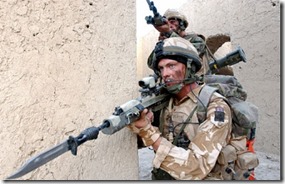 Oh and do you know what tomorrow is? Here is a hint.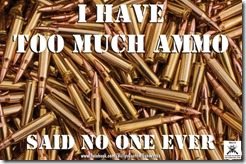 On Before and After Pictures of the $25K Queen Anne
I'm weird and broke, so my After photos are really all During photos. There is nothing permanent in your house. Your house is a direction, or more accurately, it's one of two directions. Getting better or getting worse. There is no stasis in houses. Nothing is "modern," or "updated." Newly installed, maybe. But the hideous stuff you ripped out, usually barely a decade old, was all modern and updated when they put it in, too. What it really was, was a fad.

Fads rule in everything in American public life. There used to be fewer choices for everything you used or owned. There were only three TV channels when I was young, and yet people had a more varied outlook than they do now, even though basic cable has three hundred. Everyone had to have Corian counters when Clinton was President. Everyone had to have granite counters when Bush was President. Everyone wants repossessed granite countertops in Obama's second term, which is almost continuity, but my point stands. In two years every one will sniff at your granite and say quartz is where it's at, dahling, and you'll tear it all out again.
And on dealing with Calsomine:
Three of the bedroom ceilings still displayed their original coatings on the ceiling, two of the three completely untouched, the third on patchwork display after sleeping under a 1970s attempt to put textured paint over calsomine. Calsomine paint -- isn't. It isn't paint. It's paste, like something Tom Sawyer would con you into painting Aunt Polly's fence with. People tried painting over calsomine paint for decades back in the day, and it would peel forevermore, because it's essentially a coat of chalk, and everyone got disgusted with trying, some putting in asbestos tiles, others drop ceilings, desperately trying to keep the lead paint chips out of their Wheaties. That usually worked until they were able to solve the problem once and for all by burning their house to the ground. They often accomplished this by plugging in their leg lamp and their Christmas tree at the same time, using that socket that already had the radio, four other lamps, and an extension cord for a toaster in the next room. The lamp was a major award, so you just had to plug it in. It wasn't their fault.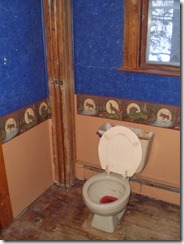 There Are Good People in This World
The Yahoo AoSHQ group. Bla bla bla.
And my twitter thang.
Tonight's post brought to you by the face of Melbourne according to the Sunday Age: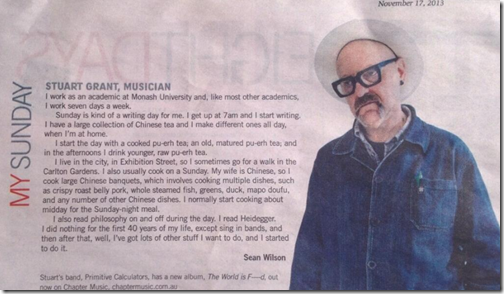 Notice: Posted by permission of AceCorp LLC. Please e-mail overnight open thread tips to maetenloch at gmail. Otherwise send tips to Ace.

posted by Maetenloch at
10:14 PM
|
Access Comments