« Nancy Pelosi Pretty Much Proves She Has No Idea What's In Obamcare
|
Main
|
Top Headline Comments 11-18-13 »
November 17, 2013
Overnight Open Thread (11-17-2013)
My slackening is slacking. Must find the strength to do less.
Oprah: Americans Hate Obama Because He's Black
Oprah: Racists Have to Die For Racism To End
Okay I think you can fill in the blanks here and see where Oprah's headed with her incoherent thoughts even if she can't.
VDH: The Moral Decline of Oprah
In fact, Oprah has no record of worrying about the level of disrespect shown the office. If she did, she might have said something a few years ago when her president was routinely being compared to a Nazi, and often by her own fellow celebrities, writers, politicians, civil-rights activists, and filmmakers. That she said nothing then, but now says a lot, explains not America's problem with race, but her own race obsessions, which have blinded her to her own prejudices and hypocrisies.
It's sad to watch a public figure who's been immensely successful and built up a lot of goodwill over the years throw it all away over politics, tribalism, and a racist view of her fellow Americans.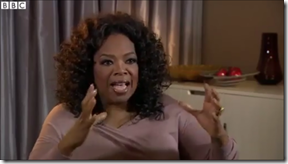 Matt Yglesias: It's a Good Thing That Obama Lied to You About Keeping Your Policy
Because King Barack knows better than you do what kind of insurance you need. And you couldn't handle the truth.
Clearing the landscape of this kind of mirage insurance and making sure that everyone has proper coverage-which, yes, may be more expensive-is a feature of the Affordable Care Act, not a bug. The White House has every reason to hold its head in shame over the shambolic state of healthcare.gov, but the wave of cancellation letters is part of Obamacare doing what it was supposed to do. There's little to regret about these plans vanishing from the earth.
Richard Cohen's Racist Imagination and Remembering JournoList
Letting their inner thug flag fly:
Spencer Ackerman of the Washington Independent urged his colleagues to deflect attention from Obama's relationship with Wright by changing the subject. Pick one of Obama's conservative critics, Ackerman wrote, "Fred Barnes, Karl Rove, who cares - and call them racists."

* * * * *

Let's just throw Ledeen against a wall. Or, pace Dr. Alterman, throw him through a plate glass window. I'll bet a little spot of violence would shut him right the fuck up, as with most bullies.
Also WaPo's Richard Cohen says these photos will make you types of people physically ill:
A wanna-be Lord Humongous.
Smith, 29, runs a  Buckley, WA-based group that calls themselves "Spartan Survival." In the event of a disaster, Smith and his merry band intend to attack other citizens and take what they need to survive by brute force.

...Simply put, Smith-who admits to being a fan of Barack Obama's redistributionist government-plans on armed robbery, home invasions, and widespread looting to support his group of bloated, inbred leeches should disaster strike.
"We're not in it to stockpile. We're in it to take what you have and there's nothing you can do to stop us," Tyler Smith says. "We are your worst nightmare, and we are coming."

...

Most preppers, Smith says, are concerned with marauders taking their supplies. It's not an unfounded fear, he says.

"We are those people," he says. "We'll kick your door in and take your supplies. . We are the marauders."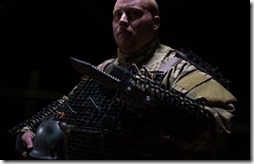 Worst Company Ever: Kleargear.com Doesn't Deliver Order, Charges Woman $3500 For Bad Review, Ruins Her Credit
Not only that but the non-disparagement clause they're pointing to was added years after her order and bad review.
Here, at the largest U.S. base in Afghanistan, another Dark Knight is on a different kind of crusade: making sure soldiers carry their rifles and don't get run over at night.

"Bagram Batman" is the star of a recent series of public-service announcements broadcast to troops deployed in and around Afghanistan. The camouflaged superhero-and his catchphrase, "SWEAR TO ME!"- have become an unlikely hit, winning a cult following among soldiers, and going viral on the Internet.

"He acts just as well as Adam West did," marvels Maj. Crispin Burke, an Army officer and military blogger, referring to the star of the original Batman movie and TV series in the 1960s.

While his do-it-yourself costume-rubber Batman mask, black cape and reflective belt over combat fatigues-may look like a joke, Bagram Batman has a very real mission: reminding the troops about the do's and don'ts of life on a forward operating base like Bagram, a small American town planted in the middle of a war zone.

...The man behind the masked military version is an Army broadcast journalist, a military specialty known under its code 46 Romeo. Bagram Batman recently agreed to let a reporter accompany him on his rounds as he prowled the base for soldiers committing uniform violations.

"I'm glad to see you've got your eye-pro on," he growled at one group of soldiers, noting their ballistic eyewear.
4 Total BS News Stories You Thought Were True
Well I'll cop to falling for the Halloween fat-note treat but the rest of the stories twigged my bullshit detector particularly the nasty-note-left-for-the-waitress stories - including this recent one.
Meet Fabrican, a spray-on fabric that can be used to make clothes that mold to your body.

Fabrican has been in the making since 2000, and is kind of revolutionary in a "Jetsons" sort of way. It was developed for use on runway models who need tight, perfectly-fitted coverage quickly and will likely be in stores soon for us regular folks.

The fabric comes out of a can that contains short fibers mixed with a bidner and with solvent. Once you spray on the outfit, you can even take it off (oh-so-carefully) and wash and re-wear it like "normal" clothes. If you don't like it, you can dissolve it and throw away.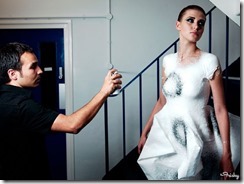 Weekly AoSHQ Commenter Standings
Top 10 commenters:
1 [602 comments] 'Mike Hammer' [84.51 posts/day]
2 [521 comments] 'John McCain'
3 [396 comments] 'sven10077'
4 [326 comments] 'EC'
5 [286 comments] 'J.J. Sefton'
6 [270 comments] 'Vendette'
7 [260 comments] 'Misanthropic Humanitarian '
8 [257 comments] 'Brandon In Baton Rouge'
9 [254 comments] 'artisanal 'ette'
10 [252 comments] 'Jane D'oh'
Top 10 sockpuppeteers:
1 [159 names] 'John McCain' [22.32 unique names/day]
2 [68 names] 'Islamic Rage Boy'
3 [66 names] 'Doctor Fish'
4 [56 names] 'John Boehner and Mitch McConnell'
5 [53 names] 't-bird'
6 [51 names] 'The Political Hat'
7 [46 names] 'Brandon In Baton Rouge'
8 [36 names] 'davidt'
9 [35 names] '---'
10 [34 names] 'Cicero (@cicero)'
The group. Yeah.
Where it's at - the Twitter
Tonight's post brought to you by Idi Amin approves: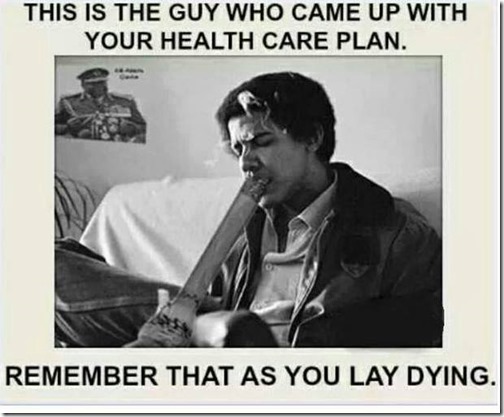 Notice: Posted by permission of AceCorp LLC. Please e-mail overnight open thread tips to maetenloch at gmail. Otherwise send tips to Ace.

posted by Maetenloch at
10:20 PM
|
Access Comments