« CMAs Goof On Obamacare Open Thread
|
Main
|
Top Headline Comments 11-8-13 »
November 07, 2013
Overnight Open Thread (11-7-2013)
Study: If You Own a Gun, You're a Racist
There's so much stupid in this 'scientific' study published in PLOS ONE that I don't even know where to start. Here's just one nugget in the tard sandwich:
Racism and guns go together.

That's the finding of an international study released Thursday that says the two are linked. More specifically, odds are greater that a racist white American also keeps a gun at home and opposes gun control regulations.

The conclusion wasn't too surprising for researchers at Australia's Monash University and Britain's Manchester University, which sought to better understand American gun culture.

"There had already been research showing that blacks are more likely to be shot, so we thought there must be something happening between the concept of being black and some whites wanting guns," Monash researcher Kerry O'Brien said in an email to the Daily News.

He also found that political leanings and geography play a part into firearm ownership.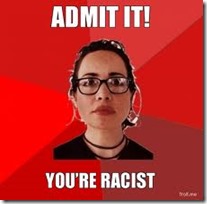 As far as investigating the dark side of the Major Issues, there's a critically important concept that students of journalism are rarely taught.  It's easy to find any number of targets to write about in capitalist societies with an open press.  But totalitarian governments are journalistic black holes.  Journalists can tickle their self-righteous neurocircuitry every day (and many do), by exposing easy-to-find faults in democratic societies.  But beyond their event horizon is the bigger story that often remains untold as it occurs-the horrific deaths of millions in totalitarian regimes like the former Soviet Union, Communist China, North Korea and, yes, Saddam Hussein's Iraq.  That's why, when Robert Conquest was asked whether he wanted to retitle his updated The Great Terror, about the Soviet purges, his answer was: Yes, how about I Told You So, You Fucking Fools?
The FDA Moves to Ban Trans-Fats
Luckily they're exempting the small amounts of naturally occurring trans-fats or else we'd all become vegans by government fiat.
"Citing growing health concerns about trans fat, the FDA today proposed measures to eliminate it from the U.S. food supply. While trans fat can still be used, the new measures now place the burden on food processors to justify the inclusion of it in a food product as experts have maintained that there is no safe level of consumption and no health benefits. Since 2006, the amount of trans far eaten by the average American has declined from 4.5g per serving to less than 1g as restaurants and the food industry have reduced their use of it. There will be a 60 day public comment period for the new proposal."
Oh Noes: Mexican Coke is Moving to High-Fructose Corn Syrup
Executives at Coca-Cola in Latin America decided to make the switch after the Mexican government approved a tax of one peso on every liter of soda sold.
But not to worry - they'll still make a cane sugar version for export to the US. As long as the FDA allows it.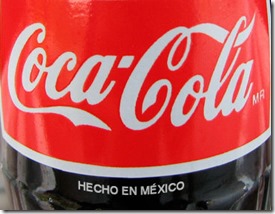 These People Are Why You Had to Lose Your Health Plan
Why do you hate struggling artists?
Elisabeth and Mark Horst, artists in Albuquerque who earn $24,000 a year between them, qualified for a zero-premium plan.
Struggling artists with advanced degrees who want you to subsidize their health care.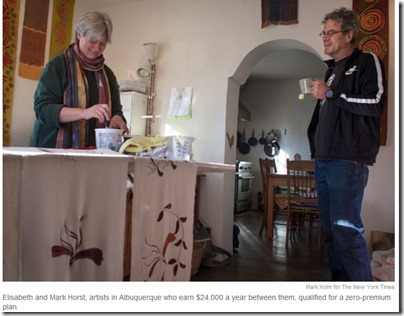 Kirsten Powers Takes the Exit to Damascus
We'll see if she keeps going.
The Intertunnel loves stuff like this. They treat the discovery of such work online as akin to unsealing Tutankhamen's tomb. While I've never done it myself, I've seen it done lots of times. Landscapers for tony houses in Massachusetts routinely split granite in this fashion to make outdoor steps while I was working alongside them doing something else. Feathers and wedges. Of course, there's one gigantic bit of handwaving involved with the video. Someone's got to drill those holes, and drilling holes in granite is no picnic.  Most use an air hammer. The wedge and feather work is the easy part, if more fun to film.

...If you do things for yourself, Intertunnel viewers are quick to praise it, generally, unless it's self-defense, of course; but there's a limit to what's sensible, or even possible to do on your own, and you rub up against that limit pretty fast. It's ridiculous to poop in a hole in the ground with a solar panel on the roof over your head and talk about sustainability. Solar panels aren't made in a shed, and you don't swap last fall's rhubarb crop for them. Your hammer came from Home Depot, not a forge in the back yard. And money made right next to a smokestack and spent with you out in the landscape is still the same kind of money.
At $72m, India's mission to Mars is less expensive than many NY/London apartments.
Or most movies made in Hollywood.
Duck Dynasty Producers: A Little Less Jesus Please or It Might Upset the Muslims
When the producers of Duck Dynasty asked the stars to stop saying "in Jesus' name" during prayers because it might offend Muslims, Phil Robertson stood his ground and gave an eye-opening response.

"So they would just have me saying, 'Thank you Lord for the food, thank you for loving us. Amen.' So I said, 'Why would you cut out 'In Jesus' name?' They said, 'Well those editors are probably doing that. They just think that they don't want to offend some of the Muslims or something.'"

Robertson says he had a conversation with the producers, and the objections to Jesus' name stopped.

"I said, let's see now." Robertson went on, "I said, 'what year is it?'" And the editor finally answered, "2012? (the time the conversation took place, apparently).

Robertson then said, "2012 A.D. Anno Domini. The year of our Lord. I said, 'you Hollywood cats are counting time from Jesus, just like I am. I would think that of all the people who walked the planet Earth, if we've all decided in America here to count time by just one of 'em, Jesus of Galilee, I just don't think it would hurt to throw his name in there from time to time."
How To Blow $14.8 Billion Dollars in 12 Easy Steps
First get at least $14.8 billion dollars. Then join the Brunei royal family.
Prince Jefri Bolkiah is the younger brother of the Sultan of Brunei, and he is believed to have blown $14.8 billion on a series of follies including grotesque mansions; enormous collections of sportscars; haremsful of exotic prostitutes kept on standby at home and abroad; fleets of jets; musesumsworth of gaudy gems; private football tutelage from NFL greats for his pampered son; private concerts by Michael Jackson and Whitney Houston (the former in a purpose-built, single-use stadium); and more (and more).

...According to Fortune, when Hakeem wanted to learn football, Jefri imported N.F.L. stars Joe Montana and Herschel Walker to Brunei, at a cost of seven figures each, to teach him the game. Hakeem and his friends showed up in brand-new uniforms, the gargantuan prince weighing 300 pounds, trailed by a valet and guarded by a state security force. Hakeem was not able to catch the ball, so a teammate would hand it to him, and he would then shuffle down the field for an easy touchdown, because no one was allowed to tackle a prince. When Hakeem turned 18, his father gave him $1 billion as a birthday present, according to one of Zaman's affidavits.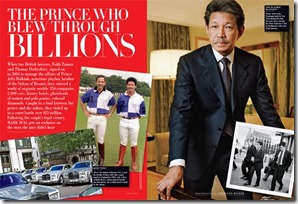 Celebrity Couples Who Have Gone the Distance
And in Hollywood sometimes the distance is a mere 8 years.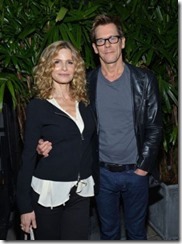 The Top 25 Babes of Sci-Fi Cinema
Only #3?!?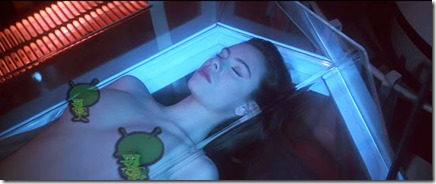 Yahoo group. That is all.
The group thingy. And the middle class.
And my Twitter spew.
And don't forget El Grupo del Yahoo.
Tonight's post brought to you by ObamaCare or Deming, NM Police Department training - you make the call: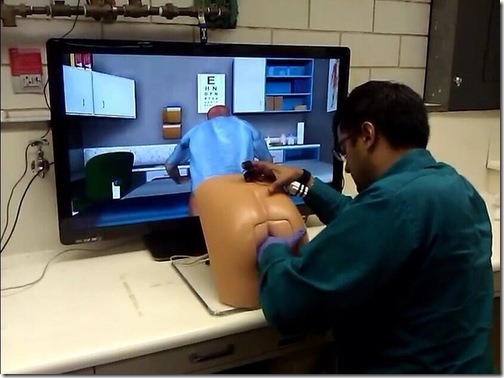 Notice: Posted by permission of AceCorp LLC. Please e-mail overnight open thread tips plus $1 for S&H to maetenloch at gmail. Otherwise send your scraps to BizarroAce. Do not taunt happy-fun ball.

posted by Maetenloch at
10:26 PM
|
Access Comments