« Ace of Spades HQ Decision Desk: VA, NJ, NYC, AL-1 Results
|
Main
|
Top Headline Comments 11-6-13 »
November 05, 2013
Overnight Open Thread (11-5-2013)
Guns & Ammo Editor Doesn't Understand the Second Amendment
In the December issue G&A technical editor Dick Metcalf supports regulating guns using this argument:
"I bring this up," Metcalf writes, "because way too many gun owners still believe that any regulation of the right to keep and bear arms is an infringement. The fact is that all Constitutional rights are regulated, always have been, and need to be."

"Many argue that any regulation at all is, by definition, an infringement. If that were true, then the authors of the Second Amendment themselves, should not have specified "well-regulated."
Meanwhile Bob Owens (now of Bearingarms.com) who I have a lot of respect for also doesn't seem to quite fully get the Second Amendment either:
As a shooting community, we seem to be huge on the latter half of the Second Amendment, and not so much on the first half. Find a Second Amendment rally anywhere, and you'll hear cries of "the right of the people to keep and bear arms shall not be infringed!" You won't hear many cries (if any) for "a well regulated militia being necessary for the security of a free state!" Do you ever wonder why that is? While I don't purport to speak for everyone, I have a hunch.

I think it has to do with the uncomfortable fact that the first half of the Second Amendment suggests an obligation and a duty.

A "well regulated militia" would require people to sacrifice, to get in shape, learn small unit tactics, hike with heavy packs in deplorable weather conditions, give up modern conveniences, and generally suffer to become something that might pass as the sort of militia that would have a hope of surviving in today's fourth and fifth generation warfare.
Look I'm no constitutional professor but it should be pretty well understood these days that the term "well regulated" in the 18th century had the connotation of being well run and functioning rather than the modern meaning of being controlled and restricted by say the government.
Plus the first clause of the Second Amendment, "A well regulated militia being necessary to the security of a free state", should be seen as a motivational phrase providing a justification for the second clause without necessarily limiting it to that single purpose. So you could just as well re-phrase the 2A as "A well armed neighborhood watch being necessary to repel an invasion of zombies, the right of the people to keep and bear arms shall not be infringed," without changing existing gun rights or limiting gun ownership to only fighting the undead in an organized group.
And that's not just my interpretation - that's what the Supreme Court said in District of Columbia v. Heller on the very first page of the decision syllabus (italics mine):
(1) The Second Amendment protects an individual right to possess a firearm unconnected with service in a militia, and to use that arm for traditionally lawful purposes, such as self-defense within the home. Pp. 2-53.

(a) The Amendment's prefatory clause announces a purpose, but does not limit or expand the scope of the second part, the operative clause. The operative clause's text and history demonstrate that it connotes an individual right to keep and bear arms. Pp. 2-22.

(b) The prefatory clause comports with the Court's interpretation of the operative clause. The "militia" comprised all males physically capable of acting in concert for the common defense. The Antifederalists feared that the Federal Government would disarm the people in order to disable this citizens' militia, enabling a politicized standing army or a select militia to rule. The response was to deny Congress power to abridge the ancient right of individuals to keep and bear arms, so that the ideal of a citizens' militia would be preserved. Pp. 22-28.

(c) The Court's interpretation is confirmed by analogous arms-bearing rights in state constitutions that preceded and immediately followed the Second Amendment. Pp. 28-30.

(d) The Second Amendment's drafting history, while of dubious interpretive worth, reveals three state Second Amendment proposals that unequivocally referred to an individual right to bear arms. Pp. 30-32.

(e) Interpretation of the Second Amendment by scholars, courts and legislators, from immediately after its ratification through the late 19th century also supports the Court's conclusion. Pp. 32-47.

(f) None of the Court's precedents forecloses the Court's interpretation.
So basically your individual right to own gun has nothing to do with a "well regulated militia" - even if that was the original motivation for it. And anyone who claims they're currently connected is wrong. Period. Full stop.
It's rather dismaying to find that even professional writers in the gun community are still confused after Heller on what exactly the second amendment means.
Teacher Bullying and the Delphi Technique
Or why you'll be labeled a neo-Nazi if you have the temerity to complain about about your child's indoctrination.
A Pennsylvania father objected when his daughter's middle-school history teacher assigned a project about a New York Times article blaming Republicans for the government shutdown. His complaint apparently made him the target of an orchestrated response by faculty at Camp Hill Middle School, and an English teacher named Cydnee Cohen left a voicemail message for one of the parent's Facebook friends:

"We're having some problems with a parent in our school district and on his page you are one of his friends.but I would like to know, some of it seems like he is a neo-nazi.call me."

The mutual friend sent a text (see screenshot) to Cohen, saying that Josh is the "furthest thing" from a neo-nazi, as he is Jewish. Cohen responded, "he is tea party right wing!"
Eh six of one half a dozen of the other.
La Tristesse: Europeans Sadly Discover Obama Isn't the Cool Euro-Guy They Always Dreamed Of
But just another American who's kind of a jerk.
For a long time, the U.S. president retained a much higher popularity on the other side of the Atlantic than that of the average European leader, even when his popularity collapsed among his own citizens. Obama resembled neither Angela Merkel nor Nicolas Sarkozy. Obama was a cool president.
This summer, the image caved in. The "Yes We Can" president became the "Yes We Scan" leader. In press cartoons, large ears pushed out. It's not the repulsion inspired by his predecessor, George W. Bush - not yet - but the charm is gone. Without Hillary Clinton's talents, Barack Obama is not cool, he is cold.

...Truth be told, Barack Obama has lost count of the friendly leaders he has offended. Benjamin Netanyahu, the Israeli Prime Minister, is furious at his Iran policy and makes no bones about it in Washington. Also concerned about the opening to Iran, the Saudis are furious regarding America's Syrian policy and sulk profoundly under their white ghutrah. Dilma Rousseff, president of Brazil, is furious about having been bugged and canceled her visit to Washington.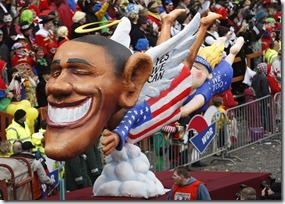 Is actually proof that ethnic cleansing and expulsion work.
"Europe's social engineers of the last generation seem to have assumed that the "dark forces" of nationalism and chauvinism had been left behind. That was partly true; the horrors of the two world wars have made many (though far from all) Europeans unwilling to fight anymore on ethnic grounds. But the subsidence of ethnic nationalism in European politics was also a function of the mass ethnic cleansings and genocidal killings that left most European nation states fairly homogenous. There was no "German Question" in Polish or Czech politics because there were no more Germans in these countries. The "Jewish Question" largely faded in postwar Europe, in part because of revulsion against Nazism, but also because the Jews were gone. Europe's architects liked to believe that Europeans had transcended ethnic hatred, but much of Europe's postwar peace came from the success of ethnic hatred in creating homogenous countries."

-- Walter Russell Mead
The windshield wipers are a nice touch.
Everyone is a Beautiful Special Snowflake These Days
Which is why 'selfies' and professional photo shoots are replacing the traditional cap and gown yearbook photo.
The Instagram generation, devoted to "selfies" and bombarded with digital imagery, is increasingly forgoing the time-honored cap-and-gown pose in front of the blue-mottled screen for portrayals more elaborate, personal and, of course, expensive..

After the $300 session fee (and the optional $120 hair and makeup service), [Brooke] Daniels's minimum charge for prints and other products is $850. One Fairfax family dropped $7,000 recently for a deluxe senior shoot that included multiple prints of the daughter on canvas, suitable for filling a living-room wall.

[Chris] Steuble said his customers usually spend between $300 and $1,300, with the average being $700. He offers a "photo safari," during which he and the student's family set out to shoot in a range of settings, "some brick-and-
mortar, some nature, some urban street scenes," he said.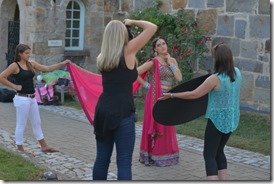 Because they look more attractive in groups.
(a) The visual system automatically computes ensemble representations of faces presented in a group, (b) individual members of the group are biased toward this ensemble average, and (c) average faces are attractive. Taken together, these phenomena suggest that individual faces will seem more attractive when presented in a group because they will appear more similar to the average group face, which is more attractive than group members' individual faces.
Basically the human male visual system gets confused when it sees more than one or two chick faces and ends up blending them together. Similarly to how mountain lions and bears often become confused as to the number and size of prey if you wave your hands and yell.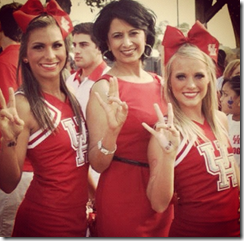 Also Why You Can't Trust the Wide Boys
Charlie teh Kitten's Super Adorable Bedtime Routine
The AoSHQ group. Yeah.
Teh Tweet!
Tonight's post brought to you by Frank watching Frank: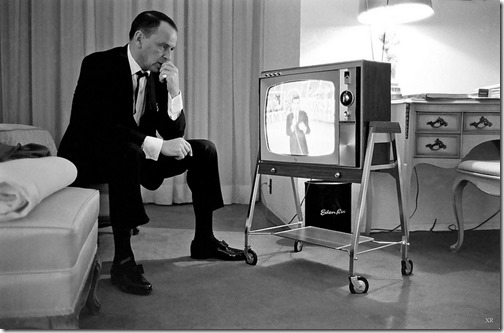 Notice: Posted by permission of AceCorp LLC. Please e-mail overnight open thread tips to maetenloch at gmail. Otherwise send tips to Ace.

posted by Maetenloch at
08:50 PM
|
Access Comments