« Jon Stewart and SNL on Obama and ObamaCare
|
Main
|
Change of Pace: Left Confesses Its Psychological Problem »
October 29, 2013
On Obama's Devious Regulations to Force the Terminations of All "Grandfathered" Health Care Plans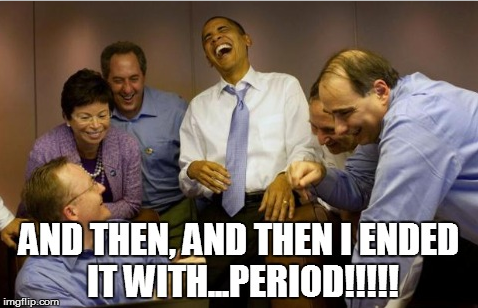 Important article: How the Obama Administration Made Sure People Couldn't Keep Their Plans. Worth a read in full, but let me excerpt the bullet point conclusions.
First of all, even the "grandfathered" policies required that they be offered at equal prices to those with pre-existing conditions -- thus jacking up premiums immediately, by law.
How, exactly, were health insurers supposed to comply with these new mandates (and other ways the ACA is raising costs) without raising customers' contributions in the way the law says means losing grandfathered status?

...

In other words, the ACA did make it incredibly hard for insurers to continue plans for the millions of Americans who don't want comprehensive insurance — financially, insurers almost certainly had to adjust them in such a way that they would lose grandfathered status. This isn't "normal turnover in the insurance market" (though there is plenty of that in the individual market); there's a reason why an exceptionally large number of Americans are getting cancellation notices this fall.

One error I made earlier (repeating Lisa Meyers' error): A change in premium alone doesn't un-grandfather a policy. However, the point this article is making is that very often insurance companies will keep premiums down, despite rising costs, by raising deductibles or copayments-- and that's precisely what Obama's regulations say makes a policy automatically un-grandfathered.
The article then notes that while the law did in fact say, essentially, if you like your plan, you can keep your plan, the HHS wrote its regulations in contradiction to the law of the United States and not only "interpreted the provision narrowly," as Lisa Meyer said, but actually changed its meaning to take back the protection the law afforded.
The conclusion:
The Affordable Care Act as written and passed would have protected the grandfathered plans for a longer period of time and with more freedom for adjustment, but the Obama administration filled out the Secretary Shalls in such a way as to make that much harder, if not basically impossible, to do. The Obama administration's original, June 2010 rules were actually even stricter, and would have, for example, made it impossible for an insurer or company to change the firms it uses to manage and administer the plan (which needn't affect coverage and is a simple way to lower costs); those ludicrous restrictions were eliminated, but enough rules remain that it's, again, near impossible to maintain a grandfathered health-care plan.
And thus, Obama didn't just "know" he wouldn't be able to keep his promise; he actively worked, through his inferior officers, to break that promise himself.
Via @gpollowitz. P-shop via @rdbrewer4.

posted by Ace at
06:17 PM
|
Access Comments