« Sun. Morning Open Before The Book Thread Thread [OregonMuse]
|
Main
|
Open Political Discussion Thread »
October 20, 2013
Sunday Morning Book Thread 10-20-2013: NaNoWriMo Will Get You If You Don't Watch Out [OregonMuse]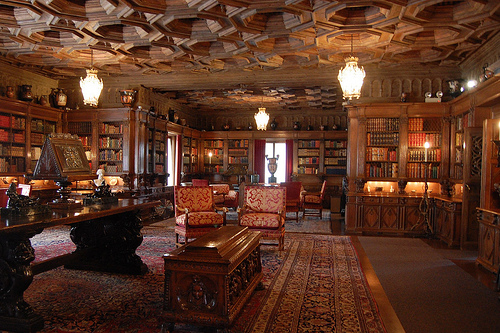 The Auxiliary Library At Casa de Muse*
*no, not really. This is actually the library on the 3rd floor of Hearst Castle in San Simeon, California. It contains over 4,000 books.
Good morning morons and moronettes and welcome to AoSHQ's prestigious Sunday Morning Book Thread.
OK, so before I get into the primary topic today, I have a question: what do you think the average person should read in order to be able to participate in a democratic, constitutional Republic? This question came up in e-mail a few days ago and I'd be interested in acquiring the collective wisdom of the Moron Horde. Thank you all in advance.

It Is Pitch Black. You Are Likely To Be Eaten By A NaNoWriMo
What in the world is a NaNoWriMo, you ask? 'November' is the short answer. The long answer is that November has been designated as as National Novel Writing Month, hence the polysyllabic acronym. The idea is that they want to get writers off their duffs and get that first draft completed at long last and on its way to eventual publication. They've got a website and everything:
At NaNoWriMo, we provide the support, encouragement, and good old-fashioned kick in the pants you need to write the rough draft of your novel in November.
You can use the resources available on the website to track your progress, get pep talks and support, and meet fellow writers online and in person.

Now What?
OK, you've completed your kick-ass, take-no-prisoners, great American novel, so now how do you get it published? Getting past the gatekeepers of the traditional publishing houses has always been difficult and problematic for new writers. For example, Theodor Geisel ("Dr. Suess") was turned down by 27 publishers before his first book, And to Think That I Saw It on Mulberry Street, was accepted for publication. You could always go the self-publishing route, but that was always very expensive and chancey. The difficulty of finding adequate distribution was always a major roadblock to this option. But then the internet came along, along with the world-wide web. Then came the Kindle and other e-Reading technology, and the result has been a veritable explosion of self-published books.
And also with it, an explosion of shady publishers, con men, and scammers.
Of course, even in the early days of the internet, there were unscrupulous publishers waiting to pounce on the unwary. Here is a creepy and disturbing story, from when Usenet ruled the earth, of a scam operation that turned into cyberstalking. Fortunately, for the cause of Right and Truth, the scammers picked the wrong woman to harass.
I've wanted to post some sort of guide for beginning writers on how to avoid some of the pitfalls they might encounter in their quest to get published. The problem is, I have no idea what I'm talking about. Fortunately, the lovely and gracious Sabrina Chase, an actual writer and author with actual experience of these sorts of things, as well as a moronette in good standing, e-mailed me this week and provided exactly what I required. And I didn't even have to ask for it. Sensing my plight, she just whipped up a new writer's guide and sent it to me. It'a so good that I'm just going to copy-and-paste the whole thing below the fold: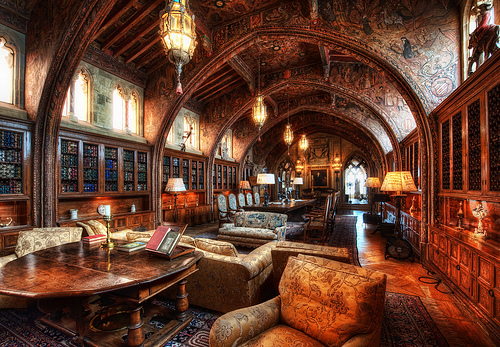 Hearst's Gothic Study. It Housed 3,000 More Books
Sabrina Chase's New Writers' Guide
With the coming of November and NaNoWriMo, many eager new writers will be scribbling away at new, wonderful stories--and will, eventually, want to publish them. Nothing wrong with that; I've done it myself! Still, I see the fresh faces with their innocent smiles, proud of their completed manuscript...and unaware they may be in the midst of giving themselves a massive paper cut and then trailing their hand in the nearest shark tank. While the indie publishing revolution has created a lot of opportunities for writers, it has also attracted unscrupulous scammers who prey on the inexperienced. There are good and honest publishing service companies out there. Unfortunately, they are vastly outnumbered by firms who only care about you to the extent that your check clears. (And it will be a LARGE check.) So, I would like to take this opportunity to warn new authors of the danger signs, known areas of quicksand, and some trusted guides that alert writers of new hazards.

Run away screaming if:

1) The publishing service wants a percentage for doing nothing. They will charge you an up-front fee AND a percentage of future sales. Note that while Amazon, Barnes and Noble, and other *distributors* charge a percentage, it is for an actual service per sale (having the storefront, handling credit cards and customer satisfaction, etc.) Only pay for services rendered.

2) The service wants to keep the rights, including the rights to license them to other publishers. NO. If they want rights, they PAY for them.

3) They control the royalties AND the sales data. So how would you determine they owe you money? If they say you only sold three books, how can you prove them wrong? (N.B. traditional publishers do this too. There have been many lawsuits and more are coming.)

4) The name of the publishing service shows up on this list, or is in any way affiliated, powered by, or does lunch with Author Solutions. (Go to David Gaughran's excellent website and search for "Author Solutions" to get all the sordid details.) [Note from OM: Or just click this link.]


But I don't know how to (edit, get cover art, format ebooks, etc.)

Not to worry. There are honest service providers out there. One that is favorably mentioned by many indie writers is Lucky Bat Books. They can do pretty much everything you need, and *only* what you need, and it's all flat fee. The Kindleboard Forums have posters that are editors and artists, looking for work, and the community is quite friendly and helpful about giving recommendations if you ask nicely.


What if I do it wrong?

And here's the true beauty of indie publishing ;-) Nothing is permanent but change. You can change the cover. The font. The vast plethora of stupid errors that detail-oriented readers helpfully point out after your book goes live (*cough*Anachronda*cough*). ALL that can be changed, uploaded, and hey-presto, it never happened! BUT. Only if you keep your rights. Only if you retain control. And that's a major reason to stay away from the scammers.


Useful Resources:

David Gaughran
Passive Voice
Joe Konrath
Dean Wesley Smith
Preditors and Editors

Books For Morons
Long-time lurker Scott e-mails to recommend Prejudices: First Series, the first of a six-volume collection of H. L. Mencken's literary and theater reviews. Scott says it's in the public domain, so he found a copy of the text, first published in 1919, cleaned it up, and made it into a DRM-free e-book.
And by the way, it's also the source of the AoSHQ masthead quote. In context, it's from an essay wherein Mr. Mencken expressed his displeasure at the direction the poets of the time were going:
Ezra Pound? The American in headlong flight from America – to England, to Italy, to the Middle Ages, to ancient Greece, to Cathay and points East. Pound, it seems to me, is the most picturesque man in the whole movement – a professor turned fantee, Abelard in grand opera. His knowledge is abysmal; he has it readily on tap; moreover, he has a fine ear, and has written many an excellent verse. But now all the glow and gusto of the bard have been transformed into the rage of the pamphleteer: he drops the lute for the bayonet. One sympathizes with him in his choler. The stupidity he combats is actually almost unbearable. Every normal man must be tempted, at times, to spit on his hands, hoist the black flag, and begin slitting throats. But this business, alas, is fatal to the placid moods and fine other-worldliness of the poet.
Scott also mentions Mencken's
A Little Book in C Major
, which is mostly a collection of one-liners, such as the ever-popular "Democracy is the theory that the common people know what they want, and deserve to get it good and hard."
Come to think of it, that wouldn't make a bad masthead quote, either.
___________
I would like to thank author William Krasinski for sending me a gift certificate for his Kindle book ExtendedCompanion, which looks to be the first book of a science fiction series. From Amazon:
Breakthrough technology is great, until you live long enough to become obsolete. Wilek and the other ABC captains have successfully handled this over the past century, but a resurgent Earth jealousy eying the Off Worlds will soon put the hype to the test.
Add to the mix an unasked for new crew 'mate', salty recruits and a happy bio, Captain Wilek may reach his last good nerve long before Earth
___________
So that's all for this week. As always, book thread tips, suggestions, rumors, threats, and insults may be sent to OregonMuse, Proprietor, AoSHQ Book Thread, at aoshqbookthread, followed by the 'at' sign, and then 'G' mail, and then dot cee oh emm.
What have you all been reading this week? Hopefully something good, because, as I keep saying, life is too short to be reading lousy books.


posted by Open Blogger at
11:20 AM
|
Access Comments