ę Political Thread
|
Main
|
"The Tea Party is the United States' Lifeline" [OregonMuse] Ľ
October 19, 2013
College Football Thread
If I got this right there's an open thread under this one for political type stuff. This is for football type stuff.
Here's the pickem leaderboard from @MikeTalley73:
Knightbrigade - 74
Jay in Ames - 73
Syrias You Guys - 71
Boyz in da Hoodies - 71
Wvhokie - 68
BigBoy - 68
Gator Nation - 67
MikeTalley73 - 66
Murph - 65
tiger23 - 63
Top ten schedule for today, all times EDT:
Iowa at (4) Ohio State, 3:30pm
(24) Auburn at (7) Texas A&M, 3:30pm
(9) UCLA at (13) Stanford, 3:30pm
Arkansas at (1) Alabama, 7pm
(6) LSU at Ole Miss, 7pm
(5) Florida State at (3) Clemson, 8pm
Washington State at (2) Oregon, 10pm
Over at ESPN, "What Makes Baylor and Oregon Offenses So Great?"
Speed might be a factor.
Baylorís average touchdown drive is 1:18, the fastest in the FBS, while Oregon is the fifth fastest at 1:33. The Bears have 28 touchdown drives that lasted less than two minutes, second to Oregonís 31. No other FBS team this season has more than 17 such drives.

Baylor and Oregon score quickly because they get a lot of big plays and they play fast. Baylor is averaging an FBS-high 10.8 plays per game that gain 20 yards or more, Oregon is second with 9.6 such plays.

The Ducks average one play per every 19.7 seconds, fifth fastest in the FBS, and the Bears are tied for the seventh-fastest pace at 20.1 seconds per play. The average FBS team runs a play every 24.9 seconds.
Add a solid running game and you have a couple of scoring machines. Your best shot at beating them is to put up points and don't stop.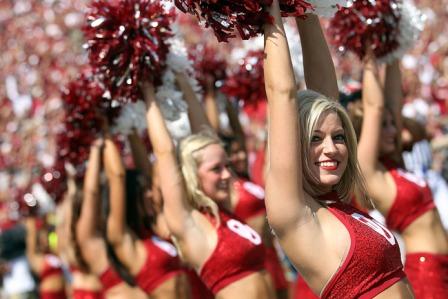 Today's football post is brought to you by Sideboob(tm)

Fall has fell in Texas, sunny and in the 60s. Great football weather. Have a good weekend morons and remember the open political thread down yonder.

posted by Dave In Texas at
12:32 PM
|
Access Comments