« Sunday Morning Open Thread
|
Main
|
Storming the Barrycades (used to be an open thread) [OregonMuse] »
October 13, 2013
Gun Thread (10-13-2013)
Salute To The Big Guns
Happy 238th Birthday, US Navy.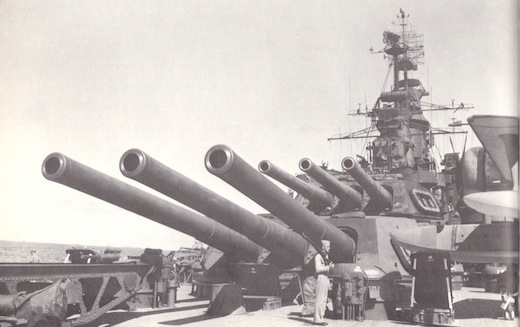 "Internet Loophole" FTW!
The left goes on and on about buying guns over the Internet, but it's mostly BS (shocking, I know). To legally purchase a firearm from an out-of-state seller, that seller has to ship the gun to a federally-licensed firearms dealer (FFL) in your state to complete the transaction. With one single exception, that is.
If you were just taking a wild guess, what entity would you think would be outside this requirement?
If you said "the Federal Government", go to the head of the line. (Or a federally-chartered corporation, anyway ... it's the Corporation for Public Broadcasting of Guns)
The Civilian Marksmanship Program (CMP) is a national organization dedicated to training and educating U. S. citizens in responsible uses of firearms and airguns through gun safety training, marksmanship training and competitions. The CMP is a federally chartered 501(c)(3) corporation that places its highest priority on serving youth through gun safety and marksmanship activities that encourage personal growth and build life skills. Links on this page will lead you to more detailed information about the CMP and its programs. Statutory mission. The federal law enacted in 1996 (Title 36 U. S. Code, 40701-40733) that created the Corporation for the Promotion of Rifle Practice and Firearms Safety, Inc. (CPRPFS, the formal legal name of the CMP) mandates these key "functions for the corporation:

(1) To instruct citizens of the United States in marksmanship;

(2) To promote practice and safety in the use of firearms;

(3) To conduct competitions in the use of firearms and to award trophies, prizes, badges, and other insignia to competitors.

The law specifically states: In carrying out the Civilian Marksmanship Program, the corporation shall give priority to activities that benefit firearms safety, training, and competition for youth and that reach as many youth participants as possible.
One way they pursue this mission is by selling surplus firearms to US consumers. Earlier this week, a FedEx truck pulled up at my house with one ... an M1 Garand with a receiver made in the late 50s (H&R) and with a brand new barrel and stock affixed by CMP's armorers. No FFL required, although they do a NICS check and require membership in an affiliated club.
I'll be heading to the range today to run some rounds through it.

Gun Of The Week
(answer below)

Marksmanship Award

Gun Of The Week - Answer
That's the Ruger Standard (Although I'll take Mk I, Mk II, or Mk III too). It's the gun that got Sturm, Ruger & Co. started in 1949 and has been in continuous production ever since. I have one, and it's a pleasure to shoot.

Boycott Spurred in Texas Restores Gun Deals to Groupon
On the same day in January that Groupon Inc., the online coupon company, abruptly terminated firearm-related deals, Michael Cargill called his Groupon sales representative.

"You're an awesome sales rep. But I don't like this, and I'm going to do something about it. You guys just screwed with the wrong person," Cargill, an Austin-based concealed handgun license instructor and gun shop owner, recalls telling Groupon.
Read the whole thing; the author is an 'ette.
Range Time
AoSHQ Podcast veterans Charles C.W. Cooke and Cam Edwards visit the NRA range:

Police Officers Three Times More Likely to Murder Than Concealed Carry Permit Holders
So of course we should restrict gun ownership to the police.
There are no complete and definitive sources of data that will give us an accurate ratio of unjustified homicides committed by police compared to CCW holders. The numbers are very small and no one keeps a national record of them. However, the numbers found for domestic homicide cases, which are some of the easiest solved and most highly publicised cases, offer strong evidence that CCW permit holders are less likely to commit unjustified homicide than police officers, as little as one third as much.
h/t CBD
Related: Gabriel Gomez: I was wrong to oppose assault weapons ban

21 Vintage Gun Ads That Will Make You Wince
That's HuffPo's headline and was left intact for illustrative purposes. The only reason I'd wince is because I don't have a truckload of the products being advertised still new-in-the-box.
Somewhat related - I was asking my daughter this week whether her school had asked any questions about whether there were any guns in her house and she said, in all seriousness, "wait ... there are people who don't have guns in the house? What do they do if someone breaks in?"
My work here is done.

From the Mailbag
Gov. Brown bans lead ammo in hunting, vetoes other gun control bills
Bearing Arms names longtime second amendment writer and activist Bob Owens as new editor
Using the .22 for self-defense

Tips
If there are topics you're interested in seeing in the gun thread, please send them to AoSHQGunThread at gmail. You can also send them to me on Twitter at @AndyM1911.
The owner's manual for your concealed carry permit: The Law of Self Defense
Defend the Second Amendment. Join: The National Rifle Association * Gun Owners of America * The National Shooting Sports Foundation * Your state's second amendment org.
Celebrate America's firearms heritage: participate in Project Appleseed.

posted by Andy at
09:43 AM
|
Access Comments