« Storming the Barrycades (used to be an open thread) [OregonMuse]
|
Main
|
Sunday Football Thread »
October 13, 2013
Sunday Morning Book Thread 10-13-2013: The Main Ingredient [OregonMuse]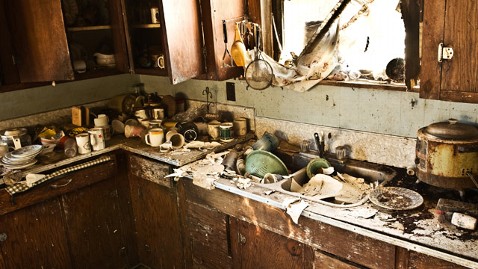 The Obamacare Kitchen Regulations Did Not Work Out As Planned

Good morning morons and moronettes and welcome to AoSHQ's prestigious Sunday Morning Book Thread.
What's Cookin'?
Rapper Coolio is apparently quite the sous chef. Has his own online cooking show and everything. Last Christmas, one of my kids received his book, Cookin' With Coolio: 5 Star Meals at a 1 Star Price, as a gag gift. But after all the gift-opening was concluded, I got a chance to leaf through some of the chapters, and you know what, it's actually not half bad. It starts you out with a list of utensils and knives (for cooking) every "kitchen pimp" should have on hand, as well as some basic necessary ingredients. The gangsta slang is annoying (and also NSFW), but if you can get past that, the recipes look uncomplicated and very doable, i.e you don't need a bunch of obscure and hard-to-find ingredients to make them.
For something more conventional, I recommend America's Test Kitchen. Their Quick Family Cookbook contains a wealth of good information and recipes We've always had good luck with recipes from the ATK books and TV program, and several of them have become staples at our family table.
Mrs. Muse used to use Woman's Home Companion Cook Book back in the day. It was a good cookbook back 50 years ago, but it's pretty much outdated now, she tells me.
And you have to wonder how the internet is changing things, even here. Mrs. Muse doesn't really use cookbooks any more. Yesterday, for example, she wondered if anyone had a recipe for a reuben sandwich, only developed as a casserole. So she simply did a Google search for "reuben sandwich casserole recipe" and was presented a pageful of results out of which she was able to extract a couple of promising recipes.
In the old days, she would have had to either buy a cookbook or develop her own recipe. But it looks like those days are gone.
And speaking of outdated cooking, I heartily recommend James Lileks' Gallery of Regrettable Food. It's not a cookbook, but rather a compilation of pictures from recipe books and advertising from 40s-60s ("The Golden Age of Salt and Starch"), mixed with the author's acerbic commentary. And what pictures:
The pictures in the book are ghastly -- the Italian dishes look like a surgeon had a sneezing fit during an operation, and the queasy casseroles look like something on which the janitor dumps sawdust. But you have to enjoy the spirit behind the books -- cheerful postwar perfect housewifery, and folks with the guts to undertake such culinary experiments as stuffing cabbage with hamburger, creating the perfect tongue mousse when you have the fellas over for a pregame nosh, or, best of all, baking peppers with a creamy marshmallow sauce. Alas, too many of these dishes bring back scary childhood memories.
One thing I find refreshing about James Lileks is this: as hard as he ridicules the hideously unappealing pictures and stomach-turning recipes, his laughter never turns into sneering. A liberal would take the same material and write a book out of which you'd be able smell the hatred and contempt boiling off from every page. Lileks, on the other hand, is not driven by hate. He wants us to "enjoy the spirit behind the books", even while we're retching at the contents. And that makes all the difference.
So what cookbooks do you morons like? Which ones do you keep coming back to over and over?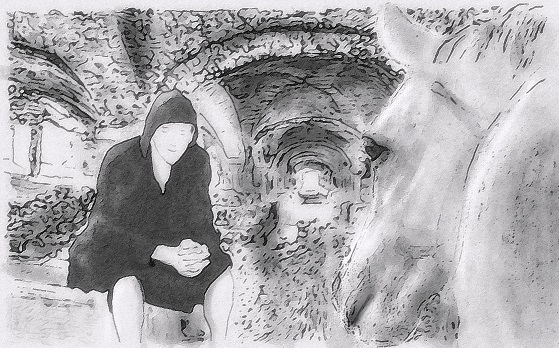 Art By Troy Riser (see below)

Moron Artist Will Draw For Food, Valu-Rite
Moron commenter 'troyriser' e-mailed me to let me know that the book illustration project he was working on is completed and that he beat the publisher's deadline by a scant 3 days. You can see the book, A Knight Before Christmas, on Amazon. Troy says
The book is about a stable boy in King Arthur's Camelot who aspires to become a Knight of the Round Table, and sets out on a quest to realize his dream. The target age range would be between 5-10 years old. It's a sweet little story, the kind of book a parent reads as a bedtime story for a small child.
The drawing I posted is a sample Troy sent me from the book. If you're an author looking for an artist for your latest book, or need a commercial artist, you can see more of Troy's portfolio, and get his contact information, on his website.

More TEOTWAWKI Pr0n
My brother informs me that British YA author John 'Tripods' Christopher also wrote a the-end-of-the-world-as-we-know-it novel, The Death of Grass, wherein a virulent blight devastates the world's food crops. It was published in 1956 and its success allowed Christopher to quit his day job and devote his full time to writing. The movie adaptation, retitled 'No Blade of Grass', came out in 1970.

Books For Morons
British moronette lurker/infrequent commenter 'GalaKitty' e-mailed me this week to recommend a book written by an American friend of hers, Mr. Darcy's Dilemma and Delight, which she says is basically a 'Pride and Prejudice' fanfic. From the Amazon blurb:
This story is inspired by Jane Austen's Pride and Prejudice. The course of the relationship between Elizabeth Bennet and Fitzwilliam Darcy take a sharp turn when Elizabeth is viciously attacked. Mr. Darcy comes to her rescue even though she is devastated and does not wish to be helped by anyone. This non-graphic tale follows the pair through the pain, anguish, and fear that follows the beloved characters of Austen's novel as Elizabeth heals and Mr. Darcy tries to come to grips with the consequences of the assault on Elizabeth.
___________
I'm discovering that Pride and Prejudice is ripe fodder for fanfic treatment, and I think perhaps one reason is that the text has been in the public domain for many years so anyone can use it for whatever purpose they want. For example, turning it into a zombie apocalypse novel. Another story, by one of Great Britain's top-tier detective novelists, is a murder mystery. Or this new release, Longbourn, by Jo Baker. Amazon describes this as a "belowstairs answer to Pride and Prejudice" where
...the servants take center stage. Sarah, the orphaned housemaid, spends her days scrubbing the laundry, polishing the floors, and emptying the chamber pots for the Bennet household. But there is just as much romance, heartbreak, and intrigue downstairs at Longbourn as there is upstairs. When a mysterious new footman arrives, the orderly realm of the servants' hall threatens to be completely, perhaps irrevocably, upended.
Liberals like to shed big crocodile tears for the poor and downtrodden, so this sounds like a book they'd like. But who knows, it might be good despite that.
I remember when I read Austen's books in my high school lit classes, my question was always "Don't any of these guys have jobs?" All they ever seem to do is go to parties or sit around talking to each other. Nobody is engaged in any productive employment. I didn't understand that back then, families of means could put their money in an investment vehicle called "the funds" and derive income from the interest or dividends.

___________

So that's all for this week. As always, book thread tips, suggestions, rumors, threats, and insults may be sent to OregonMuse, Proprietor, AoSHQ Book Thread, at aoshqbookthread, followed by the 'at' sign, and then 'G' mail, and then dot cee oh emm.
What have you all been reading this week? Hopefully something good, because, as I keep saying, life is too short to be reading lousy books.


posted by Open Blogger at
11:23 AM
|
Access Comments