« Obama's Golf Course (on Federal Lands) Somehow Remains Open
|
Main
|
Gaming thread 10/6/13 »
October 06, 2013
Cooking Thread: Spatchcocking! [CBD]
Not that spatchcocking! The cooking technique.
Chicken is still comparatively inexpensive in this country, and there is no better and easier way to make great roast chicken than by flattening the bird so it cooks evenly. It takes about 30 seconds, and in addition to making over-cooking or under-cooking a thing of the past, it exposes more of the meat to whatever marinades or brines or spice rubs you feel like using, because let's face it, chicken is boring.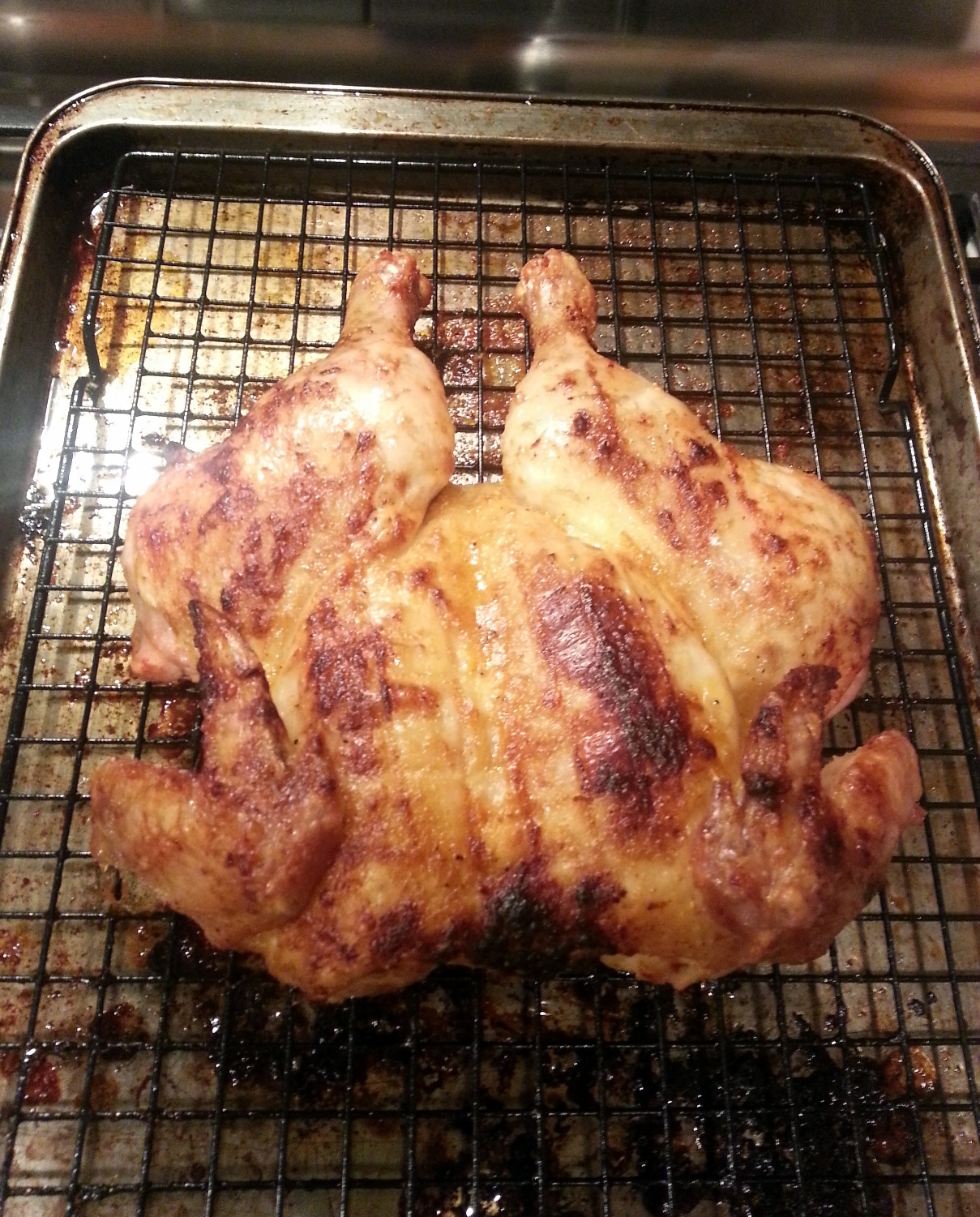 This took about five minutes to prepare, which I did the day before. I used a 50/50 mixture of lemon juice (with the zest) and olive oil, with salt, pepper, four crushed garlic cloves (skin on...I'm lazy) and about 1/2 tablespoon of red pepper flakes. I cooked it on a flat rack, but flat on a cookie sheet is fine too. 350 degrees in a convection oven for about 65 minutes, then I increased the heat to 400 for another 10 minutes (this was a three pound chicken...a little on the small side. adjust cooking times accordingly.) And then I ate it.
Here is a Brit with a cute accent demonstrating the technique. The skewering at the end is unnecessary, but it can't hurt. I use a serrated knife and cut the chicken with the back down. It's quicker, but either way works well. Just remember to rotate the thighs in so it stays flat.
What I usually do is spatchcock the chicken and put it in a large zip-loc bag. Then I dump whatever marinade I feel like into the bag, squish it around and then evacuate as much air as possible from the bag, so the meat is exposed to as much liquid as possible.
Cooking can be trivially simple, but with excellent results. This is an example of an easy prep and easy cooking method yielding results that are superior to many restaurants' roast chicken.

posted by Open Blogger at
02:38 PM
|
Access Comments