« How the world works
|
Main
|
Sunday Football Thread »
September 29, 2013
Sunday Morning Book Thread 09-29-2013: The Next Action Hero [OregonMuse]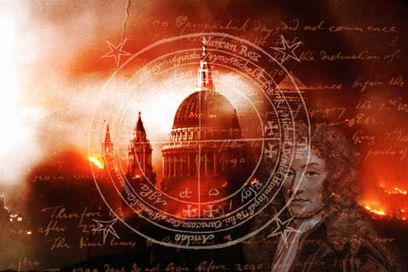 Good morning morons and moronettes and welcome to AoSHQ's prestigious Sunday Morning Book Thread.

Ripped From The Sidebar!
OK, so I've always been intrigued by England's preeminent scientist Isaac Newton being commissioned by the crown to track down counterfeiters. earlier this week, this story was linked in the sidebar that gives a brief overview of how Newton accomplished this task. One counterfeiter in particular, William Chaloner, was not easy to stop:
By September 1697, Newton had enough evidence to lock Chaloner up—but not for long. Working through intermediaries inside the prison and out, Chaloner bribed the prosecution's star witness into fleeing to Scotland. Chaloner was released and accused Newton of framing an innocent man.
So, when the going gets tough, the tough amp it up to 11:
Acting more the grizzled sheriff than an esteemed scientist, Newton bribed crooks for information. He started making threats. He leaned on the wives and mistresses of Chaloner's crooked associates. In short, he became the Dirty Harry of 17th-century London.
This may be a bit of overreach: I don't think Sir Isaac went around shooting bad guys right and left, but I think the movie version would have him busting into the boudoir of some underworld punk's mistress and slapping her around a bit. But he wouldn't sex her up. The reason for this is because, as far as history can tell, Isaac Newton never sexed anybody up. He remained celibate for all of his life until the day he got laid in his grave.
The upshot of all of this is that someone did write a novel about Newton's adventures as a bad-ass enforcer for the Exchequer: Newton and the Counterfeiter: The Unknown Detective Career of the World's Greatest Scientist by Thomas Levenson.
Here is a snipped of an interview of the author where he describes some of his research:
But of all the wellsprings of this book, none were more important than the file it took me over a year to find. I knew that some of the records Isaac Newton's criminal interrogations survived, because I found reference to them in a couple of the older biographies and other secondary sources. But in the reorganization of British official records that took place in the decades after World War II, the cataloguing systems for Mint files had undergone enough changes that this crucial set of documents had slipped out of sight of the contemporary Newton scholarly community. I managed to track it down to its current location in the Public Records Office, and then I had writer's gold: more than four hundred separate documents, most countersigned by Newton himself, that allowed me to retrace his steps as a criminal investigator informer by informer. Most fortunately--Newton's nephew-in-law reported that he helped his wife's uncle burn many of his Mint interrogation records. But the entire Chaloner case remained in the one surviving folder, and it made for fascinating, gripping reading. Once Newton realized how formidable an opponent he had in Chaloner, he proved relentless in reconstructing not just particular crimes, but the whole architecture of counterfeiting and coining as it was practiced in London in the 1690s. You get to see, smell, hear how the bad guys worked, in their own words, as elicited by a man who (surprise!) proved to be exceptionally good at extracting the evidence he needed to solve a problem.
All movies are now action movies, pretty much, right? So I'd like to see Sir Isaac jumping out of a window a split-second ahead of a massive explosion, breakneck chases through the back streets of London, bullets ricocheting all over the place, and maybe throw in some Matrix-style martial arts. Totally ridiculous, but I'd watch it.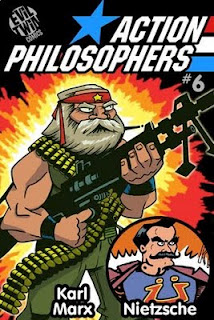 Warning: Real Interlekshul Stuff Ahead
In looking around for information on Newton's rampage against counterfeiting, I ran stumbled upon the Action Philosopher series of comic books. Seems that a couple of comic book artists put out a multi-volume series of comics that gave an overview of western philosophy from Plato to Derrida. I thought this would be perfect for morons who (a) can't read or (b) get intimidated and confused by books with no pictures in them.
A single-volume compilation of all the volumes of this series is available on Amazon.
Here is an interview with the authors of the Action Philosophers series. These are the same guys who put together the Six Degrees of Francis Bacon poster, which claims to link up
the entire history of literature...From God to Hemingway to Kafka to Danielle Steel, the 50 greatest names in the history of literature are here depicted, described (Charles Dickens "accidentally sang a Christmas carol to Philip Roth," for example), and inevitably related to Francis (and his good pal Kevin) Bacon by no more than six degrees.
It's pretty silly, but you can see this poster for yourself here.

New Book By Brandon Sanderson
No, it's not the sequel to The Way of Kings, dang it. This one is entitled Steelheart and is apparently the start of yet another sci-fi/fantasy series.
Here's the teaser in the e-mail I received from the Barnes & Noble NOOK list:
Ten years ago, the Calamity gave extraordinary powers to some ordinary people-and they became the Epics. Steelheart is the one Epic said to be invincible. Can he be beaten by a teenager out to avenge his father's death?
Just $4.99 on Kindle, don't know how long this price will last.

Books For Morons
Another new moron author heard from: Randy Beck e-mailed me this week to tell me about his new novel One Thousand Years, which involves alternate WWII history, a downed Tuskegee airman who has been presumed dead, and space Nazis from the future.
"Don't argue with me, Sam. Look where you are. You're on a Luftwaffe starship. I assure you, the United States gives up on the war."
It's available on Kindle for $2.99. And Mr. Beck is already busy writing a sequel.
-...-
So that's all for this week. As always, book thread tips, suggestions, rumors, threats, and insults may be sent to OregonMuse, Proprietor, AoSHQ Book Thread, at YOURPANTSaoshqbookthread, followed by the 'at' sign, and then 'G' mail, and then dot cee oh emm. But don't forget to remove YOURPANTS, otherwise I won't get your e-mail.
What have you all been reading this week? Hopefully something good, because, as I keep saying, life is too short to be reading lousy books.

posted by Open Blogger at
11:36 AM
|
Access Comments