« All But Two Democrats Exit Benghazi Hearings Before Testimony From Families of Benghazi Victims
|
Main
|
Representative Harold Watson "Trey" Gowdy III Grills Admiral Mullen on Why He Didn't Interview Hillary Clinton, and What He Knows About Hillary Clinton's Actions Before, During, and After Benghazi »
September 19, 2013
Am I Being Punked?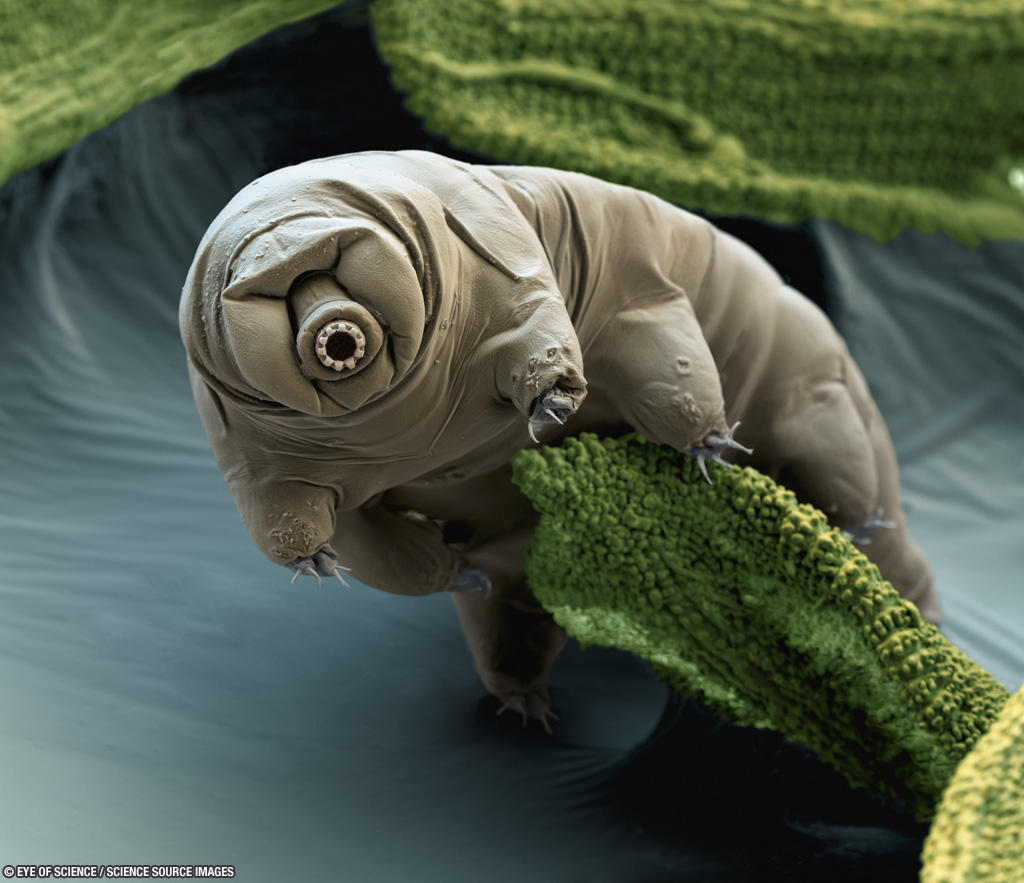 'Sup?
A "Tardigrade"? What?
It's actually some kind of primitive... well I don't want to say "insect" as it's not clearly related to insects, or lobsters, but it's believed to be somehow related to those.
They call it a "water bear" just to freak people out, I guess.
I really feel like we're being punked. I'm not kidding. I feel like some clever people have gotten together to pretend this thing is real so they can laugh at us later.
But they're pretending with web references and videos and everything. They even got to Wikipedia.
Let's get small, man. Video and other increasingly Small World of Science stuff below the jump.
I still don't believe it.
@debbywitt offers this collection of bizarre electron-microscope photos of very small things. Including pot, for the pot-heads.
How you doin'?
Apparently that's a marine worm. I don't know what that is. I assume it's a worm that lives in some sort of a desert or woodlands environment. Possibly the mighty Taiga of the Serengeti.
And then there's this new idea in Quantum Physics.
Physicists have discovered a jewel-like geometric object that dramatically simplifies calculations of particle interactions and challenges the notion that space and time are fundamental components of reality.

"This is completely new and very much simpler than anything that has been done before," said Andrew Hodges, a mathematical physicist at Oxford University who has been following the work.

The revelation that particle interactions, the most basic events in nature, may be consequences of geometry significantly advances a decades-long effort to reformulate quantum field theory, the body of laws describing elementary particles and their interactions. Interactions that were previously calculated with mathematical formulas thousands of terms long can now be described by computing the volume of the corresponding jewel-like "amplituhedron," which yields an equivalent one-term expression.

"The degree of efficiency is mind-boggling," said Jacob Bourjaily, a theoretical physicist at Harvard University and one of the researchers who developed the new idea. "You can easily do, on paper, computations that were infeasible even with a computer before."


Nature's little Lite-Brite set.

It is pretty. On the other hand, it will now be seized upon by a thousand post-modern Liberal Arts Majors as some kind of metaphor for Why They Can't Land a Husband.
You know, like the way Chaos Theory explained everything!!!11!! from 1993 to 1997.
Chaos Theory You Guys.
Thanks to @charlescwcooke and @sarahstevenson

posted by Ace at
05:32 PM
|
Access Comments