« Thursday Night NFL
|
Main
|
Top Headline Comments (9-13-13) »
September 12, 2013
Overnight Open Thread (9-12-2013)
The Most Surprising Things About America, According To An Indian International Student
In our day to day lives there are assumptions and expectations so deeply embedded in American society that we don't even recognize them as such - the cultural waters that we swim in without any awareness. So it's always interesting to hear the observations of a foreigner who's lived here long enough to get past the easy superficial observations but not so long that they've stopped noticing the water.
And Aniruddh Chaturvedi who came from Mumbai to study computer science at Carnegie Mellon University and interned last summer in Silicon Valley is that guy.
And in his view these are some of the most surprising things about the US:
Nobody talks about grades here.



US Flag displayed everywhere: I was surprised to see that the US flag is displayed in schools, on rooftops of houses, etc. India has very strict rules governing the display and use of the national flag. Also, something that struck out to me was how it was completely normal to wear the US flag or a US flag-like pattern as a bikini.



Strong ethics - everyone has a lot of integrity. If someone cannot submit their completed assignment in time, they will turn in the assignment incomplete rather than asking for answers at the last minute. People take pride in their hard work and usually do not cheat. This is different from students from India and China as well as back home in India, where everyone collaborates to the extent that it can be categorized as cheating.


Rich people are thin/ well maintained, poor people are fat. This stems from the fact that cheap food is fatty, rich people don't eat cheap food - they tend to eat either home-cooked food which is expensive or eat at expensive / healthy places. Unfortunately, it is expensive to be healthy in America.


An almost-classless society: I've noticed that most Americans roughly have the same standard of living.  Everybody has access to ample food, everybody shops at the same supermarkets, malls, stores, etc. I've seen plumbers, construction workers and janitors driving their own sedans, which was quite difficult for me to digest at first since I came from a country where construction workers and plumbers lived hand to mouth.
and worst of all:
Girls are not very promiscuous, contrary to most Hollywood films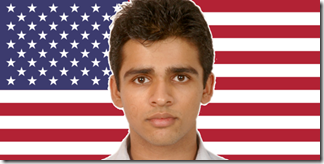 "Liberals pick and choose their discriminations. Financial, bureaucratic, and academic distinctions are acceptable, while natural and traditional ones are not. You can choose a Yale man over a Harvard man-the schools are a bit different, so their products may differ-but not a Yale man over a Yale woman. Engineers can earn more than janitors, and Chinese-Americans than the Scotch-Irish, but if schools discipline blacks more than whites, that is a gap that must be closed.

The idea, it seems, is that there is something odd and irrelevant about distinctions such as sex, family, kinship, culture, and religion that makes it wrong for them to have material consequences, unless the consequences disrupt the effect of such distinctions in general. People seem to think the principle is obvious, so it is never explained, but the idea seems to be that the informal social hierarchies and the traditional patterns of conduct and belief that related to them have no legitimate functions. We should, it appears, carry on our lives exclusively through relationships that are either strictly private and idiosyncratic or contractual and bureaucratic."
If You'd Had a Good Day and Aren't Feeling Murderous, Don't Follow This Link
And don't hover over it either. Yeah I know your tricks.
Faces of Meth (and Leftist Politics)
"At 50, everyone has the face he deserves."
-- George Orwell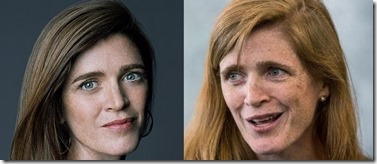 Can You Spot the Contradictions and Logic Gaps in This Video?
The Unhappy Traveling Salesman Problem
The classic Computer Science Travelling Salesman Problem is NP-style hard. And it's even harder when you have to worry whether the salesman is happy or not.
People are also emotional, and it turns out an unhappy truck driver can be trouble. Modern routing models incorporate whether a truck driver is happy or not -- something he may not know about himself.

...In other words, the traveling salesman problem grows considerably more complex when you actually have to think about the happiness of the salesman. And, not only do you have to know when he's unhappy, you have to know if your model might make him unhappy. Warren Powell, director of the Castle Laboratory at Princeton University's Department of Operations Research and Financial Engineering, has optimized transportation companies from Netjets to Burlington Northern. He recalls how, at Yellow Freight company, "we were doing things with drivers -- they said, you just can't do that." There were union rules, there was industry practice. Tractors can be stored anywhere, humans like to go home at night. "I said we're going to need a file with 2,000 rules. Trucks are simple; drivers are complicated."
How The Alien Chestbuster Worked
Reviewing the Top Films of 1972
Holy shit.  I am at a loss for words - this may be the most badass movie of all time.  The action is relentless, gritty, and filmed with a flair of genius.  This is a shining example of the Italian crime cinema genre known as poliziotteschi.  But don't shy away because it's a foreign taste; this has the muscle to stand up to any American crime film.  Just as the Spaghetti Western was Italy's answer to the American cowboy movie, the poliziotteschi is their answer to the American crime drama.

Tarantino used Woody Strode and Henry Silva (above) as the inspiration for the Samuel L. Jackson and John Travolta characters in Pulp Fiction.  Plus, Femi Benussi gets naked, there's prostitutes to rough up, heroin to sell, and lots of scantily clad hippies dancing.  The whole thing is like a frantic fever dream; it just doesn't let up, and manages to maintain a state of "kick assery" the duration of the film.
Okay now I gotta track down and watch this oeuvre de badassery. The good news is that there's a torrent for it.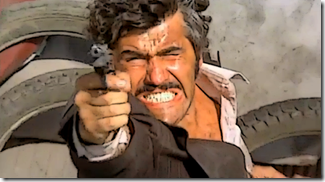 The Professor is a Cheerleader
Okay will be a professor once her thesis is done and she's tired of being a Titans cheerleader:
Bimolecular doctoral candidates don't just try out and make professional cheerleading squads just because "they have extra time on their hands."

Jessica decided the only way to top simultaneously earning her bachelor and masters engineering degrees is to moonlight as a professional cheerlady while pursing her doctorate in Chemical and Biomolecular Engineering.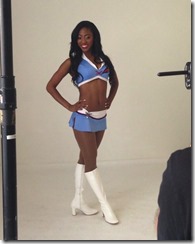 Yahoo group. That is all.
The group thingy. And the middle class.
And my Twitter spew.
Plus the Yahoo group.
Tonight's post brought to you by a walk into the garden: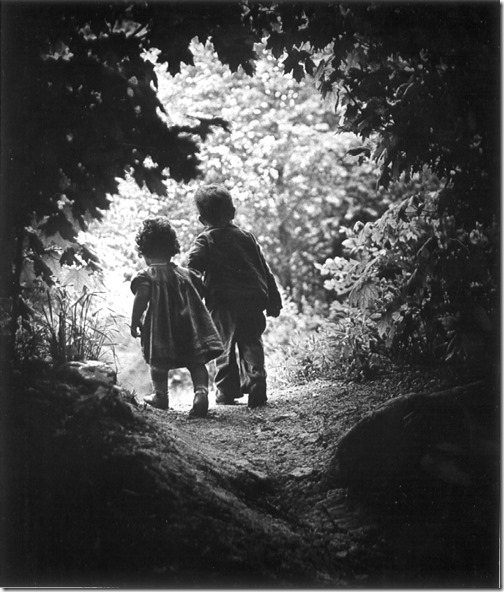 Notice: Posted by permission of AceCorp LLC. Please e-mail overnight open thread tips plus $1 for S&H to maetenloch at gmail. Otherwise send your scraps to BizarroAce. Do not taunt happy-fun ball.

posted by Maetenloch at
10:28 PM
|
Access Comments