« The End of the Summer of George Open Thread
|
Main
|
COLORADO SENATE PRESIDENT MORSE RECALLED, SENATOR GIRON RECALLED TOO »
September 10, 2013
Overnight Open Thread (9-10-2013)
First watch this video. Those of you who've seen it before shut the hell up while everyone else watches.
There are known knowns; there are things we know that we know.
There are known unknowns; that is to say, there are things that we now know we don't know.
But there are also unknown unknowns - there are things we do not know we don't know.

  -- Donald Rumsfeld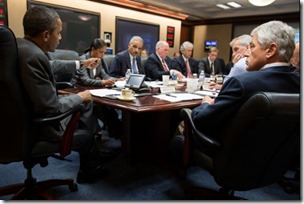 A whole lot of Category IV goin' on here
The thing is that, while Unknown Unknowns are obviously unknowable in detail, what Rumsfeld's point was, was this: they can be anticipated as a group or as a concept. You need to know that they're out there, even when you can't tell what they are. Insurance companies are good at this. They have learned from long experience to include on their balance sheets, not only reserves for known claims, even when the amounts of the claims are unknowable; classic known unknowns. But they also include a reserve, the setting of which is more actuarial art than actuarial science, for claims that are "incurred but not reported" - classic unknown unknowns.

As good as the insurers, with in some cases centuries of experiential records, are at this, Beltway public policy intellectuals, particularly the young wunderkind sort of baby duck for whom every event is an unprecedented novelty, are hopelessly bad at it. Hence the excoriation of Rumsfeld. They didn't see any gorilla, so there is no gorilla.

...Don't make that mistake. Broaden your palette of information sources. Question your own assumptions. Expect the gorilla.

He's really there.
How Long Before England Knew The Americans Had Declared Independence?
Almost five weeks:
Breaking news today is practically instantaneous with journalists, bloggers and citizen reporters often competing to broadcast announcements on Twitter, Facebook, cable news, radio and websites. During the American Revolution, even the most critical intelligence could only travel at the pace of the fastest horse or ship, often taking weeks to reach other colonies or countries by treacherous postal roads or sea routes. Nevertheless, the British Empire's eighteenth-century newspaper network was the quickest way of spreading news, which was still considered fresh on arrival because it was the latest information people had.

News of American independence reached London the second week of August via the Mercury packet ship, which sailed with important correspondence from General William Howe to Lord George Germain, dated July 7 and 8, at Staten Island. The London Gazette, the official Crown organ, first broke the news in its Saturday, August 10 edition. A 16-word, 106-character, Twitter-esque extract from a Howe letter read: "I am informed that the Continental Congress have declared the United Colonies free and independent States."

...Back in America, independence celebrations were short-lived as the Continental Army suffered crushing defeat after defeat during the New York Campaign. Later that winter, following decisive American victories at Trenton and Princeton, Congress ordered Baltimore printer Mary Katherine Goddard to print a broadside based on the engrossed copy. With this January 1777 broadside, the American public first learned of all fifty-five signers of the Declaration (Thomas McKlean of Delaware added his fifty-sixth signature later in the war).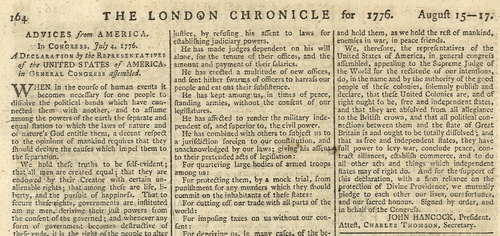 States' Rights: OK for Dopeheads; Bad for Hateful Hillbilly Bible-Thumpers
States rights only apply when liberals approve of what the states are doing.
Anyway, the re-election of President Obama meant that the gay agenda would be imposed top-down by executive authority, and the Internal Revenue Service will now recognize same-sex marriage without regard for whether it is legal in the couple's state of residence.

...The Constitution is now whatever liberals say it is.

Mark Newton and Peter Truong could not be reached for comment.

While state-based opposition to gay marriage is thus rendered meaningless by Treasury Department decree, however, the Department of Justice has decided that federal drug laws are optional and if states legalize marijuana, hey, toke up, dude. Party on.

So, basically, Thursday, Aug. 29, 2013, was cause for celebration by dopeheads and buttf*ckers. In Obama's America, sodomy and sinsemilla are the most important national priorities.

Bottom line: We're all Andrew Sullivan's bitches now.

And if you don't like it, shut up, haters.
Is actually pretty damn enjoyable.
Also Simon Pegg explains it all here:
If you're a Pegg fan, you should definitely go watch the series, Spaced.
And of course I want one - whatever it is!
More Gitmo Alumni Back  in the Biz
Of the 603 former detainees tracked by US intelligence services, a total of 100 have now been confirmed as reengaging in "terrorism" or "insurgent" activities, while another 74 are suspected of reengaging. This brings the total rate of recidivism to nearly 29 percent, up from 28 percent as of the last report six months ago.
Man Those Nazis Sure Had a Lot of Rules
Especially when it came to being Jewish.
Was a Jew considered Jewish by blood or by religion? What if one of his parents was half Jewish by blood but Christian by upbringing? This muddle was supposedly resolved by the Nuremberg Laws of September 1935, in which it was stipulated that a Jew must be defined as anyone who descends from at least three Jewish grandparents or from two Jewish grandparents if they themselves were, on or after September 15, 1935, either married to a Jewish person or a member of the Jewish community.

In the massive confusion, the system threw up thousands of surprises and anomalies. Many had not the slightest idea about their grandparents' blood or religion.
But of course the rules never applied to themselves.
Many active members of the Nazi Party were brought to a rude awakening when they discovered that they themselves qualified as Jews under the Nuremberg rules.
Firefighters No Longer Fight Fires
Since there are a lot less fires than ever before. So they end up fighting with other agencies in order to maintain their numbers.
...city records show that major fires are becoming vanishingly rare. In 1975, there were 417 of them. Last year, there were 40. That's a decline of more than 90 percent. A city that was once a tinderbox of wooden houses has become-thanks to better building codes, automatic sprinkler systems, and more careful behavior-a much less vulnerable place.

As this has happened, however, the number of professional firefighters in Boston has dropped only slightly, from around 1,600 in the 1980s to just over 1,400 today. The cost of running the department, meanwhile, has increased by almost $43 million over the past decade, and currently stands at $185 million, or around 7.5 percent of the city's total budget.
Some cities are trying to change but as I said in my original piece, "it's hard to negotiate with heroes". The situation in Toronto illustrates. Paramedics were recently assigned to more emergency calls at the expense of firefighters who have responded with photos ops in front of burned homes and threats that if their budget is cut children will die. Not wanting to lose their newly found responsibilities, the paramedics have responded with a campaign of their own leading to an awesome cat fight between the two agencies.
Men being men, there's a certain tendency I've noticed for them to consider larger breasts better-at least, up to a point (pun intended). But men also being men, there's a certain tendency I've also noticed for them to consider a pretty wide range of possibilities more-than-acceptable for the desirable female form.
Plus boobies don't exist in a vacuum - they're attached to bodies. And if everything on the body is big, then no extra points for big boobies.
Group Exercise: Discuss the merits of this thesis as it relates to the bosom of pop singer, Katy Perry. Be prepared to show your work and cite original sources.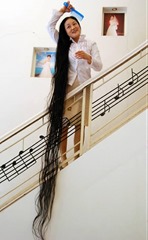 The AoSHQ group. Yeah.
Teh Tweet!
Tonight's post brought to you by blinded by the light: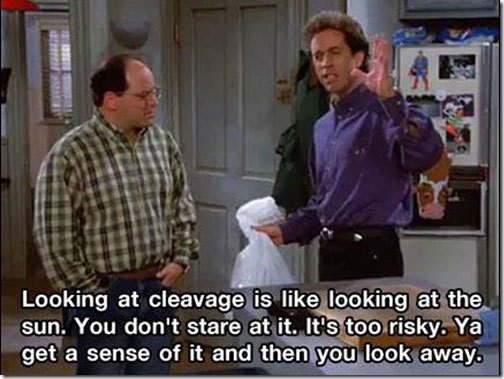 Notice: Posted by permission of AceCorp LLC. Please e-mail overnight open thread tips to maetenloch at gmail. Otherwise send tips to Ace.

posted by Maetenloch at
10:38 PM
|
Access Comments