« Idiot Cad Keeps a Journal of All the Women He's Had Physical Affairs With, Coding Them from 1-10 With 10 Meaning Intercourse, Well Into His 50s
|
Main
|
John Kerry: We Wouldn't Have to Bomb if Syria Put Its Chemical Weapons Under International Inspectors
Syria: Okay
Russia: Okay
John Kerry: I Meant That Hypothetically »
September 09, 2013
John Kerry: Don't Worry, Our Military Strike on Syria Will Be Even More Pointless Than Previously Advertised; It Will be "Unbelievably Small"
"Don't worry, it won't hurt, I promise it will be unbelievably small?" Sounds like a Robert F. Kennedy, Jr., pick-up line.
Kerry went on to say that on the Robert F. Kennedy, Jr., scale, the strike would be between a 1 and a 2, somewhere between "deliberately 'accidentally' brushed her bottom as she was moving past" and "shook her hand really hard and got some wave-motion action going up in her bra."
These are our leaders.
This is the New America.
KERRY: I believe that the aftermath of the Iraq experience and Afghanistan left a lot of people saying, we don't want to see our young people coming back in a body bag and so forth. But that's not what we are talking about and what we have to do is make clear to people that this is were not talking about war. We are not going to war. We will not have people at risk in that way. We will be able to hold Bashar Assad accountable without engaging in troops on the ground or any other prolonged effort. In a very limited, very targeted, very short-term effort, that degrades his capacity to deliver chemical weapons without assuming responsibility for Syria's civil war. That is exactly what were talking about doing an unbelievably small, limited kind of effort. Now you know that has been engaged in previously on many different occasions.
Great. The world's first officially-announced Symbolic Bombing.
Of course, others are making a different claim. If you'd support this strike upon the promise that it would do nothing, then they'll promise you that.
If you'd support this strike upon the promise that it would do somewhat more than that, then they're willing to make that promise, too.
The strike, as envisioned, would be limited in the number of targets and done within a day or two. It could be completed in one fell swoop with missiles, said one senior official familiar with the weapons involved. A smaller, follow-on strike could be launched if targets aren't sufficiently damaged.

A second senior official, who has seen the most recent planning, offered this metaphor to describe such a strike: If Assad is eating Cheerios, we're going to take away his spoon and give him a fork. Will that degrade his ability to eat Cheerios? Yes. Will it deter him? Maybe. But he'll still be able to eat Cheerios.
Cheerios?
No, my friend. What we're talking about is Kaboom, and I would know.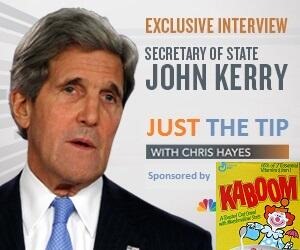 That does sound to me like the plan is to blow up airplanes, airports, and artillery brigades.
At least some of them. You want to leave him with the ability to eat some Kaboom, after all.
The days of jeering at the Coalition of the Willing -- a coalition of 40+ countries, most of whom contributed tangible aid, troops, supplies, and support personnel -- are long gone.
Here now the Coalition of One.
Or coalition of The One -- I've suggested before that Obama believes he counts as 35+ countries, plus the UN, just in his own person.
[White House Chief of Staff Denis McDonough] wouldn't explicitly admit that the U.S. has no allies willing to provide support, saying, "You're trying to get me to say that, but I'm not going to say it." There is specific support from the EU and others, he said, for "holding Syria accountable."
I think it's pretty obvious that you shouldn't bomb people to "send a message" or to "preserve credibility" or the rest of it. These are very weak reasons to bomb someone. Oftentimes, it's opponents of an action who accuse supporters of it of having no better reason than these symbolic grounds.
But here, the Obama Administration explicitly states its goal is to send a message. A message, apparently, stenciled on a cruise missile.
And it gets worse. In private, aides say this bombing is now about saving Obama's second term, as far as presidential power and his domestic policy agenda.
CHUCK TODD: They're very worried, and if you look at this public relations campaign that's gone on over last 48 hours, and the next 48 hours... They're very concerned, Matt, because it's not just that they believe they need Congress on this and they want to punish Assad and all of the Syria policy, but they realize a loss like this could be politically crippling to him all over Washington, on all the different battles he's got coming in the next six months.
Great. Now we're bombing foreign countries for Amnesty and the EPA, too.
Why put out such a cynical message?
Because, I think, they're counting on the left to respond to such a cynical message. "Support this bombing," they're saying, "so we can win a couple of domestic policy issues that you want."
Fine, Obama. You can bomb Syria.
One restriction, though. Given that this is explicitly a Domestic Policy Bombing, you can't use the United States Armed Forces.
You have to use OFA.
Good news on that front, though: They've got some bombing experience somewhere in there.
Cheerios/Forward and OFA/Cheerio courtesy of @matthops82.
John Kerry/Kaboom courtesy of @bert_huggins.

posted by Ace at
01:25 PM
|
Access Comments