« Late NFL Open Thread Before The ONT [OregonMuse]
|
Main
|
Top Headline Comments 9-9-13 »
September 08, 2013
Overnight Open Thread (9-8-2013)
I understand the attraction the buddy system has for a man who, as a state legislator, perfected the art of voting "present" on hard questions. But it's hard to see this as anything other than rank political cowardice.

The buck stopped with Truman. For Obama, the buck is kryptonite.

In Stockholm on Wednesday, the president said that the credibility of the world, America, Congress, and the international community is on the line. Everybody is on the hook for his red line, except for the one person who actually drew it.

I'd love to see the genius in that argument, but it looks like clear-cut stupidity to me.
In other words it's just Obama following the classic Obama M.O. that got him into the White House twice.
By no means do I profess to speak on behalf of all of our men and women in uniform. But I can justifiably share the sentiments of those inside the Pentagon and elsewhere who write the plans and develop strategies for fighting our wars. After personal exchanges with dozens of active and retired soldiers in recent days, I feel confident that what follows represents the overwhelming opinion of serving professionals who have been intimate witnesses to the unfolding events that will lead the United States into its next war.
...
They are tired of wannabe soldiers who remain enamored of the lure of bloodless machine warfare. "Look," one told me, "if you want to end this decisively, send in the troops and let them defeat the Syrian army. If the nation doesn't think Syria is worth serious commitment, then leave them alone."

They are embarrassed to be associated with the amateurism of the Obama administration's attempts to craft a plan that makes strategic sense. None of the White House staff has any experience in war or understands it. So far, at least, this path to war violates every principle of war, including the element of surprise, achieving mass and having a clearly defined and obtainable objective.
...
Over the past few days, the opinions of officers confiding in me have changed to some degree. Resignation seems to be creeping into their sense of outrage. One officer told me: "To hell with them. If this guy wants this war, then let him have it. Looks like no one will get hurt anyway."

Soon the military will salute respectfully and loose the hell of hundreds of cruise missiles in an effort that will, inevitably, kill a few of those we wish to protect. They will do it with all the professionalism and skill we expect from the world's most proficient military. I wish Kerry would take a moment to look at the images from this week's hearings before we go to war again.

-- Ret. Major General Robert Scales, USA
DC Going After Tourists For Empty Cartridges
Because apparently they've solved all those pesky murders that happen daily.
Washington police are operating under orders to arrest tourists and other non-residents traveling with spent bullet or shotgun casings, a crime that carries a $1,000 fine, a year in jail and a criminal record, according to a new book about the city's confusing gun laws.

"Empty shell casings are considered ammunition in Washington, D.C., so they are illegal to possess unless you are a resident and have a gun registration certificate," pens Emily Miller in her investigative book, "Emily Gets Her Gun: . But Obama Wants to Take Yours."

Under the law, live or empty brass and plastic casings must be carried in a special container and unavailable to drivers. Having one, for example, in a cup holder or ash tray is illegal.

Many complexity cultists are progressives. Notice how progressives often try to score points in a debate (or shut it down) by saying that their opponent's idea is "too simplistic." The truth has got to be complex for such people.

...Sophisticated people love simplicity. Those who go in for complexity (or who visit complex.com) are too unsophisticated to know that. It's simply ironic that the Cult of Complexity consists of rather simple people who suffer from some psychological complex, probably insecurity about their intellects.

People glom onto complexity because they think that it makes them look smarter. People invoke complexity to set themselves apart... and above. The unspoken message is that they understand things that you don't. You're not complicated enough to understand this complex stuff; leave the thinking to us.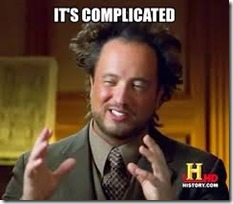 Hollywood, Japan, and the First Law of Politics
Robert Conquest's First Law of Politics posits that "Everyone is conservative about what he knows best," and Hollywood is no different. Last night, I watched the Blu-Ray of Black Rain, starring Michael Douglas, and directed by Ridley Scott. Released in 1989, in-between Michael Keaton's Gung Ho and Sean Connery's Rising Sun, the film is the second in Hollywood's unofficial late-'80s and early-'90s trilogy of films warning American audiences that Japan was about to supplant America as a world superpower, because of its powerful, all-knowing government, intertwined corporatist business environment, and collectivist thinking.

...Meanwhile in reality, on the disc's making-of featurette, Ridley Scott and producer Sherry Lansing discuss how they had to ultimately abandon Japan as a filming location, because the rigid local government in each city the crew filmed in required Kafkaesque massive amounts of paperwork, demanded to know where every light would be placed, and wouldn't permit even a half hour of overtime shooting.
The only reason I even remember Black Rain is because I happened to see it in a theater in Nagoya, Japan and during most of the movie I kept wondering what the Japanese audience around me thought of its portrayal of Japan.
New Words Added to the Dictionary in the '90s: Where Are They Now?
Some have caught on and some now seem completely dated.
Browser: This one has stuck. It certainly is more likely to mean the piece of software we use to move around the web than someone looking through a store.
Digerati: This is another word used primarily by newspaper columnists to discuss large, vague groups of people, as far as I can tell. It is certainly still in use, though dubiously useful.
Infobahn: This synonym for "information superhighway" never caught on. Too German sounding for American ears, I reckon.
Phone Sex: Still around, though I think it's lost its 900-number paid-for connotation. Now, the meaning seems more like "voice sexting."
Voice Mail: Sadly, the word and phenomenon persist. (Though at some point, people deleted the space: voicemail.)
What I'm Feeling Right Now - Is It Wrong?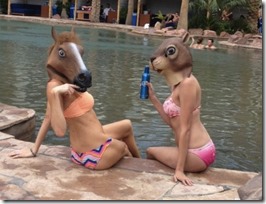 Lowell Observatory: Hey Let's Name an Asteroid For Trayvon Martin
Albert Einstein. George Takei. Jerry Garcia.

All of those men and many others have had an asteroid named after them. And if William Lowell Putnam III, trustee of Lowell Observatory, has his way, another name will be added to that list: Trayvon Martin.

...The citation for asteroid 2000 TM61 reads:
"Named in memory of Trayvon Martin (1995-2012), a student at Dr. Michael M. Krop High School in Miami, Florida. Unarmed, he was fatally shot in Sanford, Florida, during an altercation with the neighborhood watch coordinator."
Hey - why the fuck not name it after Specialist Ty M. Carter?
Corey Feldman Being Bullied by Anti-Bully Lobby for Claiming He Was Bullied
Corey Feldman threw a $250 entry rent party and when some chick from Vice magazine ran unflattering photos of he and the skanks at his ho-down, he went online and compared it to being bullied.
Enter the pearl-clutchers over his use of the B-word:
"This is horrible! I can't believe that Corey would utilize such a serious issue to gain traction for his 'comeback.' If this is what I think it is, Corey should be ashamed and every national bullying organization should demand he apologize. This could be what I call the 'Miley Cyrus Effect' - doing anything, no matter how pathetic, in order to get attention."  -  Dr. Chuck Williams, Drexel University Clinical Professor and Director of the Center for the Prevention of School-Aged Violence.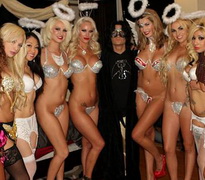 Weekly AoSHQ Commenter Standings
Top 10 commenters:
1 [744 comments] 'sven10077' [104.44 posts/day]
2 [435 comments] 'EC'
3 [388 comments] 'AllenG (Dedicated Tenther) MFM Delenda Est'
4 [346 comments] 'Nevergiveup'
5 [346 comments] 'ace'
6 [329 comments] 'Flatbush Joe'
7 [315 comments] 'Jones in CO'
8 [297 comments] 'Bomber'
9 [293 comments] 'steevy'
10 [280 comments] 't-bird'
Top 10 sockpuppeteers:
1 [177 names] 'sven10077' [24.85 unique names/day]
2 [95 names] 'Adam'
3 [85 names] 'phreshone'
4 [62 names] 'The Political Hat'
5 [46 names] 'Islamic Rage Boy'
6 [35 names] 'Cicero (@cicero)'
7 [33 names] 'logprof'
8 [33 names] 'kbdabear'
9 [33 names] 'Low Information Voter'
10 [32 names] 't-bird'
The group. Yeah.
Where it's at - the Twitter
Tonight's post brought to you by a solar eclipse on Mars: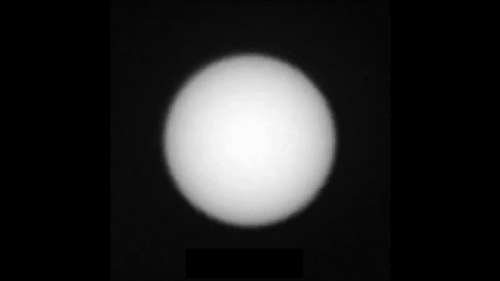 Notice: Posted by permission of AceCorp LLC. Please e-mail overnight open thread tips to maetenloch at gmail. Otherwise send tips to Ace.

posted by Maetenloch at
10:08 PM
|
Access Comments