« Sunday Morning Open Thread
|
Main
|
Sunday Morning Book Thread 09-08-2013: Moar Fall! [OregonMuse] »
September 08, 2013
Gun Thread (9-8-2013)
Epistemic Closure On Campus, But No Guns
This is a pretty funny piece from a newly-minted Indiana University professor in the HuffPo. The former President of the Brady Campaign to Ban Guns doesn't believe guns should be on college campuses. Who could've guessed that?
But wait, his argument is compelling and rich.
After I hired Colin Goddard to work for the Brady Campaign to Prevent Gun Violence, I heard him speak many times about the April 16, 2007 morning at Virginia Tech when 32 of his classmates and teachers were murdered, and four bullets were shot into his body. Two weeks ago I heard the story again - this time for the first time as a Professor at Indiana University with 66 first-year college students who are part of a new Civic Leaders program that I direct.

One of the questions after the presentation was whether Colin could have done anything to stop the carnage, particularly if he'd had a gun with him.

Colin's answer was clear. Everyone wishes that the story could have ended differently. Many people -- including Colin -- wish they could have been the hero we see in movies. But even though Colin had been in ROTC and was familiar with guns, he felt that if he had a gun that day, it would have been difficult to get to it in time, would have made him and others around him even more of a target, and could have led to other students being injured or killed. In Colin's analysis, the main lesson from that morning is that we need to strengthen our weak to non-existent background check system for gun purchases and make it a lot harder for people like his shooter (who had earlier been found to be a danger to himself or others by a Virginia court) to get dangerous weapons so easily.
I wonder how hard the Prof. looked for a different speaker who might present an opposing view? (actually, I don't wonder that at all)
It would've been easy to find someone to point out all the flaws in the thinking just in the excerpt above. How is it difficult to get to a gun in time if it's on your person? How does having a gun make you more of a target when you're already being targeted? What new law is needed to get the Seung Hui Cho's of the world entered into NICS (answer: none)?
But when you're trying to mint 66 new gun grabbers, you can't have their minds being filled with such conflict. Way to go, Indoctrination U.

News You Can Use
From the tip line, here's a link to AmmoRecall.com, a centralized source for gun and ammo recall notices. They have an email notification feature, but you can also just do what I did and follow them on Twitter.

Gun Of The Week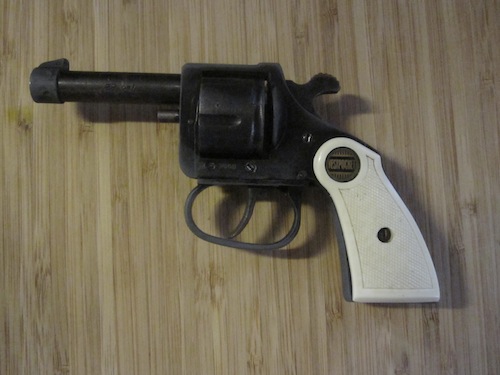 (answer below)
Marksmanship Award

Gun Of The Week - Answer
This one's from the tip line as well. I'll let Country Singer describe it:
Should you wish to use it, I came into possession of this revolver recently. My father bought in 1963-64 time frame while stationed in San Diego. I got it home and did a little research on it, and while it's not particularly valuable, it is interesting from a historical standpoint.

The Roscoe Arms Vest Pocket (also marketed under the Rohm and RG-14 names) .22 short (not LR) is pretty much the original "Saturday Night Special," which contributed greatly to the passage of the 1968 Gun Control Act. John Hinckley, Jr used an RG-14 during the Reagan assassination attempt.

Attached is a photo of the one I own, which is so poorly manufactured that there is no way I will risk putting a round through it.

The link is to an original advertisement for this model.

Must-See TV
Well done, Jon Alexander.

Cats & Dogs Living Together
The NRA submitted an amicus brief in support the ACLU's lawsuit over the NSA domestic spying scandal due to concerns that the data could be used to create an illegal gun registry.

Tips
If there are topics you're interested in seeing in the gun thread, please send them to AoSHQGunThread at gmail. You can also send them to me on Twitter at @AndyM1911.
The owner's manual for your concealed carry permit: The Law of Self Defense
Defend the Second Amendment. Join: The National Rifle Association * Gun Owners of America * The National Shooting Sports Foundation * Your state's second amendment org.
Celebrate America's firearms heritage: participate in Project Appleseed.

posted by Andy at
10:25 AM
|
Access Comments