« Samsung to Unveil Dick Tracy-Style Phone-Watch, Before Checking If Anyone Was Still Like Super-Psyched To Be Dick Tracy
|
Main
|
Bassar al-Assad: Any Strike Will Result in "Repercussions," Possible Regional War »
September 02, 2013
Overnight Open Thread (9-2-2013)
A perfect description of the proof-of-guilt via denial gambit so popular on the left.
In White-liberal white-baiting link-baiting gone wild you mentioned this:

Make an outlandish statement about White people.

Watch White people react in denial.

Use denial reaction as proof you were right all along.

There's a word for this logical Fallacy. It's called Kafkatrapping.

In short it takes the form of using denial of guilt as proof of guilt. Here's the blog that explains it very well.

I think the term should be used more widely.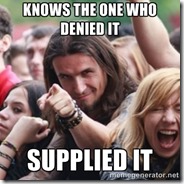 The Benevolent Ruling Class I: Nudging You at the Grocery
Because you don't eat enough fruits and veggies.
Then he looked down at his grocery cart and felt quite a different tug. Inside the front of the buggy, hooked onto its red steel frame, was a mirror.

...The mirror is part of an effort to get Americans to change their eating habits, by two social scientists outmaneuvering the processed-food giants on their own turf, using their own tricks: the distracting little nudges and cues that confront a supermarket shopper at every turn. The researchers, like many government agencies and healthy-food advocates these days, are out to increase consumption of fruits and vegetables.
The Benevolent Ruling Class II: EU Proposes To Fit All Cars With Speed Limiters
Because you go too fast sometimes and have a boo-boo.
"Under the proposals new cars would be fitted with cameras that could read road speed limit signs and automatically apply the brakes when this is exceeded. Patrick McLoughlin, the Transport Secretary, is said to be opposed to the plans, which could also mean existing cars are sent to garages to be fitted with the speed limiters, preventing them from going over 70mph. The new measures have been announced by the European Commission's Mobility and Transport Department as a measure to reduce the 30,000 people who die on the roads in Europe every year.
Guess Who Knows Every Call You've Made Since 1987?
At least on AT&T networks. Hint: It's a 3-letter agency not called the NSA.
To protect the children of course.
Glenn Greenwald Shocked, Outraged That American Espionage Agency Conducts Espionage
The Guardian journalist Glenn Greenwald, who has since early June been reporting on leaked documents obtained by former NSA contractor Edward Snowden, told a Brazilian television program Sunday that the NSA read emails of the Presidents of Brazil and Mexico.

...That report prompted the Brazilian government to say that it would pressure the United Nations to take measures to protect the privacy of international internet communications, according to a July New York Times article.

Once again, these latest NSA leaks seem less focused on protecting the privacy of American citizens and more on exposing the activities of foreign intelligence operations.
Someone explain to me again how this relates to illegal domestic surveillance and promotes US freedoms again. Because were I a more cynical suspicious sort I might assume that Greenwald doesn't believe in any national secrets and just doesn't like America all that much.
More on Hard Times for Gender Studies Major
In case you missed the sidebar item you can read it here. And here's a pictorial summary of the self-described "bottle blonde bacon-eating vegan" and her travails:

And David Thompson points out that Andrea XX is in fact a victim - but of the leftist professors and radicals who indoctrinated her and led her down a path leading to zero marketable skills all while profiting off of her:
As yet it's hard to be sure how Andria XX will "process the reality" of her situation and how she came to be in it. Quite often the resentment is displaced onto less than obvious targets - free markets, bourgeois values, etc. It would, I imagine, be painful for our bacon-eating vegan to reflect with some realism on her own choices, and on the role of the snake oil merchants who share her leftwing views and wish to propagate them. At someone else's expense. Andria does admit that, maybe, perhaps, she "made all the wrong decisions." Though it seems she can't quite understand why her "education" is "apparently worthless in the current job market." Presumably, she imagined a world in which degrees in "social justice" and doctrinaire bloviating would be irresistible bait for employers and the surest path to a glamorous career.
Actually as a commenter pointed out a graduate of any kind of studies program is in fact anti-employment bait since they are more likely to claim discrimination and disrupt the workplace with drama. They'd almost be better off lying about what they've been up to four the last four years.
Levels of fact checkers at work.

The Mexican Standard Is Racist
When done in America. And if you disagree, it's just more proof of your racism.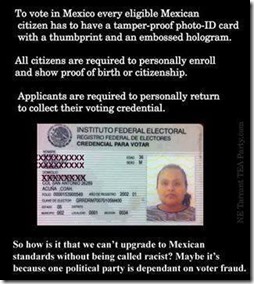 The best of network television on Jan. 3, 1981.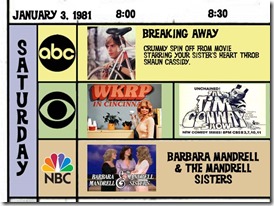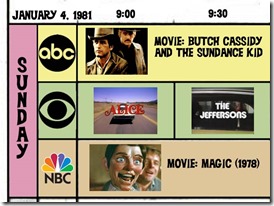 The Yahoo AoSHQ group. Bla bla bla.
And my twitter thang.
Tonight's post brought to you by VJ Day: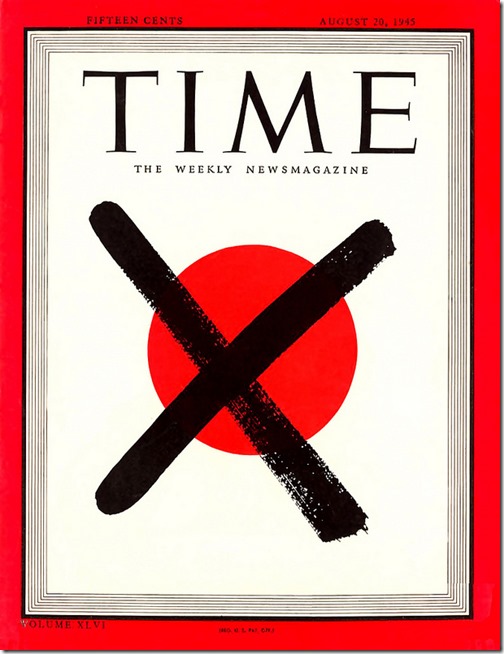 Notice: Posted by permission of AceCorp LLC. Please e-mail overnight open thread tips to maetenloch at gmail. Otherwise send tips to Ace.

posted by Maetenloch at
10:09 PM
|
Access Comments