« Team Intervention: Shut Up And Let US Bomb Syria Already
|
Main
|
Just a Peaceful Drive in the Rain »
September 02, 2013
Spaced-Out Challenge: Under the Washed-Out Sky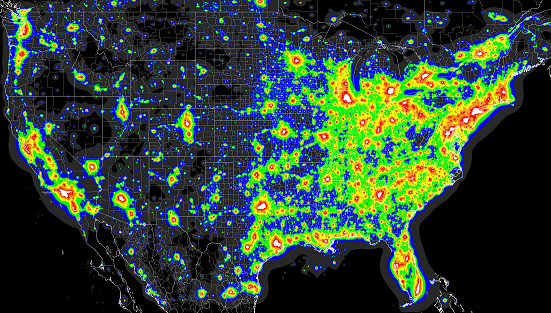 Light pollution in the continental United States (generated by Dave Lorenz)
If you are like me, you don't live in the pristine wilderness of Utah, the Atacama Desert, or the dark mountaintops of West Virginia. No, you are one of the hundreds of millions who live in exurban, suburban, or urban areas, so your night sky may
at first
seem less than overwhelming: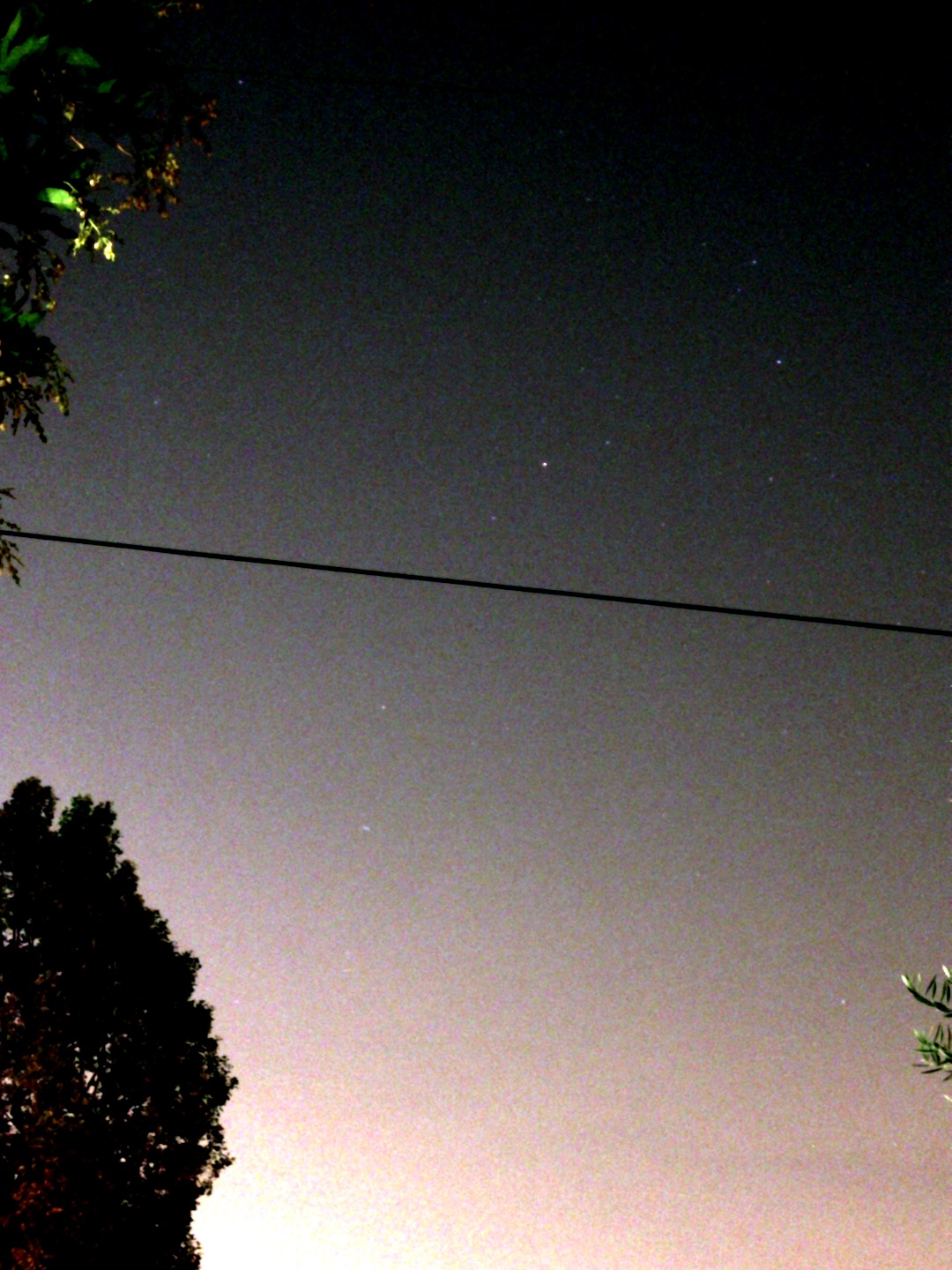 Scorpius as seen from the author's apartment (iPhone4s)
With so little to work with, how can you possibly enjoy the wonders of the night?
I'll show you.
Remember the list of dark sky sites for all fifty states from the Perseid thread a few weeks back? Much of that list utilized a LP map for identifying darker locations. From this, you can see I'm not exactly living under ideal skies myself: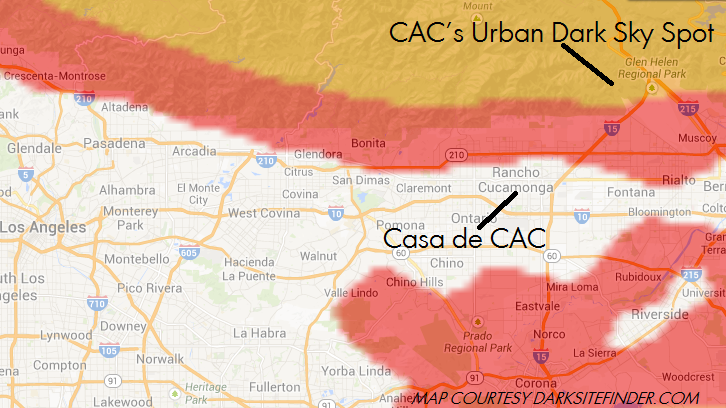 In fact, I'm willing to bet my skies are worse than nearly everyone reading this. So why don't I get frustrated? There are several simple tricks you can use to improve your viewing from even the worst glow-bombed zones (and for a list of targets within reach from just such areas,
check this out
).
Drive One Zone Darker
Scout out a close spot (<30 minutes away) that offers at least one zone darker skies. 97% of Americans can readily do this, and while there may seem like little difference at first, after your eyes can adjust, the improvement can be stunning: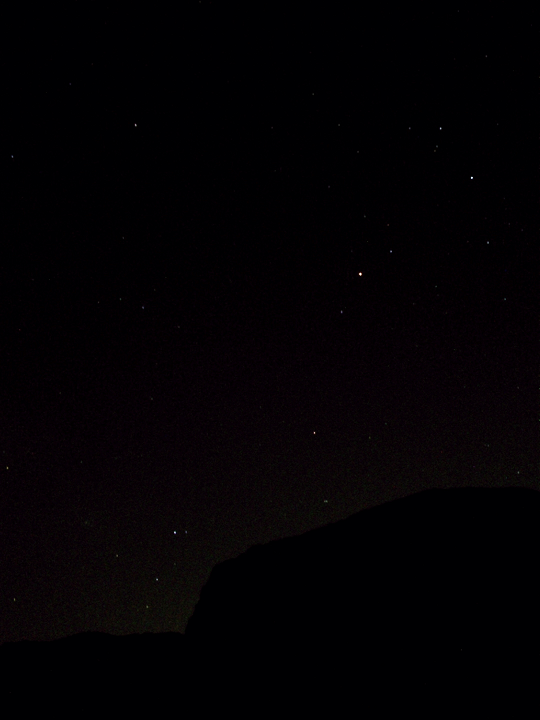 Scorpius as seen from the author's "urban darkness" spot (iPhone4s)
A twenty minute drive gets me into the San Bernardino Mountains. After letting my eyes adjust for a good half-hour, the Milky Way begins to make its presence known, numerous clusters and nebulae are visible naked-eye with averted vision, and the number of visible stars has increased a hundred-fold. Is it an ideal dark sky spot? Of course not. I could drive another hour and
really
see the stars. But that means a nearly 3 hour round trip, and for most that just isn't very practical.
If you want to skip even a short drive, there are still options for you to maximize your observing experience.
Get Your Eyes Adapted
Our eyes have an incredible ability to adjust to darkness. After a good half-hour from a very dark site, we can even eyeball Uranus, which rarely brightens beyond magnitude +5.7. The same holds true in urban environments, if we protect ourselves from bright lights. I suggest buying Orion's AstroGoggles: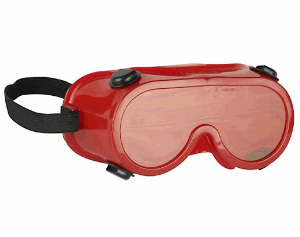 At only $19.99, they help your eyes adjust and stay dark adapted even when checking your cell or walking inside the house for a coffee. Oversizing makes them an ideal option for eyeglass wearers. You may look a member of DEVO wearing them, but nobody said astronomy was high fashion.
Build a Light Barrier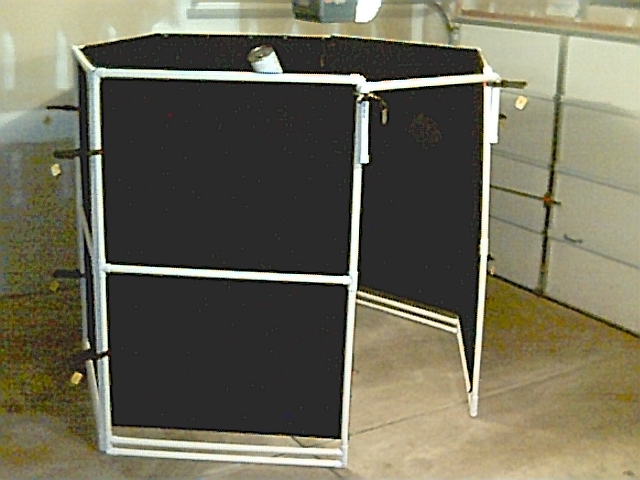 Eff off, neighbors!
If you live off a busy street like me, the constant stream of cars can make a long night of observing a headache. Or perhaps you have that neighbor who insists on leaving his floodlights on. Building your own portable light shields is a cost effective way to eliminate these sources of nuisance light.
John Duchek at CloudyNights
has a great step-by-step build guide for making your own light shields. I've modified it a bit to include his "updated" bits (they were a work in progress with his initial publication) and current prices for all required materials. You can make four of these light shields for less than $100 and they are incredibly effective:
When I can get fully dark adapted, I can see magnitude 5.2 stars from this site so the sky can be seen reasonably well if the light trespass from the neighbors can be blocked. In addition cars pass by at irregular intervals. To stop the light trespass, I have built 6.5'x 5' light shields at a cost of about $10-15 each. The first one is somewhat more expensive since you may have to buy the "general equipment". Each takes 1.5-2 hours to build if all parts are present...
Initially, three of these devices have been successful at shielding me from all of the lights above and all car lights going by my house. I can now remain with dark adapted eyes for hours in my neighborhood...
To build a 6.5 foot x 5 foot light shield, you need the following:

General equipment:
Can of PVC cement $4.50 (good to make many light shields)
1 roll (10ft x25 ft) of 3 mill black plastic sheeting (enough for 8 shields) [$10] Some of the black plastic I saw was not opaque and let a little light through. Check that it is opaque before you buy.
Hack saw [$7]

For each shield you need the following:
3 x10ft pieces of 1" PVC pipe $10 total
4 x1" PVC Tees $2.50 total
2 x" PVC 90 degree elbows $1.20 total
15 inches of Velcro tape [buy industrial grade $8-$18]

Directions:
Cutting:
Cut 1 PVC pipe into 2 x 5'0" pieces
Cut 5'7' pieces from the other two 10 foot pipes
From one of the 4 ' 5" remnants, cut 2 x 6" pieces and 3 x 1 foot pieces
From the second remnant, cut 1 additional 1 foot piece
Gluing:



Glue 90 degree elbows to each end of 5 foot section (be sure they point same way) (Piece #1)
Glue the center hole of tee to each end of the other 5 foot section (be sure that they line up parallel as in picture) (Piece #2)
Glue 2 1 foot section in to ends of 3rd tee
Glue 2 1 foot section in to ends of 4th tee
Glue 6 " piece into center hole of parts from step 3 and 4 (Piece #3 and #4)
The two 5'7" pieces are pieces 5 and 6.

Once the glue has dried, the frame is assembled. I put a very small amount of grease on the unglued joints to be sure I can easily separate them when desired...[cut 12 1" strips of velcro] use a good contact cement, paint on both the pipe and back of Velcro, allow to get tacky, and press together. A rubber band is useful to hold the Velcro fast until it has completed the drying process...
Assemble the frame as in the pictures. Here is a picture of a completed single frame unit.



Cut a 6 foot piece of the black plastic off the roll. Hang the strip (it is 10 foot wide) over the frame so that both sides are equal. Cut the plastic sheet in half. This gives you two 6 foot x 5 foot sheets. [Line up] one of the sheets (five foot part horizontal) to all 12 strips of velcro, [staple identically sized velcro strips to light shield frame, line up,] and your light shield is complete. You may or may not wish to trim the bottom inch or two off the bottom of the sheet. (mine drag the ground by about an inch and keep ground level light our nicely.

Light barriers can be built with more durable materials, but if you're on a budget, 3mil and pvc can't be beat. If your own outdoor lighting makes observing difficult, Lowes now offers IDA-approved dark-sky friendly lighting mounts that can greatly improve your backyard sessions too.
Protect Your Instrument from Stray Light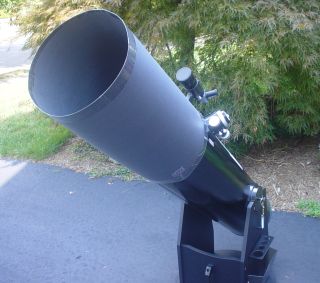 Washed-Out Astronomer's $5 Shield
Reflector telescopes often have the secondary mirror and focuser close to the open end of the telescope. This puts both at risk of being impacted by stray light. A simple solution to this is making yourself a "light shield" that effectively extends your telescope tube and eliminates this risk. The Washed-Out Astronomer offers this great $5 DIY light shield project:
Step one is to acquire or fabricate a rectangle of black poster board paper of the appropriate size. The end ring of my telescope tube has an outer circumference of 38.5 inches. Allowing some excess for gluing, I needed a rectangle of poster paper about 42 inches wide. The common wisdom is that the front of the telescope tube should extend a full tube diameter beyond the focuser. So for my telescope that meant the rectangle should be at least 12 inches long.
At the local arts and crafts store, I found sheets of 22 x 28 inch poster board paper. I glued two of these together to make a 42 inch wide sheet. I used ordinary white glue to join the sheets. Don't make the overlap too big and apply the glue evenly but sparingly. Otherwise the overlapped section will be rather stiff and hard to shape into an arc of a cylinder (I overlapped about 3 inches). Be sure to join the two sheets squarely. After the seam dried, I overlaid the each side of the seam with packing tape...
After gluing, I had a 42 x 22 inch sheet...I then shaped the big sheet into a cylinder and glued it. To hold it while the glue set, I used clothes pins to clamp the top and bottom of the seam, added a little tape in the middle, and then laid the cylinder, seam side down, on the floor with a couple of liter bottles of water inside the cylinder on top of the seam to keep pressure on it. Once the seam was dry I again taped it on both sides. To keep the cylinder ends from fraying, I also taped the rims all around. It was almost finished—almost, but not quite.
The final step was to try it on for fit. My intention had been to have the extension tube fit snuggly around the top end ring of my telescope and have it rest against the four "nuts" that anchor the secondary vanes. Unfortunately, the fit was a bit too loose. To make it a snug fit, I originally planned to line the inside bottom area of the cylinder with foam. But then I realized that the fit was loose enough that I could actually wiggle the extension tube over the tops of the four spider vane nuts. That made for a really snug fit and locked the light shield in place very tightly. To keep the nuts from eating into the poster board, I put some tape strips on the inside of the cylinder at the four spots where the nuts rub against the light shield. The smooth tape surface also makes it easier to slide the light shield on and off.
Finally, I marked the outside of the cylinder with white and red crayon (borrowed from my daughter) so that a red flash-light will highlight the taped areas on the light shield. This way even in the dark I can easily align the taped areas with the four nuts. The crayon markings are clearly visible in the photo below showing the light shroud fully seated on the telescope.

WOA lives in suburban D.C., so
his site
is a must-read for budding astronomers living under less-than-ideal skies. The full step-by-step guide for his shield is
here
.
A Quick Diverson: Target Object this Week
Before we wrap things up, let us take a quick trip back to Perseus to enjoy a great sight from any sky with binoculars and, with a low-power wide-field eyepiece, any telescope, the Double Cluster: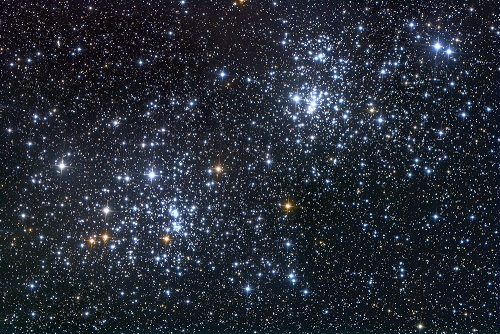 Photo Credit: NASA
The two clusters, NGC 884 and NGC 869, are a thing of beauty in whatever instrument you aim at them. Recent studies offer conflicting viewpoints on whether the clusters are actually close in age and proximity to each other, but lets set aside the more scientific intrigue of these two and just enjoy these multicolored (look for the reddish variables sprinkled throughout) wonders.
Here's where to look: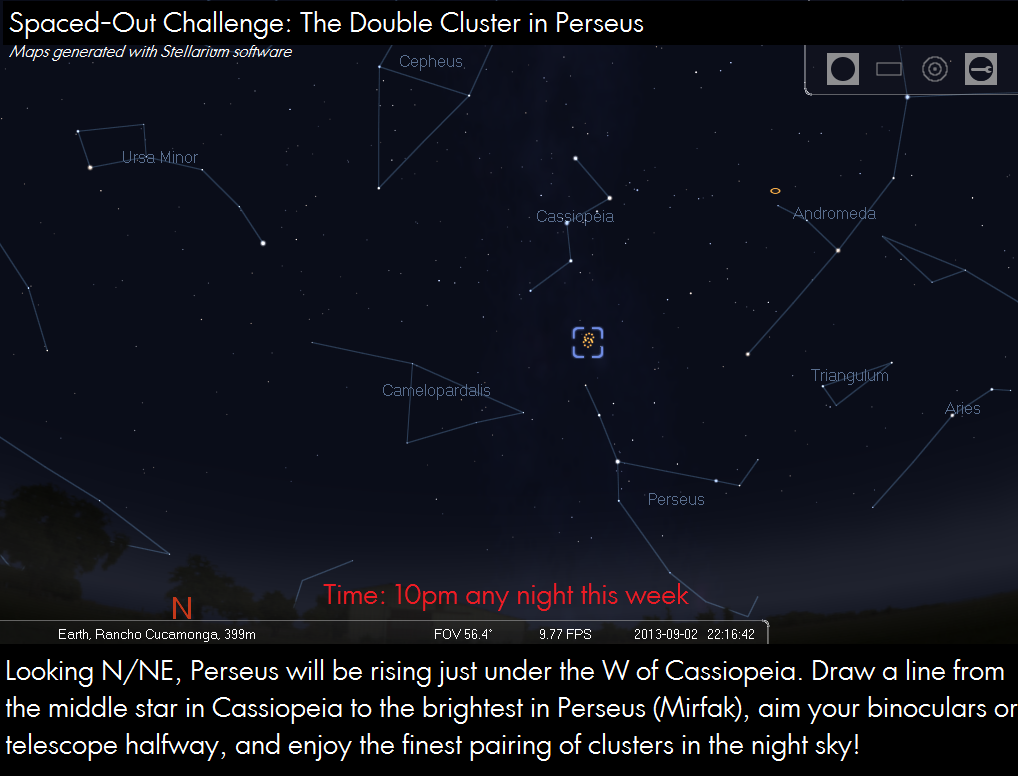 Bringing It All Together
By darkening your immediate environment and protecting your vision, you will be amazed just how many stars you actually can see, not to mention deep sky objects that reveal themselves as faint fuzzies. I have eyeballed the Orion Nebula, Andromeda Galaxy, Great Globular in Hercules, and the Double Cluster from my front porch, and hundreds of objects with binoculars, including Omega Centauri. It takes effort, patience, and a few extra steps, but the urban astronomer is by no means an anachronism.
Finding faint deep sky objects from your own backyard is challenging, but rewarding: if you can hunt them down from a washed-out location, finding them from a dark site will be lightning fast. These faint, hazy blobs become wondrous on those remote treks, which leads us to our final thought this week: the glory of visual observing.
I am a big fan of astrophotography, whether by the inexperienced or the Hubble team. Our cameras reveal details our eyes cannot, and with various filters these images become an art that leaves us reveling in the awesomeness of the cosmos. However, there is something missing from that photographic plate, that false-color reveal, that XRAY printout. There is a rawness, a sense of grandeur that words fail to describe. A near-invisible world of the infinitely large whose secrets unravel in the stillness of the eyepiece. Everyone has seen Hubble's Pillars of Creation photograph.
But witnessing the ghostly image of those massive plumes of gas after years of trying, as small and as faint and as elusive as they are...there is a moment that just strikes you. Grab a ruler, and shrink our whole solar system down where the sun is an inch from the earth. Our home world is utterly invisible at this scale. The sun is so small it appears as a pinpoint of light, not even filling a millimeter on the other side of your ruler. Those ghostly apparitions in the eyepiece would stretch over six miles long.
We are part of something impossibly vast and in every sense of the word truly overwhelming. At no time in our history has it been easier for us to experience this on an intimate level. With more resources than we can ever count, a total novice can observe worlds and structures we were unaware of just decades ago. Nothing will ever replace seeing the night sky in real time, with a real telescope, with our real eyes. Nothing.
If you missed it, the beginner's buyer guide is here. Until next week, clear skies to you, and keep looking up.

posted by CAC at
04:02 PM
|
Access Comments