« Stupid Lefty Journalist Tweets
|
Main
|
Leaked: Last Message Out of Damascus from the U.S. State Department Crisis Team. »
August 28, 2013
PRESIDENT WHO GIVES SPEECHES ON EVERY SINGLE POLITICAL INITIATIVE DECIDES TO NOT INFORM THE PUBLIC THAT HE'S PLUNGING THE COUNTRY INTO A THIRD WAR;
CLAIMS DECISION IS NOT POLITICALLY MOTIVATED
So let's see what a leftist Obamanaut has to say about Syria:
So this strike is not only unpopular with conservatives and with independents, but also with his base.
So how can a president start a war his base is opposed to?
Simple: Just don't tell anybody.
With military action against Syria set to begin within hours, according to reports, President Barack Obama and his administration are determining what legal route to take in order to justify the attack. According to NBC News White House reporter Chuck Todd, the administration is leery of seeking Congressional support for a mission in Syria because Congress many decline to bless such an operation. Now, according to reports from POLITICO's Glenn Thrush, Obama may seek to avoid the American people as well.

Thrush reported on Wednesday that, based on his conversations with aides to the president, Obama will not address the American people about the mission in Syria before hostilities commence. Thrush reports that Obama's advisors believe addressing Americans from the gravity of the Oval Office or the East Room is "passé." Furthermore, most Americans who care about the mission in Syria will learn the logic behind it from cable news.
Yes this is perfectly plausible, isn't it?
The President just went on TV a month ago to talk up the economy-- apparently TV was not such a passé mechanism then.
And in another month, when Obama wants to push gun control or "voter rights" (that is, voter fraud), he'll change his mind about the current one-month passé-ness of TV.
But for right now, just for this moment, as he's about to launch, on his tyrannical authority, a war on a foreign nation without authorization by Congress, a war his leftist base just happens to be opposed to -- for this moment, TV is passé.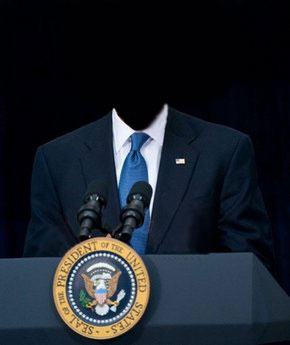 President Noseeum
TV is "Old Europe." Last month it was New Europe, and next month it will be New Euorpe again.
This president doesn't merely lie. He lies flagrantly, ludicrously, bizarrely, absurdly.
He tells the sort of lies that only a besotted lover could believe.
And fortunately for him, the American media is just that besotted lover. And of course the American media understands why he was out all night and now stinks of stripper perfume and cruise missiles.
Oh and Open Thread. No wrap-up tonight, sorry.
An President Who Excels in An Leadership: He pulled this disappearing act in 2011, too.
'd go back to the empty suit nature of this presidency. Obama launched a war and then went to South America for 5 days. Since returning he hasn't been seen in public except on Friday to celebrate Greek Independence Day. President's get support because they lead and ask for it. Obama has hidden first behind military leaders (Admiral Mullen was the only figure on the talk shows last week) and now Clinton and Gates (who can't get their stories straight). Obama will be MIA for about 10 days before we hear from him tomorrow night. I think people would like to support him but he's got to tell us what the hell we're supposed to be supporting first.