« Did Natalie Portman Misrepresent Herself To Win Her Oscar?
|
Main
|
NATO: Fine, We'll Take This Libya Thing »
March 27, 2011
Gates: Libya Isn't In Our National Interest, Clinton: Yes it Is
On NBC's "Meet the Press," Gates was asked, "Is Libya in our vital interest as a country?" He answered, "No, I don't think it's a vital interest for the U.S., but we clearly have interests there, and it's a part of the region which is a vital interest for the U.S." Gates' statement wasn't an entirely convincing rationale for a major military commitment, and moderator David Gregory responded by saying, "I think a lot of people would hear that and say well, that's quite striking -- not in our vital interests and yet we're committing military resources."

At that moment, Clinton jumped in to offer an extended justification for going to war. "Did Libya attack us?" she asked. "No, they did not attack us. Do they have a very critical role in this region and do they neighbor two countries -- you just mentioned one, Egypt, the other Tunisia -- that are going through these extraordinary transformations and cannot afford to be destabilized by conflict on their borders? Yes. Do they have a major influence on what goes on in Europe because of everything from oil to immigration?"

At that point, Clinton suggested that the U.S. went to war to repay NATO allies for support in Afghanistan. "We asked our NATO allies to go into Afghanistan with us ten years ago," she said. "They have been there, and a lot of them have been there despite the fact that they were not attacked. The attack came on us…They stuck with us. When it comes to Libya, we started hearing from the UK, France, Italy, other of our NATO allies…This was in their vital national interest…"
We have to go to war when France and Italy's vital interests (aka Libyan Oil) are at stake? Really, that's the story Hillary is sticking with? No War for Europe's Oil!
The amazing thing is we've been engaged in kinetic military action time-limited, scope-limited military action WAR in Libya for over a week now and the Secretaries of State and Defense still can't their story straight on why. Maybe if there were a position of executive authority within the government who was ultimately responsible for this type of decision who could explain why we are in a kinetic military action time-limited, scope-limited military action WAR things would be clearer. Perhaps we could call that job "The President".
Breaking news update....I've just been informed we do have "A President". Here's the current holder of the office.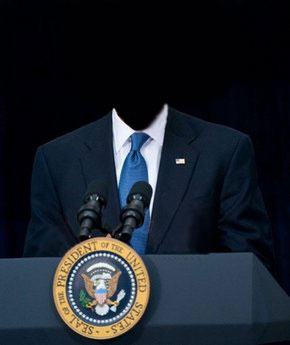 President Empty Suit*
As for Clinton's idea that it's in our vital national interest to stand behind our allies when they decide to go adventuring...um, no. The reason they went to Afghanistan is because they were pretty much bound to by a little thing we like to call the North Atlantic Treaty which declared an attack on one was an attack on all. We don't owe them a solid for living up to their sworn obligations. If we're keeping score, I'd say even factoring in Euro 'help' in Afghanistan, the whole, "thanks for saving us from the Nazis and keeping the Soviets in check for 40 plus years" account isn't quite even yet. But who is keeping score?
Oh and Hillary would like the world, especially Bahir Assad, to know this Libya thing is a one off and we're not going to get involved in Syria. So you know...take care of business, we're not going to say or do anything.
Arguing that Qaddafi's longstanding history of brutality distinguished itself from the regime of Syrian President Bashir Assad, Clinton said Syrian circumstances had not aligned in a fashion to suggest that the U.S. would undertake military operations there.

"The situation in Libya which engendered so much concern from around the international community, had a leader who used military force against the protesters from one end of his country to the other, who publicly said things like 'We'll show no mercy,' 'We'll go house to house,' and the international community moved with great speed in part because there's a history here," she told CBS' Bob Schieffer. "This is someone who's behaved in a way that's caused great concern in the past 40-plus years in the Arab world, the African world, Europe and the United States."

When asked about recent brutalities committed by the Syrian regime against civilians, Clinton suggested that "there's a difference between calling out aircraft and indiscriminately strafing and bombing your own cities, than police actions which frankly have exceeded the use of force that any of us would want to see."
I'm not advocating going into Syria (that's a job for Joe Lieberman) but Assad isn't as bad as Kadaffi? Really? I don't think the US Secretary of State should be laying out a road map for a dictator like Assad to follow to keep the killings under some threshold for concern. There's a little thing called "strategic ambiguity", it can be helpful to keep the bad guys guessing what might set you off. But no, Hills just said "have it at Doc!".
If this is Smart Power(tm), I think I would like some old timey Stupid Power about now.
One other thing, some guy over at the New Republic is pretty bummed that Obama hasn't gotten a bump in the polls out of his Libyan, er, thing. (safe link to the Daily Caller). You'll never guess whose fault that is.
A week into American and allied action in Libya, one political result is already clear: Barack Obama has not benefited in the polls. If anything, Obama's Gallup approval numbers are actually down a few points since American involvement in Libya began.

We can look to political science to understand this trend—specifically, to the idea of the "rally around the flag" effect. A rally effect, by definition, is when a president's approval numbers increase during a national security event. Unfortunately for Obama, there's been no rally effect this week. Which, of course, begs the question: Why?

...To apply this to the current situation, when the United States acted in Libya, many prominent Republicans criticized the intervention—as they were likely to do, considering the extreme, anti-all-things-Obama sentiment that's taken hold of the GOP. Newt Gingrich, for one, called the operation as "badly run as any foreign operation we've seen in our lifetime." Speaker of the House John Boehner, meanwhile, said he was "troubled" by the fact that Obama undertook action "without clearly defining" the mission. Per Brody's theory, Obama hasn't gotten a poll bump.

Looking to the future, as the U.S. political scene becomes increasingly hyper-partisan—with each side of the aisle refusing to find common ground on practically any issue—we can expect that rallying around the flag will become less and less likely. Obama's polling numbers after the Libya intervention could be just the tip of a future iceberg.
As Mickey Kaus points out at the link maybe it's not the criticism of the policy (which has been pretty mild and there's been a lot of GOP support) but the policy itself. But it can't be that! Obama is awesome and France and the UN said ok! It must be those evil, anti-war Republicans who won't get on board with this awesome new war.
I'd go back to the empty suit nature of this presidency. Obama launched a war and then went to South America for 5 days. Since returning he hasn't been seen in public except on Friday to celebrate Greek Independence Day. President's get support because they lead and ask for it. Obama has hidden first behind military leaders (Admiral Mullen was the only figure on the talk shows last week) and now Clinton and Gates (who can't get their stories straight). Obama will be MIA for about 10 days before we hear from him tomorrow night. I think people would like to support him but he's got to tell us what the hell we're supposed to be supporting first.
*Courtesy of the man, the myth, the legend...Slublog.

posted by DrewM. at
11:47 AM
|
Access Comments