« Apparently Syria is on for this coming week
|
Main
|
Top Headline Comments (8-26-13) »
August 25, 2013
Overnight Open Thread (8-25-2013)
Automatic Citizenship at Birth
Is pretty much a New World idea. Most other countries require at least one parent already be a citizen in order for a child born there to automatically get citizenship.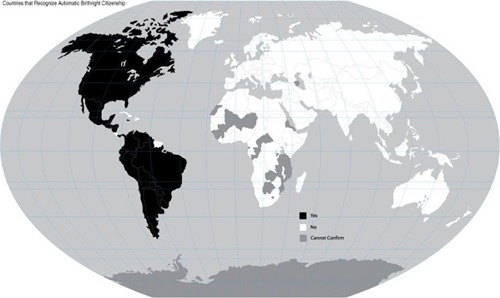 The Princess Bride and the Dapper Don
Reiner: Yeah, I walked outside the restaurant, and John Gotti was there with six wiseguys. There was a guy beside the limo who looked like Luca Brasi. He looked at me, and said: "You killed my father. Prepare to die!" I almost went right then! He said, "I love dat movie, da Princess Bride!"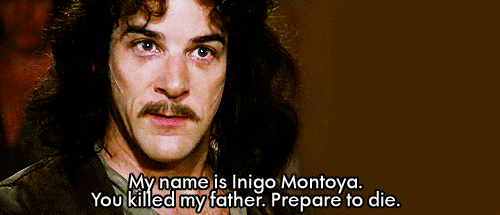 The Wit and Charm of Hillary Rodham Clinton
All class baby:
(2) "F**k off! It's enough I have to see you shit-kickers every day! I'm not going to talk to you, too!! Just do your G*damn job and keep your mouth shut." From the book " America Evita" by Christopher Anderson, p. 90; Hillary to her State Trooper bodyguards after one of them greeted her with "Good Morning."

(3) "If you want to remain on this detail, get your f**king ass over here and grab those bags!" From the book "The First Partner" p. 259; Hillary to a Secret Service Agent who was reluctant to carry her luggage because he wanted to keep his hands free in case of an incident.

...

(8 ) "Come on Bill, put your d**k up! You can't f**k her here!!" From the book "Inside the White House" by Ronald Kessler, p. 243; Hillary to Gov. Bill Clinton when she spots him talking with an attractive female
2016 here we come because of the INEVITABILITY.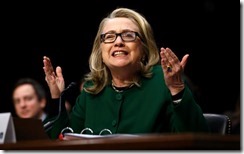 Al Gore: Hurricanes Now Go to 6 Because Global Warming
And as usual Gore is full of shit:
However, according to Chris Vaccaro, director of public affairs at the National Weather Service, that's not the case.

Vaccaro told me that the possibility of adding a sixth category to the Saffir-Simpson Hurricane Wind Scale ratings, the well known system that ranges from Category 1 to 5, has been raised in the past, but, contra Gore, there are currently no plans to do so.

Moreover, categories are defined solely on wind speed; Category 5 hurricanes, the class with the highest wind speeds, are hurricanes with winds measured at or above 157 miles per hour (I neglected to ask if Gore's bluster has been known to qualify). In other words, Category 5 currently includes anything that could possibly be considered part of a sixth theoretical category. There has not been a Category 5 hurricane in the Atlantic Ocean since 2007.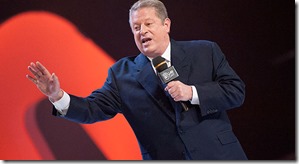 Seventy years ago this week--on August 1, 1943--more than 170 B-24 bombers lifted off from American airbases near Benghazi, Libya.  Heading east, they struggled against the desert heat and the weight of their bombs and fuel load.  Operation Tidal Wave had begun.
The plan was to take out the Nazi oil refineries at Ploesti, Romania and starve the German military of fuel forcing a quick end to the war. A good plan except that the Germans were prepared:
What followed was a slaughter.  The 93rd Bomb Group lost 11 aircraft over the target; the other groups suffered similar, heavy losses.  Some of the bombers flew less than 50 feet above the ground, dodging smokestacks, barrage balloons and other obstacles.  Gunners on the B-24s reported firing up at enemy anti-aircraft guns on nearby hillsides.  But the crews never wavered; despite withering AAA fire, steady attacks from enemy fighters and heavy smoke that made flying even more difficult, the American crews pressed home their attacks, at great sacrifice.  Five Medals of Honor were awarded to aircrew members on the Ploesti raid, three of them posthumously.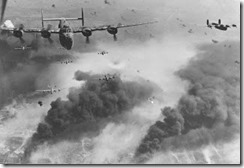 The second lesson of Ploesti is a central tenet of modern warfare: powers who depend on distant oil supplies--often controlled by unreliable allies--are at a terrible disadvantage.  With the eventual loss of Romanian fuel supplies and synthetic oil plants, Hitler's war machine eventually ground to a halt.  Japan suffered a similar fate when U.S. submarines sank most of the tankers carrying crude oil from the East Indies to refineries in the home island.  B-29 raids on those same facilities administered the final coup de grace.

Eight decades after Ploesti, the U.S. remains dependent, to some degree, on unreliable foreign sources of oil to fuel its military.
What Guns Look Like From the Bad End
Can you identify them just from the front.
Answers here: S&W .38, Desert Eagle, Uzi, Glock, S&W 9mm, Rhino, Beretta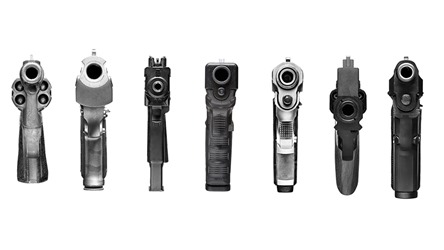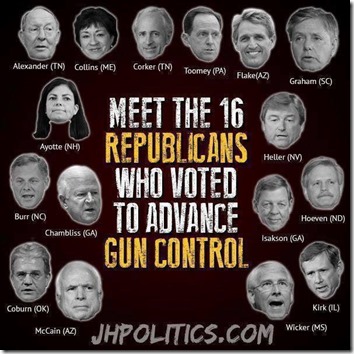 By Hermès:
The fashion brand, which has turned out footballs and soccer balls in the past, eschewed its signature orange in favor of a California-chic, cool blue for the bull calfskin ball that's made using the same hand-stitched technique as Hermes' coveted Birkin bags.

"It represents the sky, the ocean and all the beautiful pools that are a way of life in L.A. and Southern California," says Robert Chavez, Hermes U.S. CEO, who says that the exceptional quality of the leather as well as the artisanal craftsmanship account for the ball's price.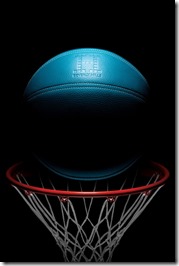 Pssst - Wanna Buy a Spy Rock For $10 Million?
On Ebay the former CTO of a company is selling the plans and remaining prototypes of a 'spy rock' that was developed for Lockheed Martin for just $10M. Why? To finance his legal fight against his former employer and possibly Lockheed Martin for infringement.
"For a cool $10,000,000.00, the prototype of a surveillance rock full of spy gadgets could be yours! More importantly, server backups from the gentleman's time at Lockheed are included, being the real valuable in this auction, as it contains schematics and such. The seller seems to think that the current xBee radio products are actually based on his work with Lockeed. The proceeds will go towards legal action the seller is apparently taking against his former employer."
At my day job I've been peripherally involved in a similar (and more advanced) project and that's about all I can say.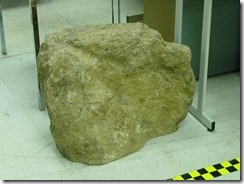 3 Words: Giant Screaming Vaginas
2.5 more words: Prison, Laugh-track.
Weekly AoSHQ Commenter Standings
Top 10 commenters:
1 [456 comments] 'garrett' [64.01 posts/day]
2 [434 comments] 'EC'
3 [396 comments] 'Mike Hammer'
4 [387 comments] 'Merovign, Dark Lord of the Sith </i> </b> </s> </u>'
5 [385 comments] 'Oldsailors Poet  Palin/Bolton 2016'
6 [360 comments] 'AllenG (Dedicated Tenther) MFM Delenda Est'
7 [347 comments] 'Anna Puma (+SmuD)'
8 [332 comments] 'rickb223'
9 [303 comments] 'thunderb'
10 [301 comments] 'Nevergiveup'
Top 10 sockpuppeteers:
1 [64 names] 'The Political Hat' [8.98 unique names/day]
2 [58 names] 'Cicero (@cicero)'
3 [55 names] 'Adam'
4 [50 names] 'phreshone'
5 [45 names] 'Low Information Voter'
6 [29 names] 'Chrishun Nation FanFic'
7 [28 names] 'logprof'
8 [24 names] 'Ashley Judd's Puffy Scamper, aka MrCaniac'
9 [23 names] 'Normal Human Being circa 8000 BC - 1992 (Freak Society Takes Root)'
10 [22 names] 'Doctor Fish'
The group. Yeah.
Where it's at - the Twitter
Tonight's post brought to you by 40 words for rape: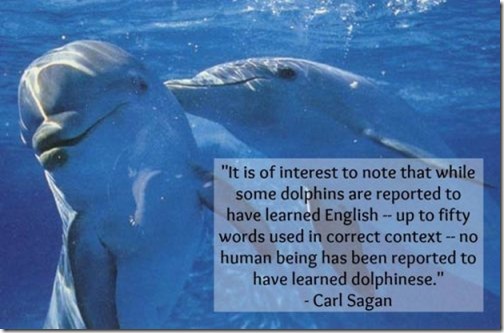 Notice: Posted by permission of AceCorp LLC. Please e-mail overnight open thread tips to maetenloch at gmail. Otherwise send tips to Ace.

posted by Maetenloch at
10:17 PM
|
Access Comments