« Spaced-Out Challenge: Mars is back!
|
Main
|
Top Headline Comments 8-19-13 »
August 18, 2013
Overnight Open Thread (8-18-2013)–Covering the Important Stuff Edition
Update: Miss Korea 2013 Contestants Not All Clones After All
You've probably all seen this gif showing how similar the Miss Korea contestants were thanks to the quest for a certain look along with plastic surgery:
Well maybe not so much after all. Here are the before and after photos of the contestants and apparently most of the similarity was due to the miracle of perfectly adjusted lighting, hair, and makeup (and possibly Photoshop by Lancτme):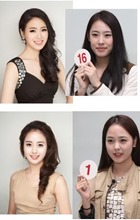 Crossing of the Internet Memes
Yes this is Boxxy and Overly Attached Girlfriend together in real life.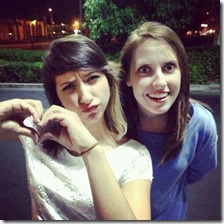 The Case That Never Ends: George Zimmerman's Wife Facing Perjury Trial
The story begins on April 20, 2012, at a bond hearing for George Zimmerman, whose bond had been revoked by Judge Kenneth Lester. Judge Lester's bias against George Zimmerman became so blatant that the Fifth District Court of Appeals removed him from the case on August 29, 2012, a rarity. Prior to that hearing, George was incarcerated and his phone calls and other contacts with Shellie were recorded. During the April 20 hearing, Shellie - who was in hiding due to credible death threats - testified by phone.

At issue is the existence of a PayPal account that had been established as a defense fund for George Zimmerman. The account balance was to eventually increase to a little more than $200,000, an amount that was to become a drop in the bucket of legal fees and expenses that still appear to have no end. At the hearing, all parties - judge, defense and prosecution - were aware of that account and were treating it as separate from the Zimmerman's normal finances (checking account and savings account).
Looking at the full transcript I don't see any perjury or bad faith answers. So yet another bullshit charge from the FL special prosecutor.
Glenn Reynolds: " Fuck 'em. I've had it with this crap."
It takes a lot to piss off Instapundit.
Battered Dogs Elicit More Sympathy Than Battered Adult Humans
Participants randomly received one of four fictional news articles about the beating of a one-year-old child, an adult in his thirties, a puppy, or a 6-year-old dog. The stories were identical except for the victim's identify. After reading their story, respondents were asked to rate their feelings of empathy towards the victim.

"We were surprised by the interaction of age and species," Levin said. "Age seems to trump species, when it comes to eliciting empathy. In addition, it appears that adult humans are viewed as capable of protecting themselves while full grown dogs are just seen as larger puppies."
I'm not sure why this is such a surprise or says anything in particular about our society- our empathy is often extended according to the context of the situation. A 1-year old child and a dog don't really have any moral culpability nor the means to defend themselves so beating them is pretty much an act of cruelty.  But a 30-something guy - well possibly not as much so they get more conditional sympathy.
British Army Nearly Court-martials Gurkha Soldier for Acting Like a Gurkha
A GURKHA under investigation for beheading a Taliban gunman has been allowed back on normal duty.

The Nepalese soldier faced court martial after he returned to base with the enemy fighter's head in a bag and presented it to senior officers.

He had decapitated the insurgent with his kukri machete, the traditional Gurkha weapon, during fierce fighting on the Afghan front line.
Luckily cooler head prevailed and he's been returned to duty.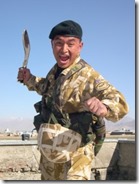 True Fact: Gibraltar Has Been British Longer Than It Ever Was Spanish
Yes. Gibraltar has been British for longer than the USA has been a nation. It has been British for 300 years. The Spanish only took it from the Moors in 1502. So ... the British have had it for longer than Spain ever had.
But that's not stopping the Spanish from going down the Argentine path.
The Ten Least Practical Street-Legal Cars Ever Sold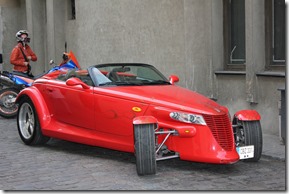 Using Laptops To Take Notes Lowers Grades
As I always suspected. And if you're spending all your lecture time just transcribing what the instructor writes, then you're wasting your time and probably being cheated by the course.
Ladies watch your hair when visiting Venezuela:
Women in the city of Maracaibo in Venezuela should be careful when wearing their hair down. According to local news sources, a group known as "piranhas" are now stealing women's hair - and they prefer it straight.

The robbers will hold women at gunpoint in malls and tell them to tie their hair into a ponytail so that they can then cut it off and sell it to beauty salons as hair extensions, according to Venezuelan digital newspaper Informe 21.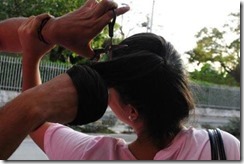 Weekly AoSHQ Commenter Standings
Top 10 commenters:
1 [398 comments] 'Mike Hammer' [55.87 posts/day]
2 [389 comments] 'MWR, Proud Tea(rrorist) Party Assault Hobbit </s></b></u></i>'
3 [376 comments] 'AllenG (Dedicated Tenther) MFM Delenda Est'
4 [333 comments] 'Anna Puma (+SmuD)'
5 [331 comments] 'Nevergiveup'
6 [319 comments] 'Peaches'
7 [312 comments] 'rickb223'
8 [290 comments] 'Vic'
9 [264 comments] 'Romeo13'
10 [258 comments] 'sven10077'
Top 10 sockpuppeteers:
1 [85 names] 'The Political Hat' [11.93 unique names/day]
2 [57 names] 'Romeo13'
3 [52 names] 'Cicero (@cicero)'
4 [43 names] 'andycanuck'
5 [38 names] 'Adam'
6 [36 names] 'Client #9'
7 [34 names] 'logprof'
8 [30 names] 'Low Information Voter'
9 [27 names] 'Brandon In Baton Rouge'
10 [24 names] 'Billy Bob, pseudo intellectal'
The group. Yeah.
Where it's at - the Twitter
Tonight's post brought to you by the Overlook Hotel: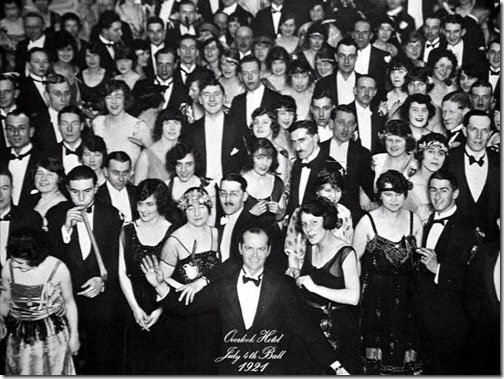 Notice: Posted by permission of AceCorp LLC. Please e-mail overnight open thread tips to maetenloch at gmail. Otherwise send tips to Ace.

posted by Maetenloch at
09:53 PM
|
Access Comments