« Economists: Brit high speed rail scheme costs will be 2X projections
|
Main
|
Overnight Open Thread (8-18-2013)–Covering the Important Stuff Edition »
August 18, 2013
Spaced-Out Challenge: Mars is back!
An abbreviated edition of the weekly astronomy post, with the full moon washing out deep sky objects for the week and a much more extensive equipment-related edition coming next Sunday.
After last week's spectacular Perseid meteor shower, the next big heavenly event will be Comet ISON, which should be visible in amateur telescopes by early September.
Unfortunately, it is about two magnitudes dimmer than it ought to be, so the proclamations of "Comet of the Century" earlier this year seem a bit premature. However, it is still months away from it's closest approach to the sun, so there remains plenty of uncertainty about how bright it will actually get. The Comet ISON tracker is online now, and currently pegs it's brightness at +13.20 which is much too faint to see with all but more advanced amateur telescopes.
So what can we look at this week with the fattening moon?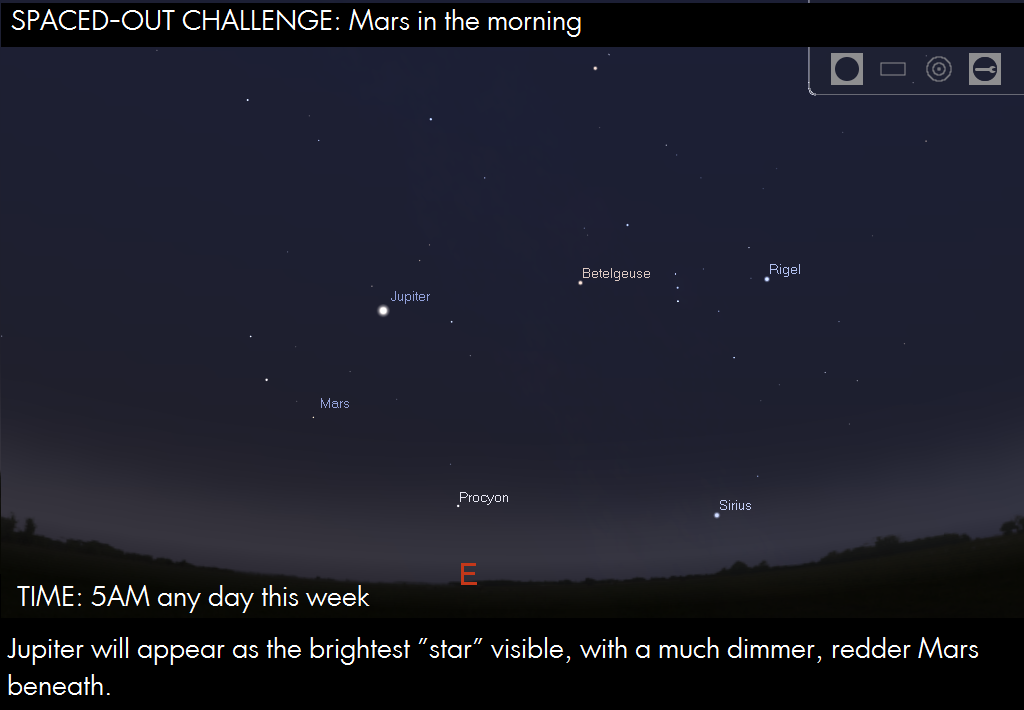 Mars is now worth observing again, rising higher and higher in the pre-dawn and getting out of the soupy muck of the horizon. As Saturn sets earlier and earlier in the evening, Jupiter and Mars will dominate our planetary gazing for much of the remainder of this year. The familiar constellation Orion has returned as well, though you'll need to wait another two weeks to really enjoy it's brightest feature, the Great Nebula.
Next week, I'll suggest some great beginner's scopes. In the meantime, clear skies to you and keep looking up!

posted by CAC at
09:27 PM
|
Access Comments