« Two Classics From Glenn Beck [OregonMuse]
|
Main
|
Open Thread [CBD] »
August 10, 2013
The NY Yankees: There may be lots of reasons to hate them, but here's one reason to like them [CBD]
Yes, yes, yes...they are the Evil Empire. Too much money chasing too few great players. Heavy-handed and superior. And of course they are in New York City. And have ARod. Blah, blah, blah. All of this may be true, but...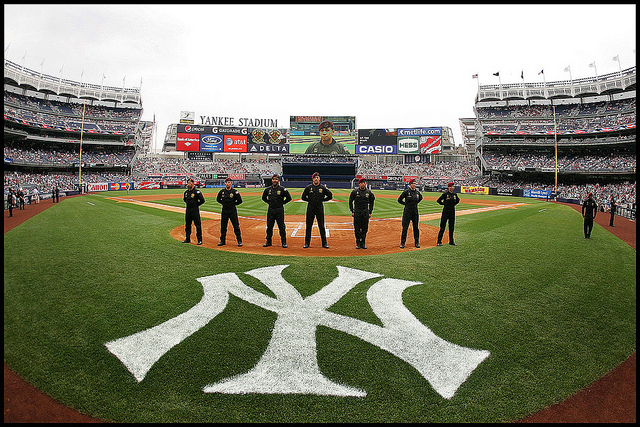 The Yankees have a long tradition of honoring our military and showing them a courtesy that is lacking in some other ball parks. During the seventh inning stretch, the Yankees have two members of the military in a place of honor on the field, announce their names, and thank them for their service. They also offer free or reduced-price tickets to many games.
But what may be the most impressive part of the Yankees' commitment to our military is the reaction of the fans. If any of you can stomach a Yankees game, either in person or on TV, just take a look at the number of American flags being held by fans. It dwarfs anything I have seen anywhere else in the country. Sure, it is, at least in part, a reaction to 9/11, but that was a dozen years ago, and the tradition has remained strong. Perhaps in the sea of ultra-liberalism that is NYC, there are pockets of patriotism and love of country.

posted by Open Blogger at
04:10 PM
|
Access Comments