« Gun Thread - World War 1 +99 Years
|
Main
|
Col. George "Bud" Day, USAF (ret) 1925-2013 »
July 28, 2013
Sunday Morning Book Thread 07-28-2013: Masculine for the Ladies [OregonMuse]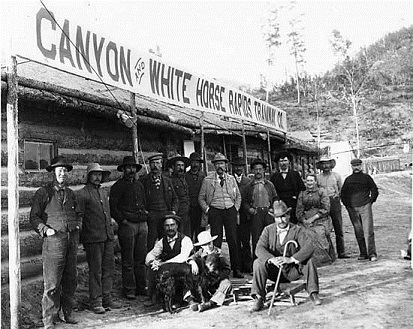 A Group Of Manly Men, Yukon, c. 1900
Update: I guess my eyes aren't what they used to be. The caption should probably read, "A Group Of Manly Men And One Extremely Pleased Woman"
Good morning morons and moronettes and welcome to the the award-winning AoSHQ's Sunday Morning Book Thread.

Never P* Off A Moronette - 2
OK, no more clowns and spiders and such. I want to make it up to the 'ettes for real this time. Besides, ace has been laying it on pretty thick with the Filner coverage this week, so I think we've all been creeped out enough. I mean, holy crap, can you believe this photo ace posted a few days ago? I feel sorry for that poor woman who had to smile for the camera while at the same time fighting off filthy Filner's groping hands. Ugh. Too bad she didn't break a few of his fingers while she had hold of them. That would have been freakin' awesome.
Anyway, so, if it were guys I had tweaked, I would try to get back in their good graces by posting stuff that guys liked, i.e. cheesecake pics. But we're talking about 'ettes here, and this being a real interleckshul book thread and all, I will post the equivalent of beefcake pics, i.e. manly books and manly authors.
We'll start out with a manly poet, namely, Gerald Manley Hopkins. Ha ha, see what I did there? I crack me up. No seriously, Hopkins is a wonderful poet. His "Pied Beauty" is one of my all-time favorites:
Glory be to God for dappled things —
For skies of couple-colour as a brinded cow;
For rose-moles all in stipple upon trout that swim;
Fresh-firecoal chestnut-falls; finches' wings;
Landscape plotted and pieced — fold, fallow, and plough;
And áll trádes, their gear and tackle and trim.

All things counter, original, spare, strange;
Whatever is fickle, freckled (who knows how?)
With swift, slow; sweet, sour; adazzle, dim;
He fathers-forth whose beauty is past change:
Praise him.
I'm guessing the intended spacing of this poem will be destroyed by the Movable Type blogging software we have to use. My html-fu is weak, so I don't know how I can fix this. Look at this version here to see how it should be displayed.

___________
Here's another manly poet: Robert W. Service. What I like about this turn-of-the-20th-century poet is that he didn't work in some wimpy urban or academic environment, he went to British Columbia and the Yukon and spent much of his time trying not to freeze his butt off. How he got there:
Service moved to Canada at the age of 21 and traveled to Vancouver Island, British Columbia, with his Buffalo Bill outfit and dreams of becoming a cowboy. He drifted around western North America, "wandering from California to British Columbia," taking and quitting a series of jobs: "Starving in Mexico, residing in a California bordello, farming on Vancouver Island and pursuing unrequited love in Vancouver."
This wandering around working at whatever job you can reminds me of the early life of Louis L'Amour, another manly author whom I discussed in a book thread last autumn.
Service's first book is Songs of a Sourdough, available for free on Amazon, which contains his well-known poems "The Shooting of Dan McGrew" and "The Cremation of Sam McGee". The literary set of his day sniffed at his poetry, but he made a ton of money on book sales, so he could tell the critics to go pee up a rope. And that'a another reason why I like him.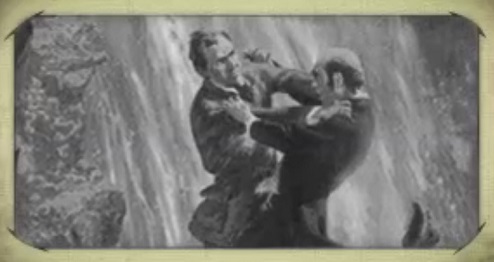 "Dammit, Holmes, you've left the toilet seat up again for the last time!"

Here's a manly book that impressed me with its great manliness: The Sherlock Holmes School of Self-Defence: The manly art of Bartitsu as used against Professor Moriarty by E. W. Barton-Wright. Not being an avid Sherlock Holmes fan, I didn't know he was supposed to have known this sort of thing, the recent Robert Downey Jr. movies notwithstanding, but apparently
[w]hen Sherlock Holmes wrestled Dr Moriarty on the Reichenbach Falls, he was employing a system of self-defense that was all the rage in Victorian Britain...E.W. Barton-Wright's "Bartitsu" method.

Learn how to defend yourself with an overcoat, cane, or umbrella, or even to wield your bicycle against an attacker. Wonderful illustrations based on original photographs instruct the reader in skills that range from the sublime to the elementary.
Also, I discovered that there's an entire website devoted to this and other forms of Victorian self-defense.
Seems very manly to me.
___________
And then there's The Ultimate Man's Survival Guide by Frank Miniter, who is the executive editor of American Hunter magazine and is a former senior editor of Outdoor Life magazine. This book will teach you various manly things, such as how to fight off an alligator, throw a four-seam fastball, and mix the perfect martini:
Learn all this and more in the new expanded paperback edition of Frank Miniter's New York Times bestseller The Ultimate Man's Survival Guide. Broken into seven sections—survivor, provider, athlete, hero,romantic, cultured man, and philosopher—Miniter teaches guys the skills,attitudes, and philosophies they need to be the ultimate man.
I think many of the 'ettes here would find such a man who could do all these things very attractive.

Books By Morons
Author J.J. DiBenedetto, whose Dream series of books I mentioned a few months ago would like you all to know that first book of the series, Dream Student, is now available as an audiobook, which he had done through ACX (Amazon's Audiobook Creation Exchange). More information on ACX is available here.
___________
Theresa Koch recommends The Disappearing Spoon: And Other True Tales of Madness, Love, and the History of the World from the Periodic Table of the Elements, which I think was mentioned in last week's thread. She says "it's a fascinating romp through the periodic table - lots of juicy gossip, nasty scientific politics, and fun facts."
The author has written another book, The Violinist's Thumb, and it looks interesting, too:
There are genes to explain crazy cat ladies, why other people have no fingerprints, and why some people survive nuclear bombs. Genes illuminate everything from JFK's bronze skin (it wasn't a tan) to Einstein's genius. They prove that Neanderthals and humans bred thousands of years more recently than any of us would feel comfortable thinking. They can even allow some people, because of the exceptional flexibility of their thumbs and fingers, to become truly singular violinists.

___________

So that's all for this week. As always, book thread tips, suggestions, rumors, and insults may be sent to OregonMuse, Proprietor, AoSHQ Book Thread, at aoshqbookthread, followed by the 'at' sign, and then "gee mail", and then dot you-know-what.
What have you all been reading this week? Hopefully something good, because, as I keep saying, life is too short to be reading lousy books.


posted by Open Blogger at
11:30 AM
|
Access Comments