« Sunday Morning Open Thread
|
Main
|
Sunday Morning Book Thread 07-14-2013: Creepy Crawly [OregonMuse] »
July 14, 2013
Gun Thread (7-14-13)
The Zimmerman Trial
This case should serve as a cautionary tale for concealed carry practitioners.
First, the media insists on referring to Martin as "unarmed", while glossing over the danger Zimmerman's own gun presented to him in a close-quarters confrontation like the one he was involved in. If you carry, the last thing you want to have happen is to become involved in a scuffle.
Second, it can be extremely painful to be a law-abiding citizen in today's media environment. Around 500 murders have happened in Chicago while the Zimmerman fiasco has been going on, yet there's no attendant media circus. And we all know why ... it's largely black-on-black crime, so the race hustlers can't get a foothold.
And of course the media hates concealed carry, stand-your-ground laws (which had nothing to do with this case) and other elements that were present here so much that they coined the term "white Hispanic" and turned Obama-voting Hispanic Zimmerman into a lily white, NRA-supporting GOPer for the purpose of the pushing their narrative. I've said from the beginning that if he were named Jorge Zapata, he'd have never been charged.
As a lily white, NRA-supporting GOPer, this has not gone unnoticed by me.
Andrew Branca, who's been tweeting and blogging the case at Legal Insurrection, is the author of a book called The Law of Self Defense. It's pretty pricey, but I plan on picking up a copy once they get their Kindle version released, because it's a hell of a lot cheaper than attorney's fees, etc., in the event that you find yourself in a situation similar to Zimmerman's. I'll review it in an upcoming gun thread. [Update: Kindle version released]

The Guns of John Moses Browning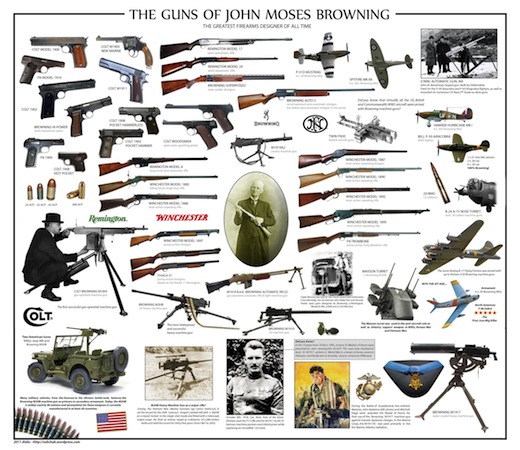 Via ITC. Click to view full-size.

Tagging Gun Owners
There's an app for that, I guess.
A new Android app asks users to expose the home addresses of gun owners they deem "potentially unsafe" -- and share that information with the world.
Whatever. Knock yourselves out, lefties, but here's what you're really doing:

Gun Of The Week

(answer below)
Marksmanship Award
Gun Of The Week - Answer
That's the M6 aircrew survival weapon in .22LR/.410. (also .22 Hornet/.410)

2 Guns, 1 Cartridge
This suggestion came in on the tip line, and it'd be a good discussion in the thread. The idea of sharing a common cartridge between a rifle and a handgun is as old as the metallic cartridge itself, with a famous historical one being the Colt SAA and Winchester rifle chambered in .38-40 or .44-40. And who among us doesn't have experience with a .22LR rifle and handgun?
The advantages of having a rifle and handgun chambered for the same round are pretty obvious. With today's tight ammo supplies, streamlining the supply chain makes sense, and there are some really good pistol-chambered carbines available out there these days. On the AR platform, there are also conversion kits that can be used to convert an existing rifle or build a new one in 9mm, .40 S&W or .45 ACP.
So, apart from the ubiquitous .22LR, do any of you have experience with rifle/handgun combos to put us some f'n knowledge on this topic?
Also, here's a good article comparing ballistics for various handgun/rifle combos if you're interested.

Tips
If there are topics you're interested in seeing in the gun thread, please send them to AoSHQGunThread at gmail. You can also send them to me on Twitter at @AndyM1911.
Defend the Second Amendment. Join: The National Rifle Association * Gun Owners of America * The National Shooting Sports Foundation * Your state's second amendment org.
Celebrate America's firearms heritage: participate in Project Appleseed.

posted by Andy at
10:11 AM
|
Access Comments